Battat Inc Produced 34 Beautiful Figures for The Boston Museum of Science: Sculpted by Dan LoRusso & Gregory Wenzel.
Battat Inc produced some fabulous figures. Sadly now extinct.
(Photo Courtesy of The Realm of Rubber Dinosaurs)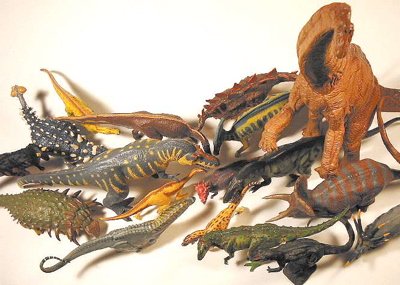 In 1994 Battat Inc, in conjunction with the Boston Museum of Science and paleo-sculptors, Dan LoRusso and Gregory Wenzel (The Dinosaur Studio) began their extraordinary series of 1/40 scale Dinosaur toys.
These combined accuracy of detail with bright, superior hand painted colors to create extremely realistic Dinosaur toys. Exactly what I like in a toy Dinosaur.
Ceratosaurus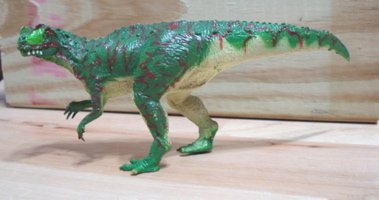 And these are wonderful toys. In some circles they are considered to be the best and most accurate Dinosaur toys ever produced and I really wouldn't argue about it. They just excite my imagination and take me to my own Dinosaur Planet.


Ouranosaurus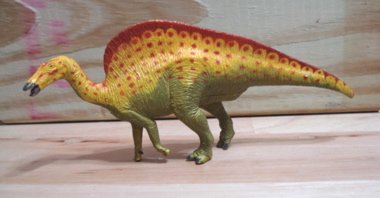 They were produced in three separate releases, 1994, '96 and the last in 1998. Battat has since ceased production and these figures now fetch a very hefty premium on the black market, ebay and anywhere else you hope to find them. A faint (and dear) hope.
Battat Inc Not What You Want? Then Try These Companies (Click Here!)
So Here Is Your List of the Different Types of Dinosaurs Made by Battat
All lined up in alphabetical order...
Year of Release in parentheses. This line was clearly influenced by the Jurassic Park movie. Yes?
Click on the Dinosaur name to read about the individual Dinosaur toy
Acrocanthosaurus (1998)
Amargasaurus (1996)
Carnotaurus (1998)

Ceratosaurus (1996)(1998)



Dilophosaurus (1994)(1996)(1998)
Diplodocus (1994)
Edmontia (1996)
Euoplocephalus (1998)
Gallimus (1994)
Maiasaura (1998)

Ouroanosaurus (1996)



Pachycephalosaurus (1998)
Parasaurolophus (1998)

Stegosaurus (1994)





Styracosaurus (1996)





Triceratops (1994)





Tyrannosaurus Rex (1994)(1996) (1998)



Utahraptor (1996)
Plus Two sets of miniatures: (1) Ceratosaurus, Dilophosaurus, Stegosaurus, Utahraptor, Triceratops
(2) Amargasaurus, Euplocephalus, Gallimus, Ouranosaurus, Styracosaurus
These "miniatures" are exactly that, smaller versions of the originals.

Styracosaurus, Mother and Child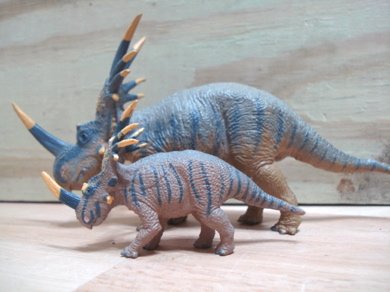 Triceratops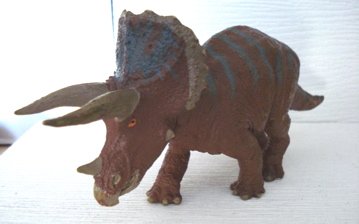 Unfortunately for me I have sold almost all of my Battats, holding on to small herds of my two favorites, the Styracosaurus and the Triceratops.
These are almost too pretty to get dirty. They are wonderful toys and respond well to running water. Their paint is subject to scraping so be careful and don't scrub.
Battat Inc Dinosaur Toys Just May Be the Best-of-Breed
Stegosaurus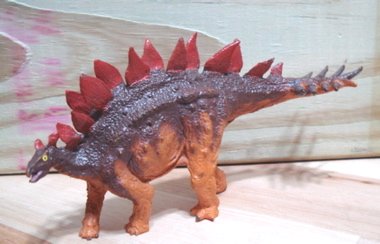 Had Enough of Battat inc Dinosaurs? Other Companies are Here>
We here at The Dinosaur Toys Collectors Guide have only one purpose in being here at all. Providing you, our readers, with the best, most informative and entertaining information about Dinosaur toys both past and present.
In order to best achieve that goal, in addition to providing pages on individual figures, advice and suggestions on obtaining the Dinosaur toys and pricing, availability and age and personality appropriateness information.... We have instituted our:
1) The (easily subscribed to, FREE) Daily "Dino-Blog" where you are regularly updated as each new page is created and kept up-to-date on Dinosaur toys news and the happenings in "Dino-town."
2) Our Contact-osaur-Us form which you can use to send us comments and tell us what you need and want to see. After all, this site is for your information.
3) Social Networking links (way bottom, upper left) so you can share this page, and our site, with your friends. Thank you.
4) Our mighty and inimitable Search-osaurus Center. (Click link or Below.) You can use the search bars to either search the site for all things Dinosaur (toys) or search the entire web for all things anything at All-a-saurus.
5) As you have been perusing this site you may be wondering, "Can I do that?" Well, if having your own website has been your dream you can make that dream come true, here.
6) Our always open Donate-O-saurus Center (opens new window) where you can make a donation and keep us in business, such as it is. We thank you for anything you can give.
The Battat Inc Search-O-Saurus Center
You can use this site-search box to find everything you need about Dinosaur toys collecting. Can't remember everywhere we mentioned, say, Velociraptors or Diplodocuses? Just put in your search term and you'll get a listing of everyplace on our site where you can find what you are particularly interested in.
Please note that your search results page will have ads ABOVE and BELOW the actual search results. Those are not from the site, but should be of interest, since Google targets the ads to your particular search.