Toy Companies and the Dinosaur Toys They Make and/or Made
Toy Companies have been making Dinosaurs for decades but there has been no guide of where to go to find a list of manufacturers and a list of all Dinosaurs that they currently make or have made.
When I first began collecting Dinosaur toys in the early 1950s there just weren't very many available. In fact, for me, a six year old in New York City in 1951 the only Dinosaurs to be found were at the American Museum of Natural History on Central Park West and 79th Street in Manhattan. They were the SRG (metal) models found in the museum shops (one on the main floor, the other in the basement, by the cafeteria and the subway station) and sold as souvenirs. Today the survivors are collectibles.
And the proliferation of toy companies and Dinosaur toys is astounding!!
- Six Decades of Dinosaur Toys -


A number of these Dinosaur toy companies have either gone out of business ( MARX, SRG) or have ceased producing their Dinosaur lines ( Invicta, Battat). But there are plenty continuing to produce and new toy companies keep popping up, seemingly, on a daily basis.
In all cases I am hoping to compile as complete a list as possible and will, with your help and input, produce a definitive list of Dinosaurs and the manufacturers that have produced them.
Each company page will feature a few pictures of the dinosaur toys that it made. In addition, and the focus of the page, there will be a short paragraph or two describing the company and a list, in some cases quite a long one, of the types of dinosaurs they made. Probably an accompanying photograph.
Not Your Cup of Dinosaur Toys? Back to the Home Page....
But first a short and personal history of Dinosaur toy production!
The SRG Dinosaur figures were never really meant to be used as toys and even to a youngster like me, dino-crazy, that became obvious in short order. Even with the generosity of my two aunts I realized that there was no way that my herd could long survive normal play. I would literally go to sleep at night wishing for plastic (and more realistic) Dinosaur toys.
My prayers were heard and came to pass in 1956. Sputnik was flying overhead and I discovered the new MARX Dinosaurs! What a thrill. They were perfect! Of course other toy companies made dinos too.
MPC, Ajax and Tim-Mee all had their own lines but they simply couldn't compare to Marx. For the next seventeen years (give or take) I held on to as many of those Marx figures as I could.
Then, in the late '70s, as a thirty year old I discovered the Invicta line made for the British Museum. Marx was out of business, I had two children of my own, and these beautifully detailed, high quality figures filled my need for Dinosaurs quite well. And, incidentally, my children's toy boxes.
-- Sixty Plus Years of Herbivores --

Later, in the late 1980s, the Carnegie Collection by Safari Ltd came out, presenting what were stunning (at the time) and colorful figures. Over the next few years this toy company dominated what was still, in essence, a niche market.
Then in 1993 The movie Jurassic Park was released, along with some of the best Dinosaur toys ever. Large, articulated and very play-friendly the Jurassic park line took the public by storm. Some of the original figures are still among the best toys ever made.
Jurassic Park also began a new Spring in Dinosaur toys production. New toy companies proliferated and the range of Dinosaurs has increased far beyond the original 23 different Dinosaurs made by Marx. Battat, in 1994, produced what many consider to be the finest Dinosaur toys ever made. Papo, beginning in 2005, has raised the "realism" bar with their line of JP inspired figures.
The list of Dinosaurs has become quite long and varied.
All-in-all it is a good time to be collecting Dinosaur toys.
--- Six Decades of Carnivores ---



So here we go with our list of Dinosaurs
By clicking on the name of the manufacturer you will access a list of Dinosaurs that it produced.
Elsewhere on the site you will find pictures of each Dinosaur toy, can read all about it and see it in action.



Battat - Boston Museum of Science
This Picture Courtesy of: Realm of Rubber Dinosaurs



British Museum of Natural History / Invicta

This picture courtesy of:Max Magnus Norman


Safari Ltd. (opens new window)





China TradeMark

Jurassic Park branded (Hasbro & Kenner)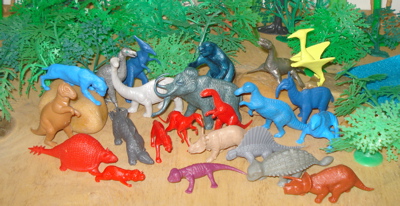 MPC (Multiple Plastics Corporation)




Otto (La Brea Tar Pit / Los Angeles Museum of Natural History)

PAPO Extraordinary Creations!






Tim-Mee
Tootsie Toy

The X-Plus Masterpiece Collection


This list is of course quite incomplete. I welcome your input to expand it to cover the enormous range and breadth our hobby has attained.
We here at The Dinosaur Toys Collectors Guide have only one purpose in being here at all. Providing you, our readers, with the best, most informative and entertaining information about Dinosaur toys both past and present.

In order to best achieve that goal. In addition to providing pages on individual figures, advice and suggestions on obtaining the Dinosaur toys and pricing, availability and age and personality appropriateness information.... We have instituted our:
1) The (easily subscribed to, FREE) Daily "Dino-Blog" where you are regularly updated as each new page is created and kept up-to-date on Dinosaur toys news and the happenings in "Dino-town."
2) Our Contact-osaur-Us form which you can use to send us comments and tell us what you need and want to see. After all, this site is for your information.
3) Social Networking links (way bottom) so you can share this page, and our site, with your friends. Thank you.
4) Our mighty and inimitable Search-osaurus Center. (Click link or Below.) You can use the search bars to either search the site for all things Dinosaur (toys) or search the entire web for all things anything at All-a-saurus.
5) As you have been perusing this site you may be wondering, "Can I do that?" Well, if having your own website has been your dream you can make that dream come true, here.
6) Our always open Donate-O-saurus Center (opens new window) where you can make a donation and keep us in business, such as it is. We thank you for anything you can give.
The Toy Companies Search-osaurus Center
You can use this search box to search within our site or search the web. Find everything mentioned about, say, Velociraptors or Diplodocuses onsite, or go anywhere on the web you want to go.
Please note that your search results page will have ads ABOVE and BELOW the actual search results. Those are not from the site, but should be of interest, since Google targets the ads to your particular search.
For More Information on Dinosaur Toy Companies...