The Apatosaurus: Great, Big, Dinosaur Toys
Interested in an Apatosaurus of your very own? If so click here,
and you'll link to Amazon where you can find all the A-pats your heart desires.
The first Apatosaurus I came upon, wasn't.
The First Apatosaurus I came upon, wasn't.




This was because it was the SRG "Brontosaurus" (thunder lizard). (Left) In essence an Apatosaurish shaped metal cloud with virtually no detail. Largely small round indentations for the eyes and that was about it.
Back in 1951 this was the best (and only) one that I could hope for.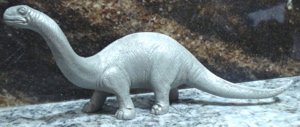 In 1955 The Louis Marx Company came out with their original Brontosaurus and then four years later, in 1959, they came out with their second. These were a quantum leap forward, even if they did have the wrong (Camarasaurus) head, no one knew it at the time. They were made of rubber and at just about nine inches in length (~1/100 scale) and they were great Dinosaur toys.


In 1987 Invicta upped the ante with the introduction of their new (huge) 1/40th scale 20" Dinosaur toys. No longer in production these are/were beautiful models. And they could pretty much stomp smaller Dinosaur toys that got in their way.
In Dinosaur toys terms this was pretty much what the 75 foot long, twenty-five-ton Apatosaur could do in real life.


A New Toy in Town

1988 saw the appearance of the Carnegie Apatosaurus,

Brightly painted (this one is twenty years old and play-faded) by Safari Ltd., (Opens new window) a truly huge and heavyweight addition to the herd. Competitively priced they (along with their Dino-brethren, Tyrannosaurs, Triceratops, Stegosaurs, etc) took the Dinosaur toys market by storm.
Invicta retaliated with their own painted versions


but all-in-all it was too little, too late and Safari has gone on to dominate the Dinosaur toys market while Invicta is out of the business.

The Apatosaurs, however get along quite well and like to hang-out together whenever possible....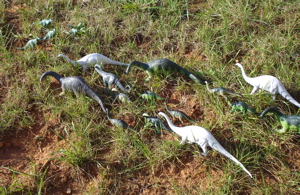 ...and especially so when facing Megalosaurs.
You can find additional information about the Apatosaurus, here. (Opens new window)
Here is our List of All Dinosaur Toys- Apatosaurus Style
(click on the highlighted company name for their version of the "thunder lizard")

Carnegie (1988 & 1996) (The adult figure as well as the baby, have been upgraded regularly)


China Trademark


Invicta Apatosaur (1987)


Marx Brontosaurus (1955)&(1959)


MPC Brontosaurus (1960s)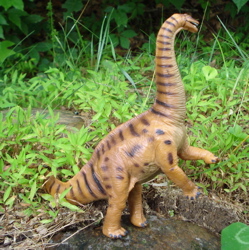 Safari Apatosaur (1996)


Safari Apato-Baby (1997)


Safari Apatosaur (2010)

SRG Brontosaurus (1947)

This concludes the current listing of Apatosaurs. If you know of others please contact me and I'll add them, with their pictures, to the list of dinosaurs.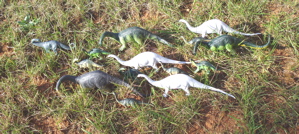 Many companies never made an Apatosaurus (for some reason) but did make a variety of other Sauropods. If your interest has been piqued to learn about collecting Dinosaur toys, simply see the fun one can have with their collection or learn more about collecting and Dinosaurs too, please check out The Dinosaur Toys collectors Guide Home Page.

Have you ever wondered what it might be like if Dinosaurs had survived and were still alive today. They'd have to be pretty special, that's for sure. So special, in fact, that they might form a team of Superheroes. Well, it's not impossible, it's entirely FOSSIBLE!
We here at The Dinosaur Toys Collectors Guide have only one purpose in being here at all. Providing you, our readers, with the best, most informative and entertaining information about Dinosaur toys both past and present.
In order to best achieve that goal, in addition to providing pages on individual figures, advice and suggestions on obtaining the Dinosaur toys and pricing, availability and age and personality appropriateness information.... We have instituted our:
1) The (easily subscribed to, FREE) Daily "Dino-Blog" where you are regularly updated as each new page is created and kept up-to-date on Dinosaur toys news and the happenings in "Dino-town."
2) Our Contact-osaur-Us form which you can use to send us comments and tell us what you need and want to see. After all, this site is for your information.
3) Social Networking links (way bottom, upper left) so you can share this page, and our site, with your friends. Thank you.
4) Our mighty and inimitable Search-osaurus Center. (Click link or Below.) You can use the search bars to either search the site for all things Dinosaur (toys) or search the entire web for all things anything at All-a-saurus.
5) As you have been perusing this site you may be wondering, "Can I do that?" Well, if having your own website has been your dream you can make that dream come true, here.
6) Our always open Donate-O-saurus Center (opens new window) where you can make a donation and keep us in business, such as it is. We thank you for anything you can give.
Search-O-Saurus Center
You can use this site-search box to find everything you need about Dinosaur toys collecting. Can't remember everywhere we mentioned, say, Velociraptors or Diplodocuses? Just put in your search term and you'll get a listing of everyplace on our site where you can find what you are particularly interested in.
Custom Search
Please note that your search results page will have ads ABOVE and BELOW the actual search results. Those are not from the site, but should be of interest, since Google targets the ads to your particular search.