In 1955 Louis Marx Toys began production of their iconic Dinosaur toys.
MARX TOYS get very high marks for quality.
Marx Toys created these wonderful Dinosaur toy figures, 14 to start in 1955, expanded to 22 in 1959 and eventually 30 in 1961. They were produced in "mold groups", as sets of three, five, six or eight figures with seven virtual duplicates in the fourth, 'revised' group. Thus Marx produced 23 different Dinosaur toys with seven additional duplicates.
The mold groups were: (1) Large Mold Group PL-749, (2) Medium Mold Group Pl-750 and (3) Small Mold Group PL-755 all began production in 1955. In 1959 the (4)Revised Mold Group, PL-977 was created and in 1961 the final (5) Second Series Mold Group PL-1083 appeared.
Here are all of the Dinosaur toy figures and accessories that Marx produced: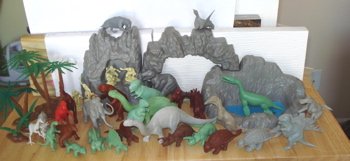 This was put together from my own collection and is meant to be exemplary of all the Dinosaur toys that Marx Toys produced.
Not what you're looking for? Try This...
Initially sold as individual dinosaur toys out of bins the popularity of the 14 figures grew as children began to discover them. They fired the imagination and proved almost indestructible in play.
MARX had created a thin vacu-formed plastic terrain as a display for the 1956 World Toy Fair and used it for store displays as well. People kept wanting to buy it too! This, plus the creation of six cavemen to hunt and be hunted by the dinosaurs, led to the first actual Prehistoric Playset, Number 3390 in 1957. I have put together what this playset would have presented to the Dinosaur toy starved child, (ME!) of the mid-1950s: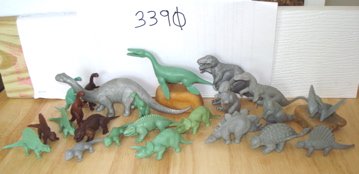 This playset set the standard for all those to come. From 1957 onwards the Marx dinosaur toy figures could be found in both constantly evolving playsets and individually in toy store bins.
Shortly after the 3390 set appeared a smaller set of dinosaurs was created, having only the basic 14 figures as a sort of a supplement to the first set. This was deemed playset number 3389 (also in 1957), soon to be followed in 1958 by playset 3388. This latter featured the newly designed Sleek T-Rex, Tyrannosaurus Rex.
The other seven "revised" dinosaur figures were most likely sold out of bins. Otherwise this mold group was initially sold exclusively on plastic blister cards in sets of eight. Subsequently they gained playset inclusion by the 1960s. Also at this time production of the original large mold group effectively ceased and the Kronosaur and the Pot Belly T-Rex became virtually extinct. The 'revised' Brontosaurus soldiered on.
OUT: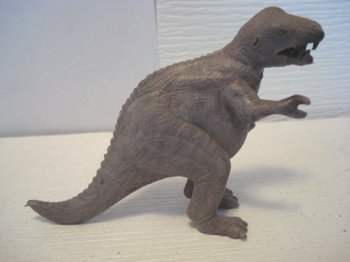 OUT: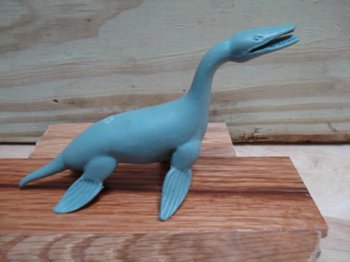 IN: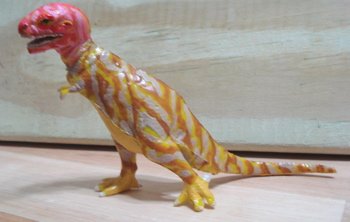 Soldiers On....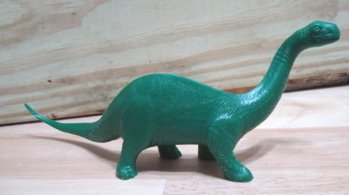 The dinosaur toy figures were produced via injection molding. This requires "virgin" plastic for each mold run, and if some problem occurred the entire mold would be discarded. The reasons ranged from mis-casting of one mold figure to a non-standard color due to contamination by a different colored plastic. Sometimes it was due to a color experiment gone horribly wrong.
Whatever the reason the figures were thrown away and into the Marx dump. This according to the Marx company motto: "Quality is not negotiable." These discarded "dump dinosaurs" have their own, very special cachet.
Marx Iguanodon encrusted with West Virginia dirt, from the dump:

So as you can readily see. We will have a lot to do here in Marx Toys country. The Mold Groups, Playsets, accessories, Dumposaurs and Binosaurs and the great variety of colors produced both on purpose and by mistake.


These will all be further topics of discussion as we explore the World of Marx Toys and the Dinosaur toys that inhabit it.


We here at The Dinosaur Toys Collectors Guide have only one purpose in being here at all. Providing you, our readers, with the best, most informative and entertaining information about Dinosaur toys both past and present.
In order to best achieve that goal, in addition to providing pages on individual figures, advice and suggestions on obtaining the Dinosaur toys and pricing, availability and age and personality appropriateness information.... We have instituted our:
1) The (easily subscribed to, FREE) Daily "Dino-Blog" where you are regularly updated as each new page is created and kept up-to-date on Dinosaur toys news and the happenings in "Dino-town."
2) Our Contact-osaur-Us form which you can use to send us comments and tell us what you need and want to see. After all, this site is for your information.
3) Social Networking links (way bottom, upper left) so you can share this page, and our site, with your friends. Thank you.
4) Our mighty and inimitable Search-osaurus Center. (Click link or Below.) You can use the search bars to either search the site for all things Dinosaur (toys) or search the entire web for all things anything at All-a-saurus.
5) As you have been perusing this site you may be wondering, "Can I do that?" Well, if having your own website has been your dream you can make that dream come true, here.
6) Our always open Donate-O-saurus Center (opens new window) where you can make a donation and keep us in business, such as it is. We thank you for anything you can give.
Search-O-Saurus Center
You can use this site-search box to find everything you need about Dinosaur toys collecting. Can't remember everywhere we mentioned, say, Velociraptors or Marx Toys? Just put in your search term and you'll get a listing of everyplace on our site where you can find what you are particularly interested in.
Custom Search
Please note that your search results page will have ads ABOVE and BELOW the actual search results. Those are not from the site, but should be of interest, since Google targets the ads to your particular search.
For a Terrific Monograph on the History of Marx Dinosaurs- Click ME!!
The Marx Toys Museum of Glendale, W.V.: Where Marx Dinosaurs Were Made, Not Born

The MARX Toy Museum (Online) of Erie, PA