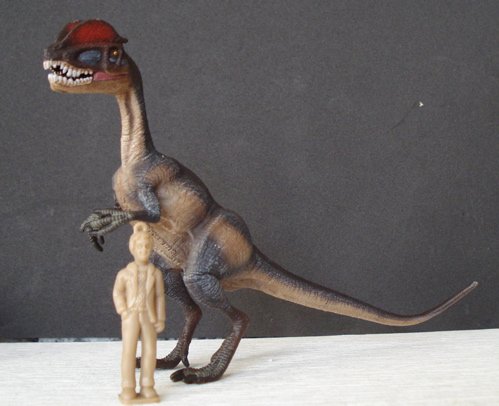 If Dilophosaurus Came Back, It'd Look Like This, But Bigger
The Safari Ltd Dilophosaurus.
The Safari Dilophosaurus Made 2008 Worth Living
The year 2006 saw what amounted to an evolutionary shift for the Safari Ltd (opens new window) Dinosaur Toys line. To that point Safari Ltd (also the makers of the 1/40 scale iconic Carnegie Collection) Safari had been making very excellent, if somewhat toy-like and relatively well-known figures. That year (2006) saw the introduction of a new T-Rex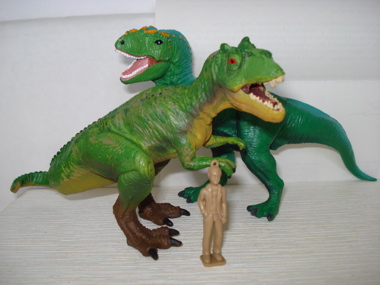 and hasn't looked back with a 2007 remake of their Allosaurus (below- with
a pair of the 2008 Dilophosaurus) and such interesting choices as the 2008 Scutosaurus. All in a new and very realistic mold.
2008 saw the introduction of the Dilophosaurus by Safari Ltd. This Dinosaur (first named in 1954) had really gotten its introduction to the world as the frilled "Spitter" in the 1993 Jurassic Park movie. In the movie the Dilophosaurus was small (about three feet tall and five feet long) but in its own time it stood eight feet and was ~20 feet long, weighing half a ton. It was THE apex predator of its time, the late Triassic, 190+mya.
(below- The electronic JP Dilophosaurus from Kenner)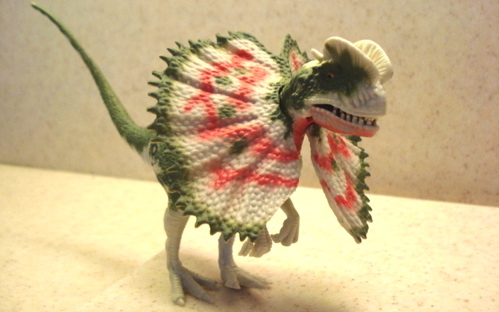 Since 1993 there have been a variety of other rather nice Dilophosaurus Dinosaur toys produced including an actual 'spitter' (you can fill it with water and squeeze), at least one unbranded from China, a pair from Carnegie (1993, now OOP) and Schleich, among others. The Dilophosaurus has become very popular and even common in the Dinosaur toy box. Pretty good for somebody who started out with nothing but teeth and claws 200 million years ago and didn't even get named until 1954.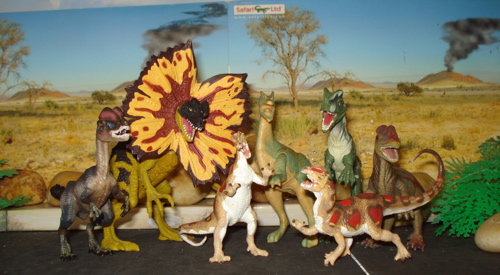 Above, l-r: Safari, Chap-Mei, China, JP & Schleich, Carnegie two in front.
All in all the Dilophosaurus is one of the earliest and least known of the Theropods. It is related to the mildly bizarre Antarctic Cryolophosaurus. But relatives can be fickle. Its relatively loose jaws have led some paleontologists to believe that it was a scavenger (the teeth/jaws being too weak to hold on to and bring down large game) while, more popularly it is thought that it used its claws and its teeth to bring down its dinner.
The crests on its head, two in parallel, are also somewhat of a mystery and are thought to be secondary sexual characteristics. Used for display and attraction. Or not. We really don't know. They do make for great looking Dinosaur toys, however, and we're very glad that they had them. If they did. Which is what we think.
Finally "we" (based upon the original discovery of three together) believe that the Dilophosaurs probably hunted in packs. Given its long legs and light weight it was most likely a fast runner. The Safari Ltd Dilophosaurus is posed in what is a rather contemplative posture,
upright and leaning back a bit on its heels, searching for prey.
"Where is that Jurassic Park hot-dog vendor?"
This is pretty close to my favorite Theropod pose. It leaves everything to the imagine. Everything but the fabulously realistic looking figure itself. Any changes that you contemplate in its pose (for instance it is in a 3-point stance) can be readily changed. Let's take a closer look at this figure....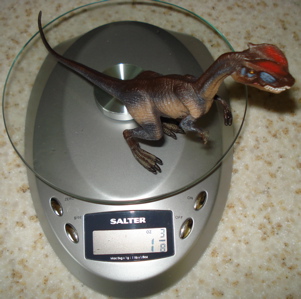 Weighing in at one and three-eighth ounces (1.375oz, 40gms) and at eight and a quarter inches (8,25", 21cms) in length this little terror is ~1/30 scale. Given the paucity of fossil remains our size estimates (~20 feet and 1000 lbs) could be wildly off and this figure fits in very well with the general run of 1/40 scale figures from Bullyland, PAPO, the Safari Carnegie Collection (opens new window) and Schleich among others.
Perhaps the most striking aspect to this figure is its incredibly detailed and ferocious looking face and head....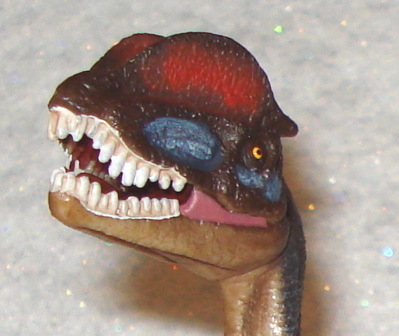 A face only a Dinosaur Toys Collector could love.

This face is most assuredly ferocious and highly detailed. The teeth are individually sculpted and hand painted, the dual crests are highlighted with a smattering of red paint (which varies in intensity and degree from one to the next) while there is blue coloration highlighting the Dilophosaur's "cheeks" and around the eyes. The eyes themselves are a dull yellow with black pupils. The head is dark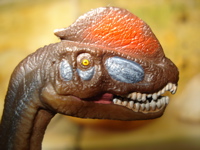 brown on the upper surfaces and a light, pale brown on the lower jaw.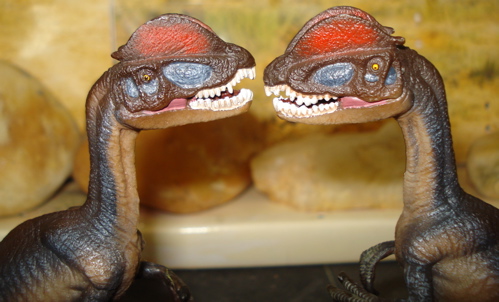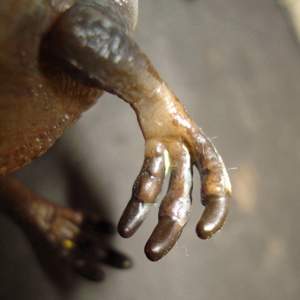 The attention to detail doesn't end with the head, however, and continues down the neck and throat (above), and into the forepaws (right) where the darkly colored claws are clearly detailed and quite ready to rend and tear.
Those forearms (forelegs?) are held out in front of the body, elbows bent and wrists curved in an active, ready position.
You can readily imagine this little guy (or the big guy he's based on) reaching out to touch someone tasty.
Below we see the conclusion of a typical early Jurassic period hunt.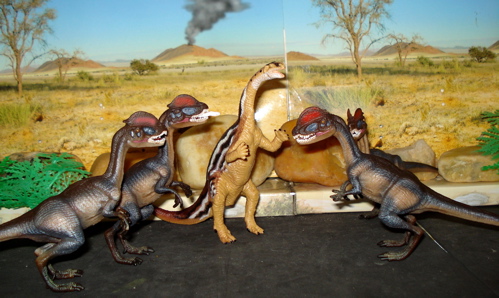 "Hey punk! Your lunch money or you're lunch, sonny."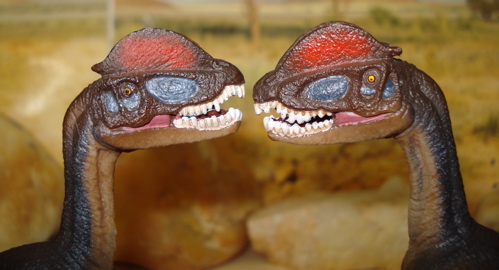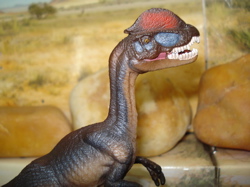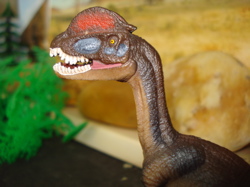 Beginning with head and neck (above) we see the combination of color and sculptural detail ranging from the texture of the skin to the depiction of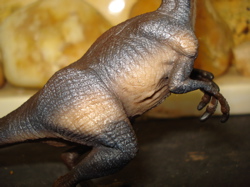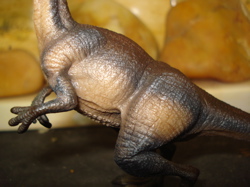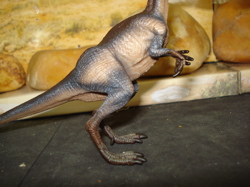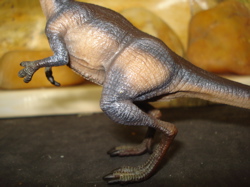 the bones (i.e, ribs) and musculature beneath the skin. The skin texture itself seems to be based on that of modern-day pachyderms, with a sense of being quite rough, deeply creased with folds and stretched over the powerful musculature. From the tip of its nose (above) to the feet(s) and the tip of its tail (below), the sculpture flows, one part into the next.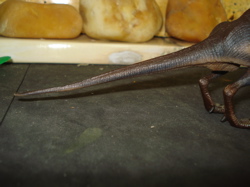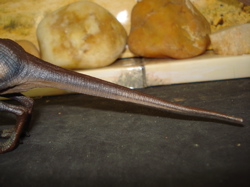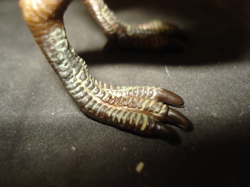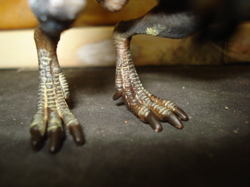 The feet, unsurprisingly, are quite bird-like in appearance (above).
Given what little we know about the Dilophosaurus we can deduce that they were unrepentant troublemakers....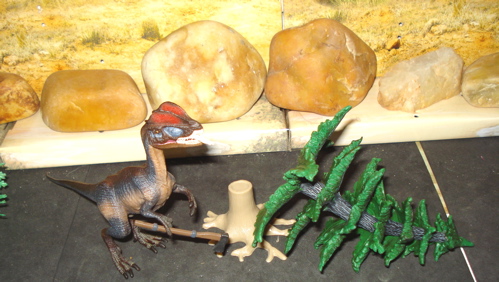 "Who chopped down my favorite tree?"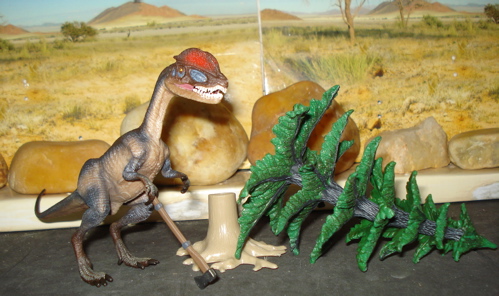 "Ummhhh... What tree?"
A disclaimer: In case you haven't noticed yet, I really like this figure. It is exemplary of what contemporary Dinosaur Toys can be and offer in both educational and fun value.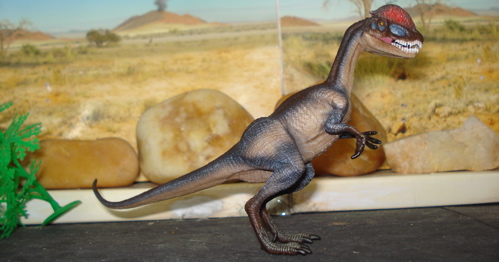 These Safari Ltd Dilophosaurs will fit right into your Dinosaur collection as they fill that early Jurassic-predator niche. A small pack of these will really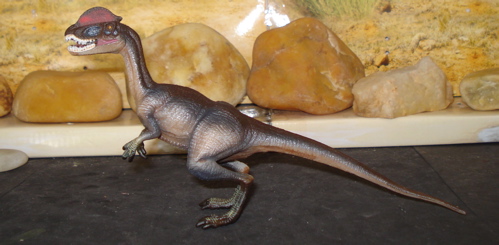 add a certain level of havoc in, say, the local schoolyard.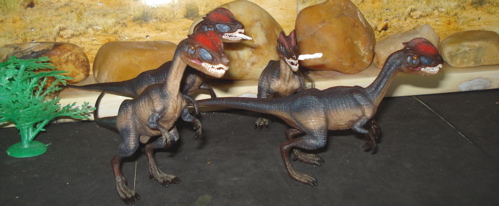 "We don't need no edge-ication.
"WE don't need no thought control... hack, hack, cough...."
(Smoking cigarettes and hanging-out may have led to extinction.)
Below we can see two Dilophosaurus with differing colored crests. Straight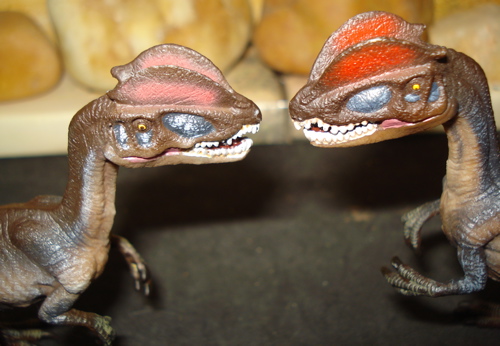 from the Safari-factory folks! Individually handpainted. Cool.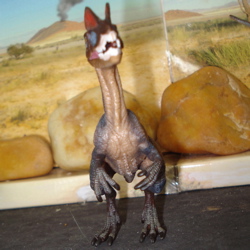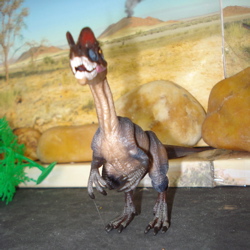 Coming at ya', the Dilophosaurus chaaaaarge!
Peering down on this Dilophosaurus (below) we see a very sleek-looking creature, the color gradations clearly defined; while the opposing view,


looking up at the belly (above) we can see the high degree of detail on the bottoms of the feet (it's always heavenly to see detailed soles), the throat and underpart of the jaw.
A close-up of the belly (below) shows us the manufacturers imprint,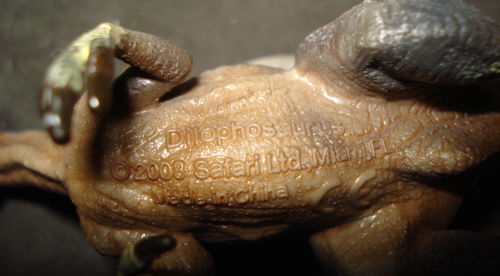 "DILOPHOSAURUS Safari Ltd, Miami FL, Made in China" and the now ubiquitous "CE" honoring the European Union regulators.
The Dilophosaurus is one of the more popular Dinosaur toys out today. It is produced by almost all the major manufacturers since it was first introduced to the world in its big (Jurassic Park) movie debut back in 1993. Following is a list of at least some of the Dilophosaurus toys that are currently extant.

Carnegie Dilophosaurus (1993)

Chap Mei Dilophosaurus


China Trademark Dilophosaurus (1999)


Jurassic Park-Kenner JP.02 "Spitter" Dilophosaurus (1993)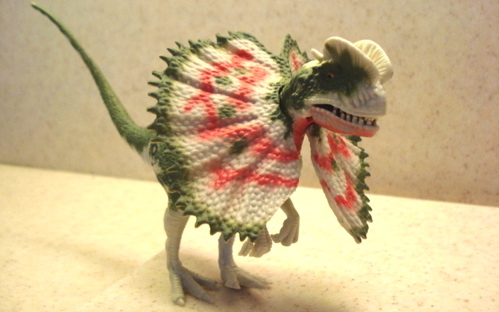 Kenner Jurassic Park JP.11 Dilophosaurus (1993)


Safari Dilophosaurus (2008)
THIS very page!

Schleich Dilophosaurus (2003) Photo in preparation

And now, back to the Safari Dilophosaurus....
Luckily for you the Safari Dilophosaurus is available for purchase almost anywhere that you'd care to look. From Amazon to eBay and specifically at the Safari website (opens new window) ranging in price from $7.25 to $9.99. Always plus tax and shipping. You can't avoid the tax but you can avoid the shipping by going to your neighborhood Dinosaur Specialty Shoppe (WHAT!! Your neighborhood doesn't have one?) and pick it up for the usual song. I would suggest you get several (I have four) because hunting in packs is more fun (and profitable) than hunting solo. I suppose, given sales tax levels, you'll end-up putting out a sawbuck for each of these. They are worth it! I'd also pick up a couple of the 2007 Safari Velociraptors as well. They're well out of scale but you won't care.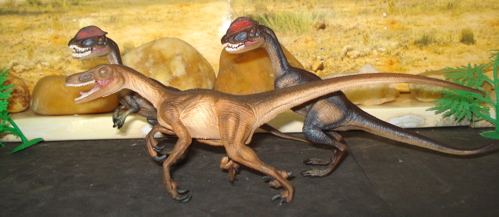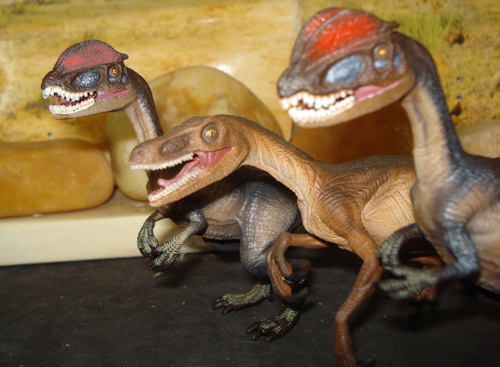 These have undergone all the government regulated toxin testing you can imagine (and afford) and have passed them all, earning the European Union's wonderful award and symbol of subservience, the "CE." They are safe to eat but too much fun to play with and at their cheapest cost $136/pound, like Kobe beef. But they don't taste that good. These are safe for little kids but, (and I speak as a loving parent and grandparent,) are way too good for little kids. Let the little ones play with the packaging and lumps from the 1990s. Save the good stuff, like these Dilophosaurs, for yourself. As of today, these are the class of the Dilophosaur Dinosaur toy act. Best in breed so to speak.
Taking everything into consideration these are great Dinosaur toys, replicas or museum-quality sculptures. You decide. Mine hang around the computer snapping up ideas I happen to let drop.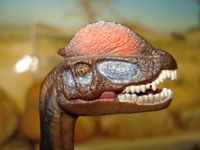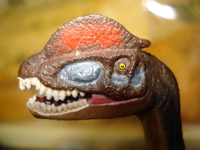 We here at The Dinosaur Toys Collectors Guide have only one purpose in being here at all. Providing you, our readers, with the best, most informative and entertaining information about Dinosaur toys both past and present.
In order to best achieve that goal, in addition to providing pages on individual figures, advice and suggestions on obtaining the Dinosaur toys and pricing, availability and age and personality appropriateness information.... We have instituted our:
1) The (easily subscribed to, FREE) Daily "Dino-Blog" where you are regularly updated as each new page is created and kept up-to-date on Dinosaur toys news and the happenings in "Dino-town."
2) Our Contact-osaur-Us form which you can use to send us comments and tell us what you need and want to see. After all, this site is for your information.
3) Social Networking links (way bottom, upper left) so you can share this page, and our site, with your friends. Thank you.
4) Our mighty and inimitable Search-osaurus Center. (Click link or Below.) You can use the search bars to either search the site for all things Dinosaur (toys) or search the entire web for all things anything at All-a-saurus.
5) As you have been perusing this site you may be wondering, "Can I do that?" Well, if having your own website has been your dream you can make that dream come true, here.
6) Our always open Donate-O-saurus Center (opens new window) where you can make a donation and keep us in business, such as it is. We thank you for anything you can give.
Search-O-Saurus Center
You can use this site-search box to find everything you need about Dinosaur toys collecting. Can't remember everywhere we mentioned, say, Velociraptors or Diplodocuses? Just put in your search term and you'll get a listing of everyplace on our site where you can find what you are particularly interested in.
Custom Search
Please note that your search results page will have ads ABOVE and BELOW the actual search results. Those are not from the site, but should be of interest, since Google targets the ads to your particular search.
You have been reading about the Safari Dilophosaurus, an early Jurassic Theropod. You can read all about other Theropods here, if you wish to click.
Below, we see the pack getting involved in Hi-Tech.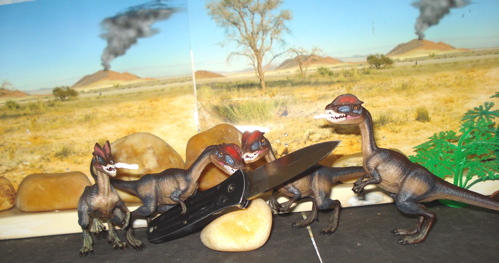 "What is that Bob?"
"I don't know, but it's pretty sharp."
"Yeah? Well it's not as sharp as I am."
"No, no, no. Not as sharp as me!"
"No, no... ME!"
"NO! ME!"
"ME!!!" "No ME!" "ME... me...me...me...."
I want to thank Safari Ltd for their help in the creation of this page. You drive me Wild Safari!