The Safari Allosaurs Have Evolved From Good to Excellent
Allosaurs: What else is their to say? Find out.
Safari, Ltd. Allosaurs were first introduced in 1996 and had very little real competition in the Jurassic toy box.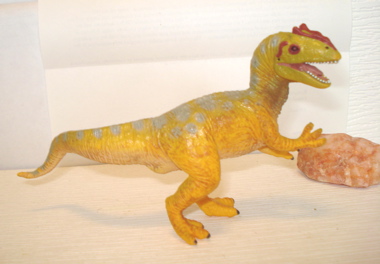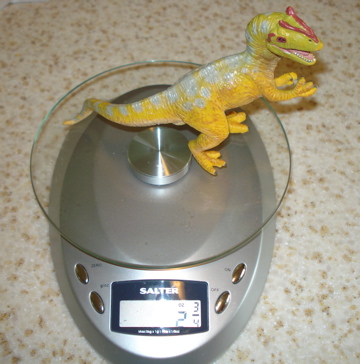 Weighing in at 2&3/4 ounces, measuring just under 8' from snout to tail tips and standing 3&3/4" tall this little Allosaurus proved to be big player in the Jurassic sand box. Molded in a base dark yellow plastic with black painted claws and red crest this little bad-boy stands in a tripod stance but is well balanced enough to stand on his own two feet as well.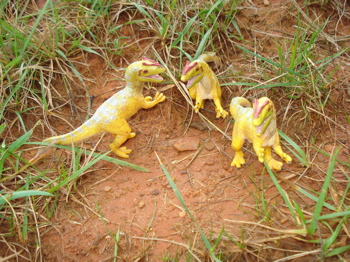 This Allosaurus is pretty much of a go anywhere, do anything kind of guy. These Allosaurs weren't particularly expensive to purchase (about $3.99 each) and they are really quite tough in their own right. Plus... their paint jobs are not spectacular so wear doesn't really bother their appearance. They are particularly good for rough play and their tripod stance helps prevent the biped-Dinosaur toy's bane- "flop-over."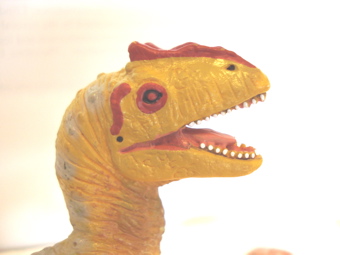 And these Allosaurs have a "happy" look on their little faces. Glad to be manufactured and ready to get down and get it on on the bedroom floor, backyard or sand box they just have this "glad to be here" smirk on their snouts. You will also (please) note that the detail work on the head is quite excellent. Nice white teeth, pink tongues and red crest give them that jaunty, ready to play "je ne sais quoi" that makes for a toy Dinosaur that will get plenty of opportunity to hunt other toy Dinosaurs. These are now out of production (at least they are still available retail) but when introduced in 1996 they were the best of breed in toy Allosaurs. Their only real flaw is that they are nearly identical from one to the next, their "paint jobs" differing only in intensity of color.


Wanna Find About Other Toy Allosaurs? Click This!!
Now Flash-Forward to 2007
That year saw a new and completely different Safari Allosaurus make the Dinosaur Toys scene.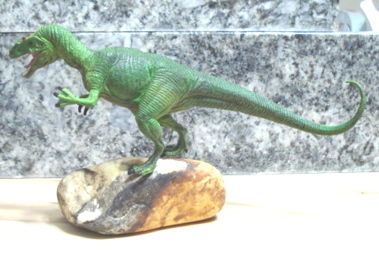 Safari's latest foray into Allosaurs creation finds a radically different and very "other" creature. Foregoing the bright yellow plastic for a basic green we find the new Allosaurs to be quite "green" in fact. Highlighted with black claws

on feet and "hands", dirty yellow & black creasing on the stomach and chest (significant individual variation) and small, orange crests these are both life-like (in a green-chameleon sort of way) and noticeably individualized.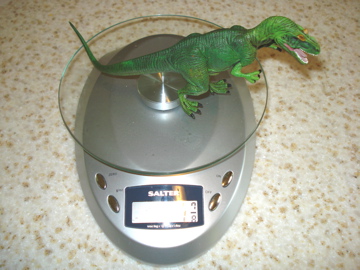 Weighing in at one-&-7/8 ounces the 2007 edition is significantly lighter weight than the 1996, yet at ~10" length (with it's elongated tail) and 3&1/4" in height is significantly longer and almost as tall. In comparison to 1996 truly an Allosaurus fragilis. This is the sportscar compared to the earlier sedan.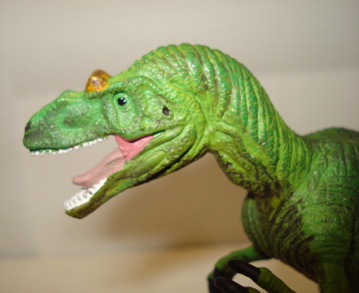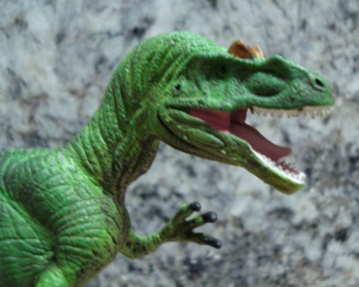 The head is beautifully sculpted with lots of detail from the rolls of skin to the beady little eyes looking out for prey from under heavy brows. The teeth are not quite as differentiated as on the earlier figure but there are a lot more of them and the mouthy interior is very well done from tongue to palate.



This fellow also has a much more serious demeanor about him. He definitely isn't smiling and seems absorbed by where his next meal is and what it is doing... and how he can get it on his plate.






A Pack Considering Who to have for Dinner.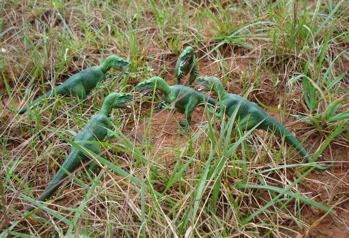 A Direct Comparison of the Two Allosaurs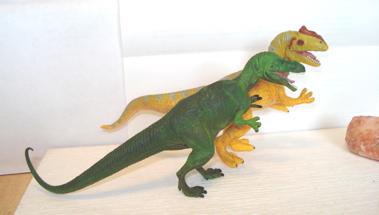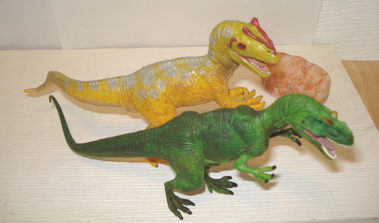 As you can readily see the newer, more evolved if you will, 2007 Safari Allosaur is quite more 'fragilis' in appearance than the earlier breed, as well as more ferocious. He is very well balanced in the bipedal position irregardless of the length of tail (more on this in a moment).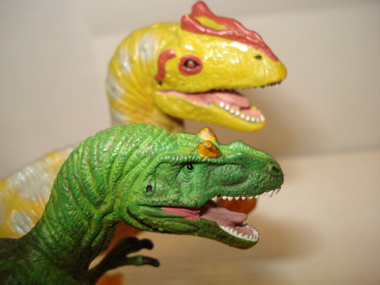 As can be seen in these comparison photos of the heads the later version is certainly both more finely detailed and "lifelike", as far as we can know.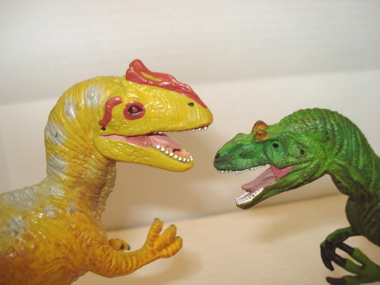 "Here's Looking at You, Kid...."

I have found that the paint job on the 2007 model to be quite tough, but then I haven't had them as long as I have the '96s. Several months in close quarters with other Dinosaur toys is hardly comparable to over a decade of shoulder rubbing but thus far the results are quite good. These new models are selling for about $8-9.00, wherever quality Dinosaur toys can be found.

Final Allosaurs Evolution
As noted above, I consider the tail on the 2008 model to be excessively long. Hence I have taken the tail into my own hands and done a bit of a tail-bob.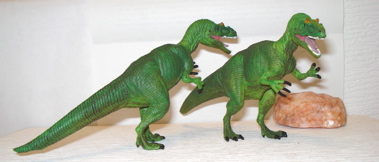 As can be seen this has not harmed the balance of the figure in the least.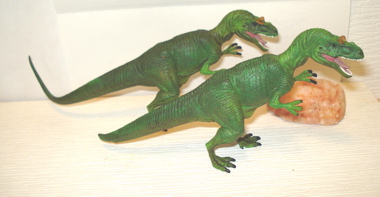 And that silly looking tail curl is gone....
(Another form of Dino-plasti Surgery can be found here. )
We here at The Dinosaur Toys Collectors Guide have only one purpose in being here at all. Providing you, our readers, with the best, most informative and entertaining information about Dinosaur toys both past and present.
In order to best achieve that goal, in addition to providing pages on individual figures, advice and suggestions on obtaining the Dinosaur toys and pricing, availability and age and personality appropriateness information.... We have instituted our:
1) The (easily subscribed to, FREE) Daily "Dino-Blog" where you are regularly updated as each new page is created and kept up-to-date on Dinosaur toys news and the happenings in "Dino-town."
2) Our Contact-osaur-Us form which you can use to send us comments and tell us what you need and want to see. After all, this site is for your information.
3) Social Networking links (way bottom, upper left) so you can share this page, and our site, with your friends. Thank you.
4) Our mighty and inimitable Search-osaurus Center. (Click link or Below.) You can use the search bars to either search the site for all things Dinosaur (toys) or search the entire web for all things anything at All-a-saurus.
5) As you have been perusing this site you may be wondering, "Can I do that?" Well, if having your own website has been your dream you can make that dream come true, here.
6) Our always open Donate-O-saurus Center (opens new window) where you can make a donation and keep us in business, such as it is. We thank you for anything you can give.
Search-O-Saurus Center
You can use this site-search box to find everything you need about Dinosaur toys collecting. Can't remember everywhere we mentioned, say, Velociraptors or Diplodocuses? Just put in your search term and you'll get a listing of everyplace on our site where you can find what you are particularly interested in.
Please note that your search results page will have ads ABOVE and BELOW the actual search results. Those are not from the site, but should be of interest, since Google targets the ads to your particular search.