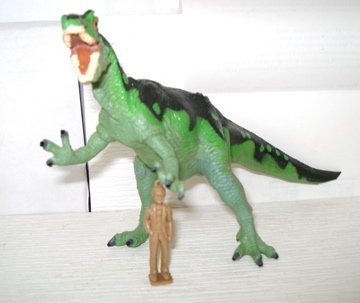 Carnegie Allosaurs Set the Standard for Realism
Carnegie Allosaurs: All new for 1988
(picture courtesy of Therinzosaurus)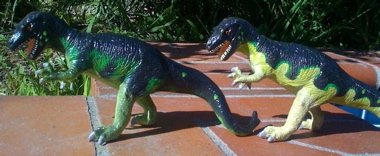 1988 saw the debut of the Carnegie Allosaurs, by Safari, Ltd, the first dedicated Allosaurus. He was rather doughy and clumsy looking and there was room for improvement but I had always loved the Allosaurus and I was thrilled. If anything he is reminiscent of all of our nightmares of a monster coming towards us...reaching out- which isn't half bad for an apex predator when you think about it. He came in two flavors, light and dark, as seen here.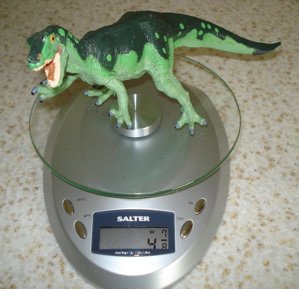 But there was improvement in the air and by ~1995 the next generation was weighing in at four & 7/8 ounces, ~10.5" length and standing 4.75" tall. This beautiful creation had plenty of personality and appeared in what for the time (which is up to and including today) is a very active pose. This is and was a great toy dinosaur. His fore claws are spread wide and his well shaped head has its mouth open, ready to bite. He is 1/40 scale and usually costs ~$8.00 - $12.00.
I have two of these green ones left. I got them at around the same time in 1995, and of interest is that their product information belly markings are reversed and they are different basic colors, one more blue than the other. I also did not like the overlong tail and chose to shorten it. (Other Dino-surgery tips here.) The Carnegie Allosaurs were designed to stand in a tripod, two feet and tail on the ground, but now mine will stand bipedally, as in real life. Which mine may not be....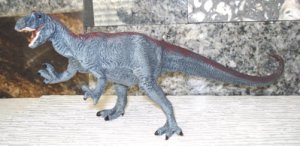 I understand that the green is no longer in production and there is a new Carnegie Allosaurus in town. It is very similar in pose but clearly, a whole new sculpt. Thank you Safari Ltd, makers of the Carnegie line-up, and thank you for your generous help and support in the creation of this page.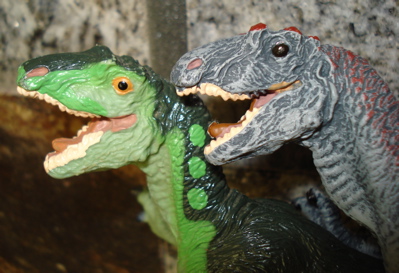 (Coincidentally the following year, 1996, saw the introduction of the first Safari Ltd. branded Allosaurus.)
Carnegie Allosaurs on the Hunt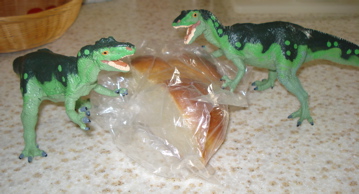 "What the heck is this?"

Whether on the kitchen counter... or out in the wilds, the Allosaurs blend into their environment...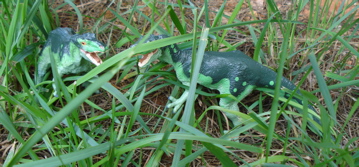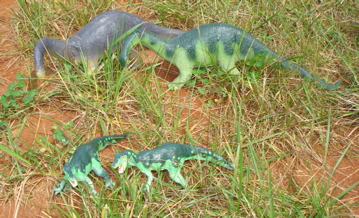 ...silently stalking their prey.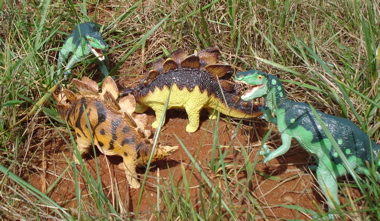 Whether it comes with its own plates and toothpicks...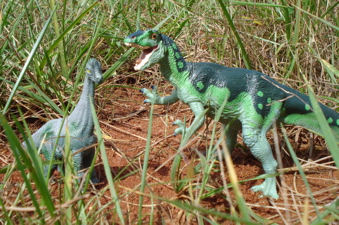 ...or is an innocent seeming youth...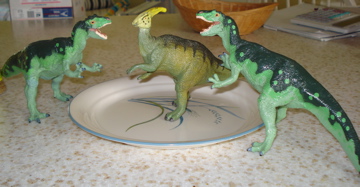 The Carnegie Allosaurs know what they want on their plate and are experts at bringing home the bacon....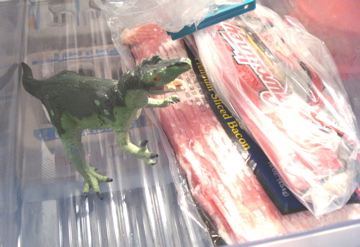 GREETINGS from the JURASSIC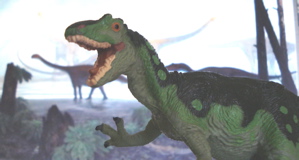 The Carnegie Allosaurs are great Dinosaur toys that have stood the test of time and are as playable and delightful today as they were when they first came out in 1995. The paint on mine has survived toy box life for fifteen years and as you can see, they are still the mischievous little fellows they were when I first got them.
I have found both the new gray and older green versions for sale new, online and in stores, for from $8.00 to $12.00. Online usually tacks on shipping but any good Dinosaur toys store should have them in stock. Mine does.
For more information on the Carnegie line, or Safari-Ltd, the company that makes them, just click on their names. If you are interested in other Allosaurs, Dinosaur toy companies or the Home Page I'm sure that you are as enterprising as the Carnegie Allosaurs and will come up with what you are hunting for.
We here at The Dinosaur Toys Collectors Guide have only one purpose in being here at all. Providing you, our readers, with the best, most informative and entertaining information about Dinosaur toys both past and present.
In order to best achieve that goal, in addition to providing pages on individual figures, advice and suggestions on obtaining the Dinosaur toys and pricing, availability and age and personality appropriateness information.... We have instituted our:
1) The (easily subscribed to, FREE) Daily "Dino-Blog" where you are regularly updated as each new page is created and kept up-to-date on Dinosaur toys news and the happenings in "Dino-town."
2) Our Contact-osaur-Us form which you can use to send us comments and tell us what you need and want to see. After all, this site is for your information.
3) Social Networking links (way bottom) so you can share this page, and our site, with your friends. Thank you.
4) Our mighty and inimitable Search-osaurus Center. (Click link or Below.) You can use the search bars to either search the site for all things Dinosaur (toys) or search the entire web for all things anything at All-a-saurus.
5) As you have been perusing this site you may be wondering, "Can I do that?" Well, if having your own website has been your dream you can make that dream come true, here.
6) Our always open Donate-O-saurus Center (opens new window) where you can make a donation and keep us in business, such as it is. We thank you for anything you can give.
The Carnegie Allosaurs Search-O-saurus Center
You can use this site-search box to find everything you need about Dinosaur toys collecting. Can't remember everywhere we mentioned, say, Velociraptors or Safari Allosaurs? Just put in your search term and you'll get a listing of everyplace on our site where you can find what you are particularly interested in.
Custom Search
Please note that your search results page will have ads ABOVE and BELOW the actual search results. Those are not from the site, but should be of interest, since Google targets the ads to your particular search.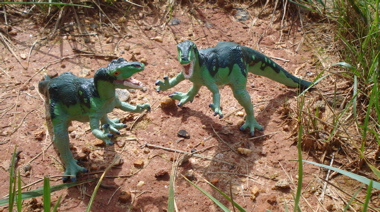 "Bye Bye for Now..."