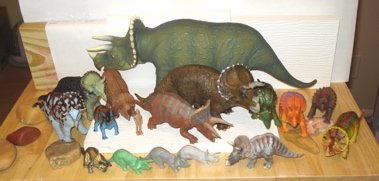 Triceratops horridus was Among the Last of the Dinosaurs and First of the Dinosaur Toys
The Triceratops horridus (full scientific name) was one of the last of the Dinosaurs who roamed the Earth throughout the Mesozoic Period. He specifically lived at the end of the Cretaceous, 65 million years ago and was a contemporary of, if not best friends with, Tyrannosaurus Rex. This was probably a herd animal and similar in that sense to the Elephant, though at 13 tons and 30 feet in length more than twice the size of the biggest pachyderm living today.

It is known to be an herbivore (vegetarian) and thought to be a herd animal. If it is comparable to the Elephant then a herd would consist of large females, young males and youthful critters. Large males would tend to live isolated lives joining with a herd for mating and then going back to a life of bachelorhood, hanging out in dino-bars and getting into trouble. We just don't really know how they lived but I figure it was pretty much any way they wanted to....

My first experience with toy Triceratopses was in the museum shop of the AMNH (American Museum of Natural History in NYC) where I had a choice of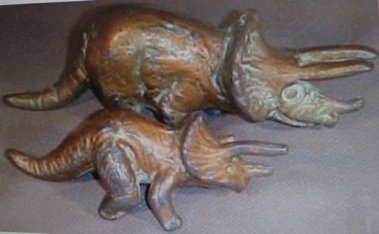 two SRG T-Tops figures- the large or the small. The large was hollow and the small solid, the large about 6" and the small just over 3". My first choice was the large (because I was small?) but after that I learned that getting the small was better because it cost less and I could get two figures instead of just one. (Sometimes a third.)
I loved my Tri-Ceratopsians but discovered the drawback with metal Dinosaur toys being fragility. These broke quite often and the only survivors were the ones my mother borrowed and inadvertently failed to return. I got them back thirty years later....x
If Triceratops don't float your boat perhaps a different Dinosaur will get your vote. VOTE here!
1955 and MARX Makes the Scene

1955 saw the emergence of (then) toy giant Louis Marx and Company's new Dinosaur series which happily included my beloved T-Tops! Just about perfect at 3.5" long, (relatively) unbreakable plastic and available in bulk, in bins at the neighborhood Woolworths, for 10c a piece.
Since then the Ceratopsian (opens new window) scene has seen a proliferation of different Ceratopsians (horn-heads) and the Marx model is in eclipse everywhere but in my heart.
My current herd of T-Tops gets into all kinds of trouble.
Shall we take a look before we proceed to the company list of all Dinosaurs?
A Day in the Life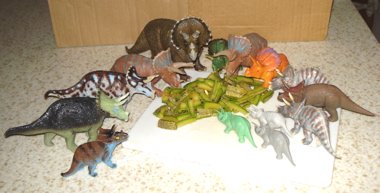 Up in the morning and a breakfast of canteloupe rinds starts the day off right. Of course there are always those who have to forage and they can prove to be pesky.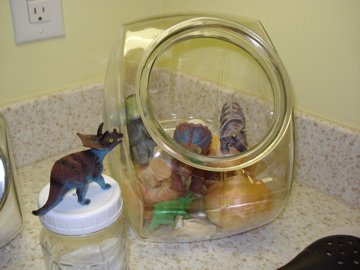 Getting into where they don't belong can prove a problem with T-Tops so the only answer is to make them play outside.



Once outside the herd breaks up into smaller groups and fights can break out with the neighborhood bullies.... (opens new window)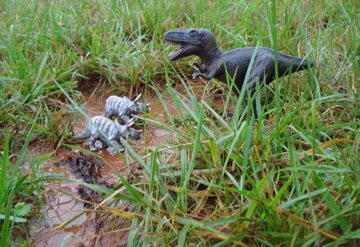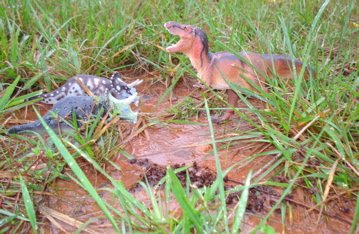 Some (opens new window) just involve a lot of yelling....
Other (opens new window) times they (opens new window) appear to get serious...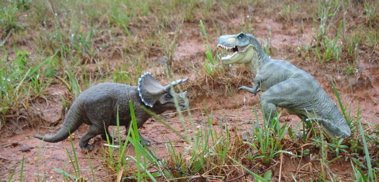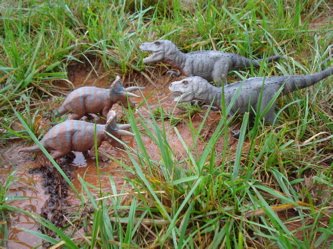 So everybody is called back inside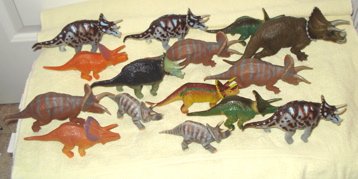 for Nap Time!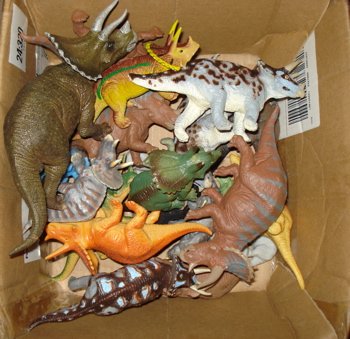 We are Ready for our List of all Dinosaurs- Triceratops
By clicking here, you can find Triceratops Toys
on Amazon.
By clicking on the Company Name you will access its page.

Battat (1994)


Bullyland T-tops Museum Line


Bullyland T-tops Small


Carnegie Triceratops (1988-96-07) (1999)


"China" Trademark (whenever)


Invicta Triceratops (1975)


Jurassic Park/Kenner (1993)

MARX (1955) (1959)


MPC (1964)


Papo (2005)


Safari/Field Museum Torosaurus (2004)


Safari (1996) (2007)


Wild Safari Dino-baby (1997)


Schleich (2002)


SRG (1947)

This concludes my list of all Dinosaurs based upon the Triceratops that I own. If you have some others you would like included please contact me.
Have you ever wondered what it might be like if Dinosaurs had survived and were still alive today. They'd have to be pretty special, that's for sure. So special, in fact, that they might form a team of Superheroes. Well, it's not impossible, it's entirely FOSSIBLE!
If you are interested in other Dinosaur toys should check out our Toy Companies page. Or for more information on the Triceratops itself just go here. (Opens new page.)
We here at The Dinosaur Toys Collectors Guide have only one purpose in being here at all. Providing you, our readers, with the best, most informative and entertaining information about Dinosaur toys both past and present.
In order to best achieve that goal, in addition to providing pages on individual figures, advice and suggestions on obtaining the Dinosaur toys and pricing, availability and age and personality appropriateness information.... We have instituted our:
1) The (easily subscribed to, FREE) Daily "Dino-Blog" where you are regularly updated as each new page is created and kept up-to-date on Dinosaur toys news and the happenings in "Dino-town."
2) Our Contact-osaur-Us form which you can use to send us comments and tell us what you need and want to see. After all, this site is for your information.
3) Social Networking links (way bottom, upper left) so you can share this page, and our site, with your friends. Thank you.
4) Our mighty and inimitable Search-osaurus Center. (Click link or Below.) You can use the search bars to either search the site for all things Dinosaur (toys) or search the entire web for all things anything at All-a-saurus.
5) As you have been perusing this site you may be wondering, "Can I do that?" Well, if having your own website has been your dream you can make that dream come true, here.
6) Our always open Donate-O-saurus Center (opens new window) where you can make a donation and keep us in business, such as it is. We thank you for anything you can give.
Search-O-Saurus Center
You can use this site-search box to find everything you need about Dinosaur toys collecting. Can't remember everywhere we mentioned, say, Velociraptors or Diplodocuses? Just put in your search term and you'll get a listing of everyplace on our site where you can find what you are particularly interested in.
Please note that your search results page will have ads ABOVE and BELOW the actual search results. Those are not from the site, but should be of interest, since Google targets the ads to your particular search.