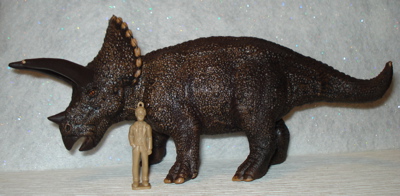 The Bullyland Triceratops Leads an Interesting Life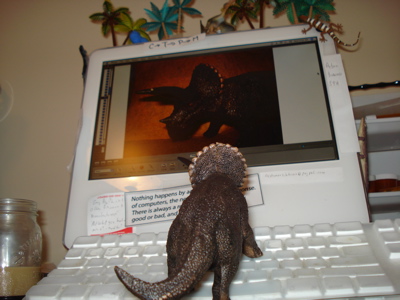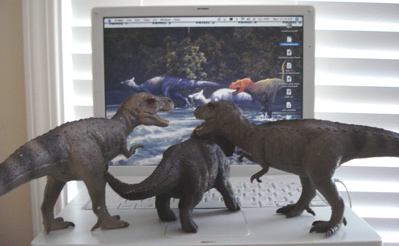 The Bullyland Triceratops is a hard working and technically astute kind of guy. When attacked by predators he has to rely on modern medical technology and his insurance plan to get him through. Here we see him at work, looking at a picture of his lovely wife. Then, while viewing the news, his bosses show up and are quite annoyed that he isn't working....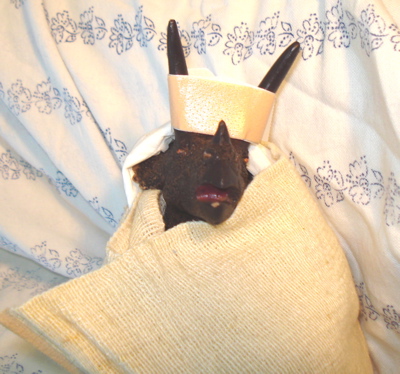 The frightening result is sure proof that you should never work for a T-Rex, even when you have a medical plan. So whether you are thirty feet long and weigh seven tons, or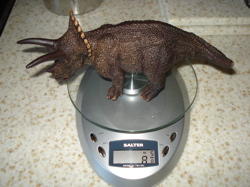 eight & five-eighth ounces and ten inches long (~1/36 scale) the lesson here is that even really good looks won't necessarily see you through.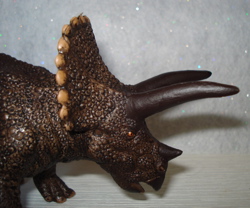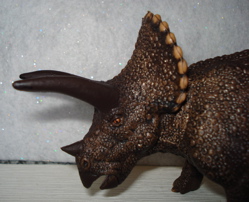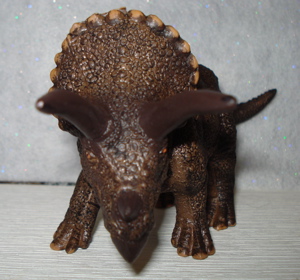 This Bullyland Triceratops is very well sculpted with "skin" both 'pebbled' and 'scaled' in a base tan rubber, painted with a dark chocolate overcoat. As the dark paint wears off on the high points each Bullyland Triceratops figure will gain individuality without losing detail. It is also very well sculpted with a beautifully shaped head and in a very dynamic, active pose. Even though the rubber is relatively soft this is still a very "tough" member of the Dinosaur toys family. Price wise this is selling all over the web for from $10-$19.00, plus shipping. It can also be found in better retail toy stores. The smaller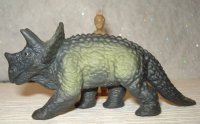 Bullyland Triceratops (playing the babies) is selling for from ~$2.00-$5.00. It is approximately four inches from beak to tail tip and too light to bother weighing in. And it does make a great baby Triceratops!
Now, back to our story. With our Daddy-Tops in traction Mom-tops takes over....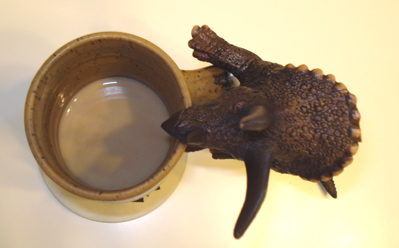 The day starts off with a cup of coffee and a quick check of the pantry. Hmmm, not easy to get at....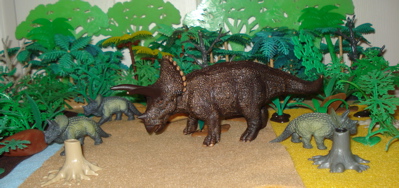 Keeping things normal calls for a trip to the park with the kids and then it's back home and housework.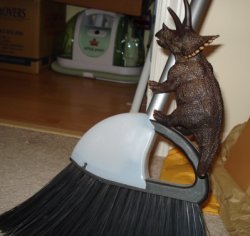 The broom is rather awkward to deal with, it's true, but the vacume is vitually impossible. How does "THIS" make things any easier??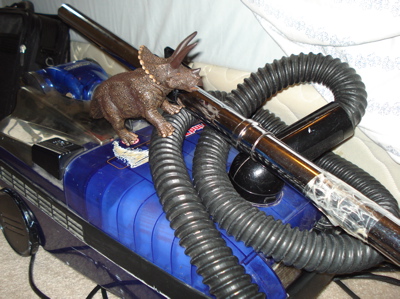 Step class is tough but necessary to stay healthy although there are some who may turn up their noses.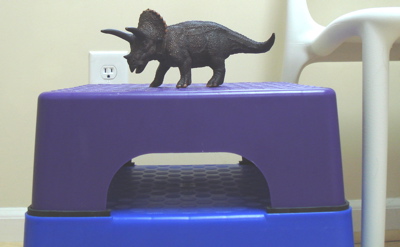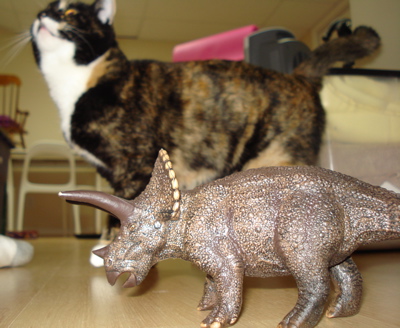 But moving right along and getting the kids to the dinner table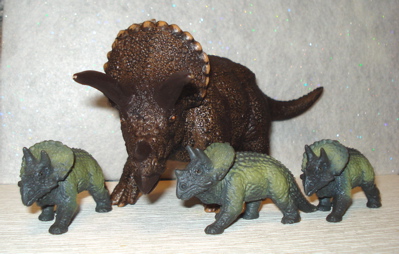 takes precedence....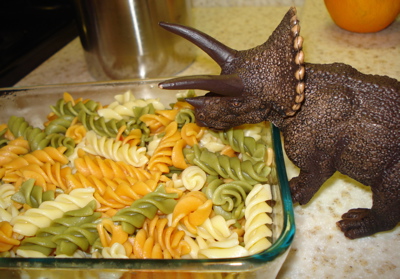 And everybody always likes Pasta. Right?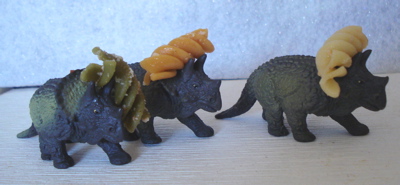 When Dad is feeling better it's his turn to take the kids to the park.

Although it's doubtful that he'll manage to stay out of trouble....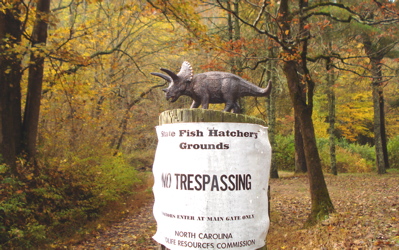 Overall the Bullyland Triceratops is an excellent addition to the Triceratops available today. It is ruggedly built, quite accurate and well detailed. It has no pesky moving parts to break-off or get lost and does what you want, when you want it to, with just a nudge from you (usually anyway). While certainly non-toxic, Bullyland does not recommend these for children under the age of three, especially those with teeth and the urge to use them.


If you are interested in other Triceratops or companies other than Bullyland you have certainly come to the site that will meet all your Dinosaur toys information needs.
We at the Dinosaur Toys Collectors Guide are here to provide you with information you need to make an educated choice in today's crowded Dinosaur toys market. Whether you are seeking a toy for your child(ren) or for a serious collector you will find all you need to know here.

Of course this is a huge field and we are a new site so if what you need is not here or hasn't appeared as yet please use our Contact-osaur-Us form (below) to let us know what you need and want, or just to comment and let us know how we are doing.
We have the daily "Dino-Blog" that you can easily subscribe to, for FREE (upper left of every page)! This way you will be kept informed of new pages as they appear and apprised of the happenings in "Dino-town", USA.
And finally for the "social networkers" among you we provide linkage buttons (at the very bottom) so you can share this page and site with your friends.