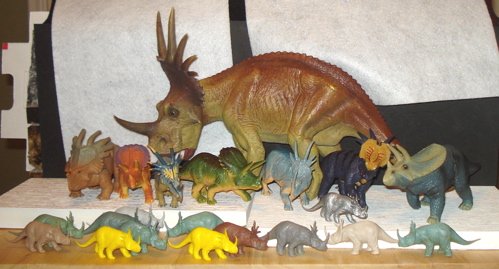 Ceratopsians Had Frills but Weren't Frilly
Having a big head with lumps, bumps, horns and a big "frill" protecting my neck pegs me as a Ceratopsian. A family of Dinosaurs that has as its best known member the Triceratops but included many other species as well including Styracosaurs, Chasmosaurs and whole bunch more.
The first of the non-Triceratops Ceratopsians to make its appearance was the MARX Styracosaurus in 1959. Slightly smaller than the Triceratops this fella had a very busy "frill" as can be seen below on this 3.5" (9 cm) long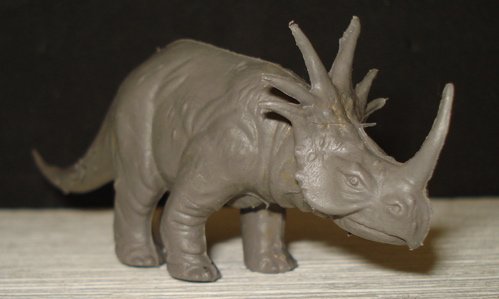 Dinosaur toy. It was followed in 1964 by the very similar but slightly smaller MPC Styracosaurus. For the next thirty-plus years these two Dinosaur toys were the only Dinosaur toys Ceratopsians, that weren't Triceratops, available for the Dinosaur toys toy-box.
1994 saw the still fabulous Boston Museum of Science, Battat Styracosaurus (Below) modeled by Gregory Wenzel of The Dinosaur Studio. These have become definitive collectibles.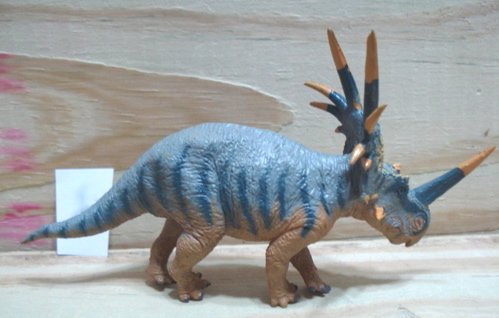 Following in 1998 came the very dynamic Styracosaurus in the Wild Safari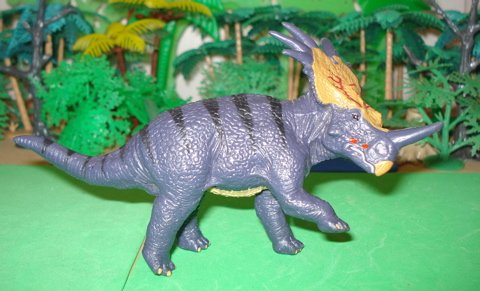 Dinosaur toys series (Above) by Safari Ltd. This has since experienced a brightening repaint from the basic police blue and tan as seen here.
Schleich, in 1999, came out with a very different creature, (Below)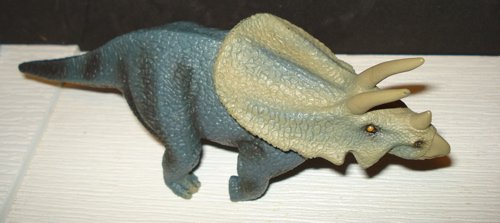 in the Torosaurus. A very Triceratops looking Dinosaur, but definitely isn't. It has the largest frill of any known member of the Ceratopsians family.
1999 also saw the introduction of hollow, very low priced and highly mass produced but actually quite reasonable Ceratopsians from China. This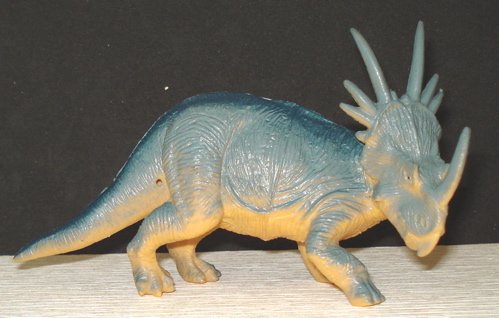 Styracosaurus (Above) is really quite good in terms of its shape and form. The head is a tad narrow but I really like it and wish that I had several more. In the same year, and seemingly from the same factory, came what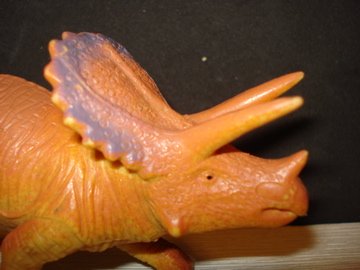 is labeled as a Triceratops (says so right there on its belly) but given the size and shape of the 'frill' it really looks a lot more like a Torosaurus or Chasmosaurus (Left).
There are many members of the Ceratopsian family available for the creation of Dinosaur toys. Below are a few that have been modeled by The Dinosaur Studio (Dan LoRusso and Gregory Wenzel). (opens new window)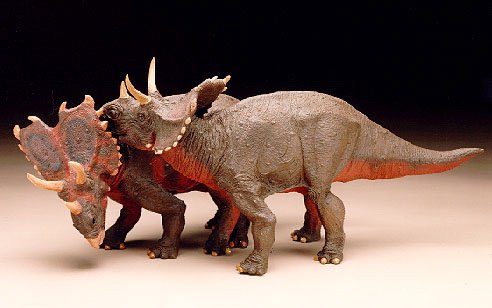 Chasmosaurus mariscalensis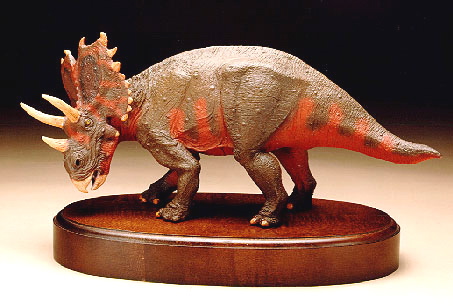 Chasmosaurus mariscalensis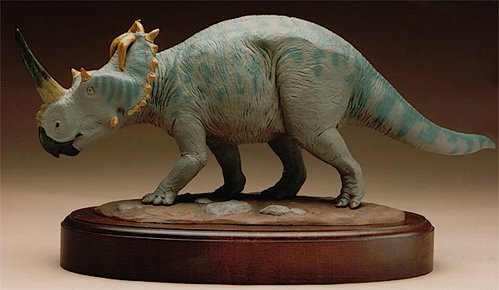 Centrosaurus apertus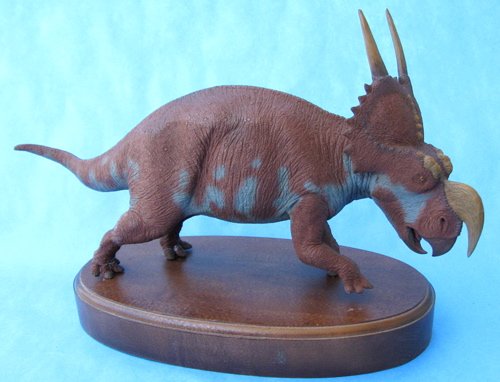 Einiosaurus procurvicornus
That Centrosaurus and Einiosaurus look like great Dinosaur toys candidates to me!
Ceratopsians, It's Cold Outside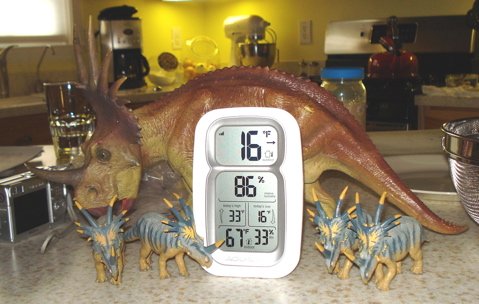 When it is just a bit too frigid to risk horns and frill-bite in the outside world (Above) the smart Dinosaur toys Ceratopsians gather 'round the fruits and veggies buffet served in the Dino-town cafeteria (Below).
The Ceratopsians ranged from three to thirty feet (1-9.2 meters) in length and weighed from several hundred pound to ten or so tons (0.3-10+ tons). They all had enormous heads, horns to a greater or lesser degree and that frill or crest on the back of their armored heads. They inhabited the Cretaceous Period (145.5-65 mya) surviving in one form or another for eighty-odd million years. Quite a spectacular lifeform.
They are known to be herbivores (vegetarians) and strongly believed to have lived in herds which would have provided significant advantages given that the Tyrannosaurus Rex was their carnivorous (Ceratopsian eating) contemporary....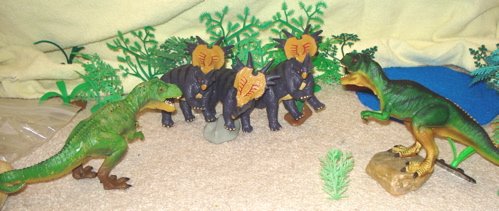 (Above link will take you to Amazon where you can buy all the Dinosaur Toys that you want.)
Just click on the Ceratopsian link to go to that figure-page. Please note that Triceratops, while a family member, has its own page.

Battat Styracosaurus (1994)


China Styracosaurus (1999)

China Torosaurus/Chasmosaurus (1999)


Disney Styracosaurus (2000) Made for McDonalds Corp.


Marx Styracosaurus (1959)


MPC Styracosaurus (1964)


Papo Pachyrhinosaurus (2009)


Safari Ltd. Ceratopsians (Wild Safari) Styracosaurus (1998)


Schleich Torosaurus (1999)


Safari/Field Museum Torosaurus (2004)


X-Plus Styracosaurus (2002)

More Ceratopsians will be added to this list as I come across them. One that I do not have, and have never seen, is the out-of-production 2002 Carnegie Styracosaurus which "retired" (I am sure it was given no choice) in 2005. Perhaps a new one is in the wings?
The Ceratopsians are a large and spectacular family of Dinosaurs and hold an important place in any Dinosaur toys collection. Having a large number (more than three or four) of any one figure is not excessive as they were herd animals. While the Marx and MPC are in ~1/52 scale the others (Battat, Safari, China, etc) are all in 1/40-45 and play with each other very well. The X-Plus is less of a "toy"; hollow and made of hard plastic it is in 1/10 scale and comes painted (pictured) and unpainted. There is still a plethora of Ceratopsians awaiting translation into new and different Dinosaur toys for those of us who care. The Battat Styracosaurus is still the best of these although the Safari Ltd. is a close second and Safari has been renovating and revising their entire line of late. I look for great new Ceratopsian figures in the near future.
We here at The Dinosaur Toys Collectors Guide have only one purpose in being here at all. Providing you, our readers, with the best, most informative and entertaining information about Dinosaur toys both past and present.
In order to best achieve that goal, in addition to providing pages on individual figures, advice and suggestions on obtaining the Dinosaur toys and pricing, availability and age and personality appropriateness information.... We have instituted our:
1) The (easily subscribed to, FREE) Daily "Dino-Blog" where you are regularly updated as each new page is created and kept up-to-date on Dinosaur toys news and the happenings in "Dino-town."
2) Our Contact-osaur-Us form which you can use to send us comments and tell us what you need and want to see. After all, this site is for your information.
3) Social Networking links (way bottom, upper left) so you can share this page, and our site, with your friends. Thank you.
4) Our mighty and inimitable Search-osaurus Center. (Click link or Below.) You can use the search bars to either search the site for all things Dinosaur (toys) or search the entire web for all things anything at All-a-saurus.
5) As you have been perusing this site you may be wondering, "Can I do that?" Well, if having your own website has been your dream you can make that dream come true, here.
6) Our always open Donate-O-saurus Center (opens new window) where you can make a donation and keep us in business, such as it is. We thank you for anything you can give.
Search-O-Saurus Center
You can use this site-search box to find everything you need about Dinosaur toys collecting. Can't remember everywhere we mentioned, say, Velociraptors or Diplodocuses? Just put in your search term and you'll get a listing of everyplace on our site where you can find what you are particularly interested in.
Custom Search
Please note that your search results page will have ads ABOVE and BELOW the actual search results. Those are not from the site, but should be of interest, since Google targets the ads to your particular search.