Safari Ltd Focuses on Education, Safety, Service and Dinosaurs?
Focus On Safari Ltd Dinosaur Toys
Safari offers a great variety of ever improving Dinosaur toys.

Founded in 1980 as an educational toy company operating out of the founders apartment, Safari Ltd. has grown into a $200m business.
The growth of their business is mirrored in the new (and very realistic) Dinosaur figures it produces today. The Safari Dinosaurs range in price from about $2.99 to $9.99. Safari also produces the Carnegie Collection of prehistoric animals.
Safari had been producing Dinosaur toys for the Carnegie Collection since 1988. In 1993 they produced 'the Dinosaurs of China' series and 1996 saw Safari jump into the Dinosaur toys game with their own branded line of figures. These were somewhat toy-like but none-the-less realistic and are generally sold as individual figures, out of a bin or off the shelf a la the early MARX Dinosaur toys. Carnegie has remained their "serious" dinosaur toys line although the Safari line itself has been getting a lot more 'serious' of late.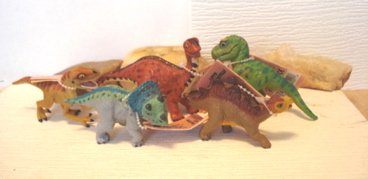 Ranging from cute little Dinosaur babies introduced in 1997 and still available new in retail stores to the amazingly realistic (and ferocious looking)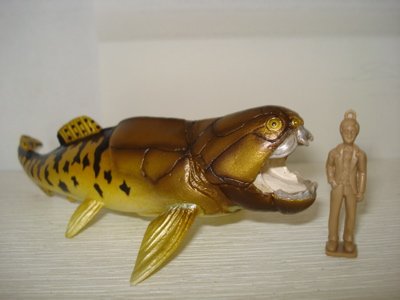 armored fish from the

Devonian Period, Dunkleosteus, Safari is producing the broadest line of prehistoric creatures and Dinosaur toys of any manufacturer today.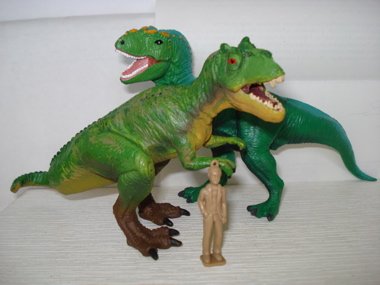 Demonstrating their commitment to quality Safari has come out with new molds to replace older models. Here we see the new T-Rex for 2008 standing in front of the more toy-like toy T-Rex from 1996 (still one of my favorites).


Ranging from Carnivores...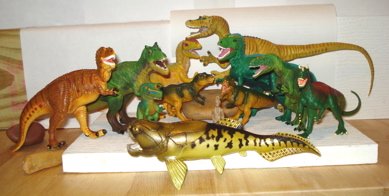 ...to Herbivores...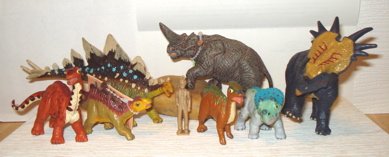 Safari has a deep and broad line of Dinosaur toys to augment your personal herd(s).
Given their price point and good looks these make really excellent Dinosaur toys with great "playability". They are tough and wear only makes them look tougher. The 1996 T-Rex is still one of my personal favorites even though it was superseded in 2008. You can read about them and the other Safari Dinosaur toys by clicking on the links in the list of Dinosaurs below.
If you are more interested in reading about other dinosaur toy companies- click here.
Otherwise let us proceed with...
List of All Dinosaurs by Safari Ltd (that I own)!
(I would like to directly thank Safari Ltd for their generous help in making the range and depth of this page possible.)

(Just click on the highlighted name to access the Dinosaur toys figure page.)

Allosaurus (1996 & 2008)


Carnegie Amargasaurus (2006) Actually a Carnegie Collection figure but they neglected to put that in its imprint!


Safari/Field Museum Anatotitan (2004)


Safari Apatosaurus (1996)


Safari Apatosaurus (2010)


Arsinotherium (2005)


Baby Dinosaurs (1997)(Baby Spinosaur) (Baby Tyrannosaurus) Baby Dinosaurs!


Brachiosaurus (1996) & (2008)

Carcharodontosaurus (1996)


Ceratosaurus (1996)


Safari Dilophosaurus (2008)


Dunkleosteus (2006)

Safari Gorgosaurus (1996)


Safari Kentrosaurus (2010)


Safari Liopleurodon (2010)


Mosasaurus (1991) This is the same figure as the Carnegie Mosasaurus- it was copyrighted in 1990 for Carnegie, then again in 1991 for Safari Ltd, the actual manufacturer.


Safari Mosasaurus (2010)


Safari Nigersaurus (2008)


"Dino-Discoveries" Oviraptor on Nest (2007)


Postosuchus (2008)


Pteranodon (1999)


Pterosaur (2006)

Scutosaurus (2008)

Smilodon (1997)


Spinosaurus (2001)


"Great Dinosaurs" series Spinosaurus


Stegosaurus (1996)


Safari Stegosaurus (2007)


Styracosaurus (1998)


Suchimimus (2005)


Tapejara (2008)


Safari/Field Museum Torosaurus (2004)


Triceratops (1996 & 2007)


"SUE" for The Field Museum (2004 - two figures)


Safari Dino-Discoveries T-Rex Hatchling (2006)


Juvenile Tyrannosaurus (2005)


Tyrannosaurus (1996) & Tyrannosaurus (2006)


Safari "Great Dino" Velociraptor


Wild Safari Velociraptor Mongoliensis (1993)"Dinosaurs of China" series

Wild Safari Velociraptor (2007)

Safari Ltd. is a very serious player in the creation of realistic Dinosaur toys.

Coming out of the shadows.
Not so much seen, as sensed.
Stalked by the fearsome Velociraptor Mongoliensis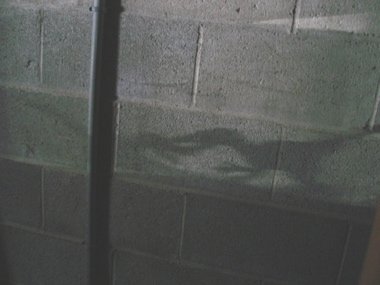 We here at The Dinosaur Toys Collectors Guide have only one purpose in being here at all. Providing you, our readers, with the best, most informative and entertaining information about Dinosaur toys both past and present.
In order to best achieve that goal, in addition to providing pages on individual figures, advice and suggestions on obtaining the Dinosaur toys and pricing, availability and age and personality appropriateness information.... We have instituted our:
1) The (easily subscribed to, FREE) Daily "Dino-Blog" where you are regularly updated as each new page is created and kept up-to-date on Dinosaur toys news and the happenings in "Dino-town."
2) Our Contact-osaur-Us form which you can use to send us comments and tell us what you need and want to see. After all, this site is for your information.
3) Social Networking links (way bottom) so you can share this page, and our site, with your friends. Thank you.
4) Our mighty and inimitable Search-osaurus Center. (Click link or Below.) You can use the search bars to either search the site for all things Dinosaur (toys) or search the entire web for all things anything at All-a-saurus.
5) As you have been perusing this site you may be wondering, "Can I do that?" Well, if having your own website has been your dream you can make that dream come true, here.
6) Our always open Donate-O-saurus Center (opens new window) where you can make a donation and keep us in business, such as it is. We thank you for anything you can give.
Safari Ltd Search-osaurus Center
You can use this site-search box to find everything you need about Dinosaur toys collecting. Can't remember everywhere we mentioned, say, Velociraptors or Diplodocuses? Just put in your search term and you'll get a listing of everyplace on our site where you can find what you are particularly interested in.
Custom Search
Please note that your search results page will have ads ABOVE and BELOW the actual search results. Those are not from the site, but should be of interest, since Google targets the ads to your particular search.