Anatotitan: Large Duck, eh?
Anatotitan: Trapped in a World He Never Made
2004 saw the Field Museum of Chicago combine with Safari Ltd. to create Dinosaur toys based on their infamous Tyrannosaurus Rex fossil named SUE. Now out-of-production, four great little figures were produced consisting of two T-Rex, a Torosaurus and this excellent Anatosaurus. The Anatotitan could be found either individually, with its own little tag, or in a 'gift box' with one of the two Sue Tyrannosaurus Rex figures.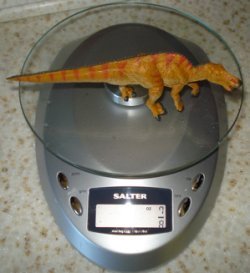 Six inches (6", 15.25 cms) in length and weighing seven-eighths of an ounce (.875 oz, 24 gms) this 1/78 scale figure is beautifully proportioned and very, very well detailed. Molded in a dark beige (relatively) soft plastic/rubber it is handpainted with light-brown upper and sides with dark-red triangular markings and ash-gray spine, claws and beak. The inside of the mouth is red and the eyes yellow with black pupils. The body itself is well contoured, showing musculature, rib-cage and skin folds. The end result is a highly realistic, or at least life-like, miniature figure. The tag comes in five languages (English, French, German, Italian & Spanish) and can be used as a crib sheet for tests or when attending international conferences on the Anatotitan.


Contemporary "museum quality" Dinosaur toys tend to be done in larger scales, 1/30-40, as opposed to the much smaller size that this Anatotitan is found. However the early, vintage MARX and MPC Dinosaur toys match up extremely well, as can be seen below.

(Above- Safari Anatotitans and Marx Trachodon.)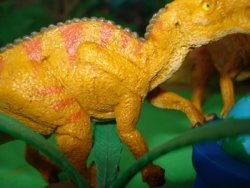 As can be seen (above) the texture and coloring of this Anatotitan creates a very life-like looking figure. I would say that this is really exceptional given the actual size of the figure. The Anatotitan comes in a dynamic pose, walking in a "natural" quadrapedal pose. It is believed that this is a normal walking posture for this Dinosaur although it apparently (from the fossil-track record) ran (like, from SUE) on its back legs.
"There's no place to run! Uh, HELP!"
The vintage 1955 Marx Trachodon was an Anatotitan, just like the Safari we are highlighting here. As can be seen (left) the 'bill's on these are quite similar. "Anatotitan" means 'large duck' and the proof is in the Dinosaur toys it has inspired. The Safari 'bill' is narrower and proportionally longer as well while the Marx version is more duckish. When compared in a profile view (below) we see that the mouth of the Marx appears to open all the way the eye sockets while more contemporary consideration only has the horny tip, or beak, of the bill opening. When the Marx Trachodon was created in 1955 contemporary thought had the creature living on the edge of swamps, sifting waterplants, opening wide, more like a modern-day duck. Today it is believed to be more of a browser, snapping off leaves, branches and so forth with its beak as it roamed the forest edges and Savannahs of the Cretaceous. Below, a face to face comparison of these two "big ducks."

Overall, these two, their creation separated by nearly half a century, compare quite favorably and excellently complement each other. (Below)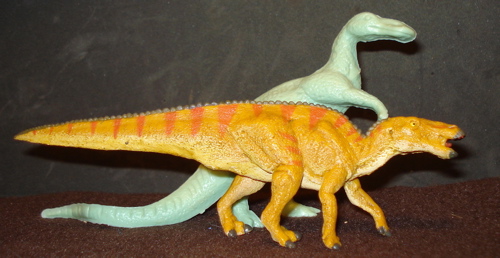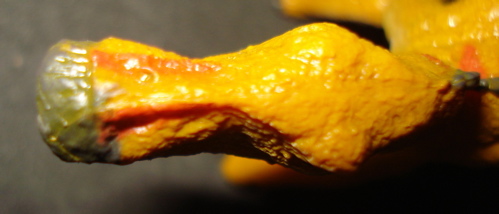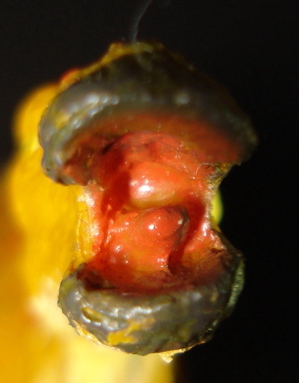 The last sight a leafy branch might ever see can be viewed to the right as we present this voracious vegetarians voluminous maw. The soft palate as well as the tongue are detailed well enough in this forward portion of the mouth. Known as a diastema this front part of the mouth, just behind the beak, was toothless. The batteries of teeth for grinding were deeper in the mouth, beyond our view.


I have made clear that I like detail and "realism" (life-likeness really, who know what these 'really' looked like?) in my Dinosaur toys and this small but impressive Anatosaurus really fills my bill, so to speak. (ha ha ha ha.)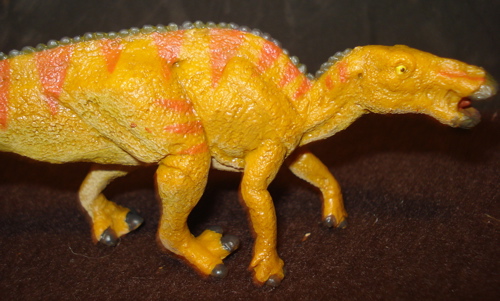 These Anatotitan Dinosaur toys come with a distinct turn of the head

which can be readily altered via the hot-water method as seen below where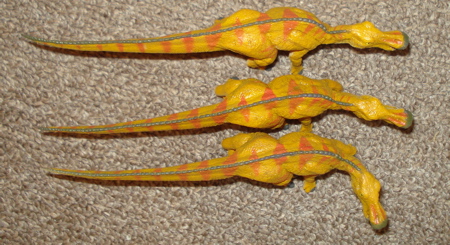 three (the bottom one is in the original state) of my Anatotitans are lined up for show and tell. Using cold water while holding the head in position is required, it being mildly labor intensive.
Below- a pack of Tyrannosaurus Rex closes in on a small herd of Anatotitans.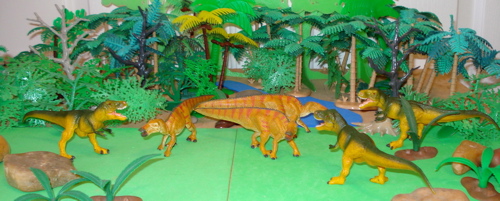 "Who wants to go out for lunch? Your treat."
"You'll make a perfect dinner guest."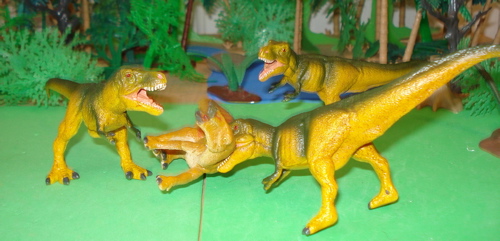 "I'd rather not. If you'll just let me up I'll excuse myself."
******This might be an a propos moment to take a look at the Safari Anatotitan from a belly point of view.******

Unfortunately, as with the SUE figures, the bottoms of the feet are not detailed in any way. Fortunately there is no reason to care. The belly and lower reaches of these creatures is quite adequately detailed and the imprint embossed on the belly does not distract or detract in any way.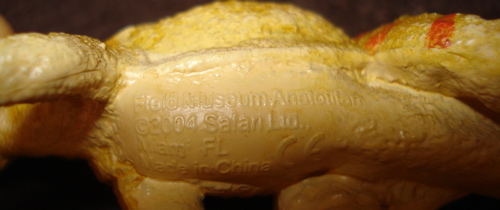 The imprint says "Field Museum Anatotitan c Safari Ltd Miami, FL Made in China" and for those of you who are not Tyrannosaurus Rex and may be cogitating over eating one of these fear not, as it bears the Euro-Union seal of toxic-acceptability, the now ubiquitous "CE".
Meanwhile....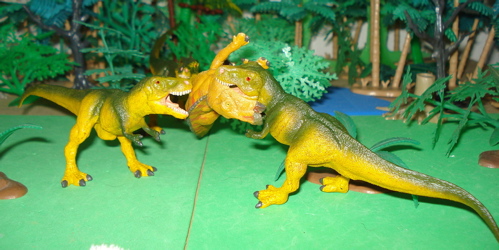 "Uh waiter! This meal is still thrashing about...."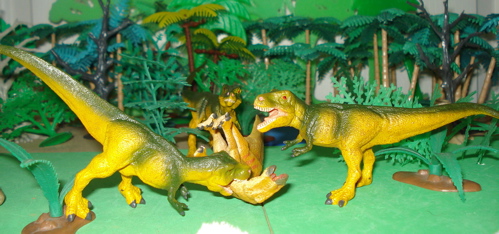 "Will you please just lay there so we can eat in peace?"
Being out-of-production does not seem to be having much of a deleterious effect on locating these Anatotitan figures for purchase. I haven't seen any being sold on the used-toy market and suspect that, for whatever reason, perhaps their smaller size, they just never found a market. They can be readily found ranging from $2.89 to $9.99 (plus shipping) at online retailers and on eBay. I recently purchased several in gift boxes, with a Sue, for $3.50. I figure that is the best buy. The Sue only cost me 61c.
I personally really like this figure. Despite its small size. It is the only Anatotitan Dinosaur toys figure being made today and it meets all of my criteria for a Dinosaur toy. It doesn't do anything I don't want it to, is easily reworked to "improve" its pose, has no removable or breakable parts and doesn't use or require batteries. What more could I want? And it is easily transportable. Plus it plays well with my vintage Marx (and yes, MPC) Dinosaur toys. I consider this to be 'museum quality", whatever that means in regard to Dinosaur toys.
After the recent, unfortunate, encounter at what turned out to be a T-Rex lunch counter our Safari Anatotitan herd is considering moving to a safer Anatotitan environment....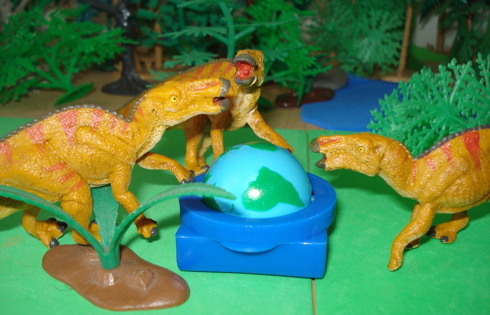 "There must be someplace that doesn't have Tyrannosaurs."

"We're off to Tyrannosaurus Rex free climes."
But sometimes even those places have their own problems...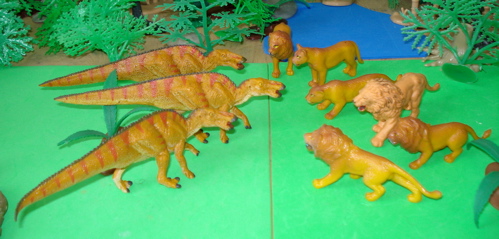 "Welcome. No Tyrannosaurus Rex here! Bwa ha ha...."
We here at The Dinosaur Toys Collectors Guide have only one purpose in being here at all. Providing you, our readers, with the best, most informative and entertaining information about Dinosaur toys both past and present.
In order to best achieve that goal, in addition to providing pages on individual figures, advice and suggestions on obtaining the Dinosaur toys and pricing, availability and age and personality appropriateness information.... We have instituted our:
1) The (easily subscribed to, FREE) Daily "Dino-Blog" where you are regularly updated as each new page is created and kept up-to-date on Dinosaur toys news and the happenings in "Dino-town."
2) Our Contact-osaur-Us form which you can use to send us comments and tell us what you need and want to see. After all, this site is for your information.
3) Social Networking links (way bottom, upper left) so you can share this page, and our site, with your friends. Thank you.
4) Our mighty and inimitable Search-osaurus Center. (Click link or Below.) You can use the search bars to either search the site for all things Dinosaur (toys) or search the entire web for all things anything at All-a-saurus.
5) As you have been perusing this site you may be wondering, "Can I do that?" Well, if having your own website has been your dream you can make that dream come true, here.
Search-O-Saurus Center
You can use this site-search box to find everything you need about Dinosaur toys collecting. Can't remember everywhere we mentioned, say, Velociraptors or Diplodocuses? Just put in your search term and you'll get a listing of everyplace on our site where you can find what you are particularly interested in.
Custom Search
Please note that your search results page will have ads ABOVE and BELOW the actual search results. Those are not from the site, but should be of interest, since Google targets the ads to your particular search.
The Anatotitan was a member of the Hadrosaurus family. Click this link to go back to our main Hadrosaurus page.