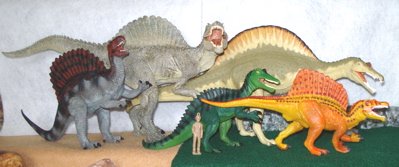 The Spinosaurus is a Spectacular Looking Dinosaur Toy
The Spinosaurus,
with its tall spines along its back, makes for a very interesting member of the Dinosaur toys family. The elongated skull provides interesting interpretations and the "sail" makes for a multi-colored palette. We of course have no idea what color these were and in the area of Dinosaur toys they range from the bland gray of the Papo Spinosaurus to the bright orange Safari.


From the 1996 Carnegie Spinosaur wrestling over a fish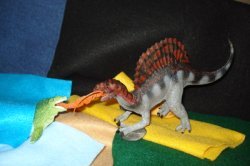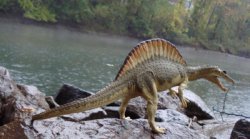 to the 2008 Carnegie version contemplating the river to the quite pleased 2007 Papo Spinosaur at the market shopping for dinner.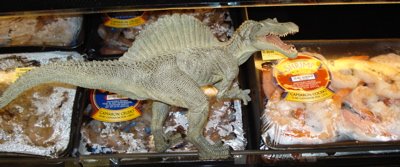 There are a variety of excellent Spinosaurus Dinosaur toys choices available to both the contemporary collector and consumer.

Given the conical shaped teeth, elongated skull with the nostrils placed high-up and on the top and other evidence it is clear that the Spinosaur was primarily a piscavore, or fish-eater. However given his size (~60 feet long and up to ten tons) and other factors it is believed that he was also a scavenger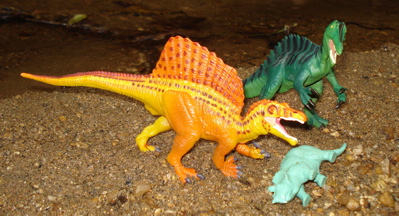 (Safari Spinosaur and Suchimimus scavenging a Marx Triceratops)
and an "opportunistic" predator, meaning that while he might not be actively hunting for you, if he met you, he'd eat you...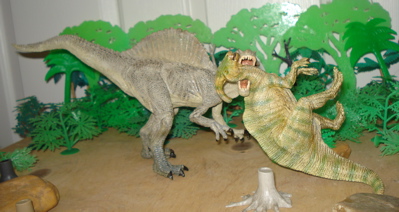 which is not much solace.
The Spinosaur can be considered to have filled much the same ecological niche that today's Grizzly Bear occupies.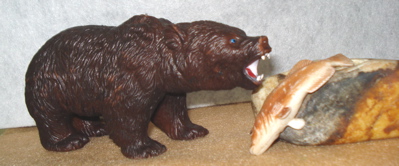 You can learn more about Spinosaurs here.
List of all Dinosaurs: The Spinosaurus
(click on the highlighted Dinosaur name to see its page)

Carnegie Spinosaur (1996)


Carnegie Spinosaurs (2008)

Papo Spinosaur (2005)


Safari Spinosaur (2001)


(1)-(A Spinosaur Family Picnic) (2)- Safari Ltd. Dino-Baby (2002)


Safari Ltd., "Great Dinosaurs"


Safari Suchimimus (2005) [The Suchimimus is a close relative of the Spinosaur.)

You can find other companies that make great Dinosaur toys as well as a great overview of the history of Dinosaur toys at the Dinosaur Toys Collectors Guide.
We here at The Dinosaur Toys Collectors Guide have only one purpose in being here at all. Providing you, our readers, with the best, most informative and entertaining information about Dinosaur toys both past and present.
In order to best achieve that goal. In addition to providing pages on individual figures, advice and suggestions on obtaining the Dinosaur toys and pricing, availability and age and personality appropriateness information.... We have instituted our:
1) The (easily subscribed to, FREE) Daily "Dino-Blog" where you are regularly updated as each new page is created and kept up-to-date on Dinosaur toys news and the happenings in "Dino-town."
2) Our Contact-osaur-Us form which you can use to send us comments and tell us what you need and want to see. After all, this site is for your information.
3) Social Networking links (way bottom) so you can share this page, and our site, with your friends. Thank you.
4) Our mighty and inimitable Search-osaurus Center. (Click link or Below.) You can use the search bars to either search the site for all things Dinosaur (toys) or search the entire web for all things anything at All-a-saurus.
5) As you have been perusing this site you may be wondering, "Can I do that?" Well, if having your own website has been your dream you can make that dream come true, here.
6) Our always open Donate-O-saurus Center (opens new window) where you can make a donation and keep us in business, such as it is. We thank you for anything you can give.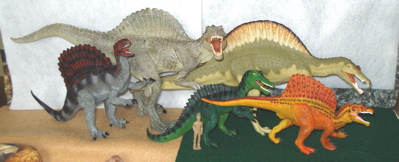 The Spinosaurus Search-osaurus Center
The first (black) box will let you search our site. Find everything mentioned about, say, Velociraptors or Diplodocuses. The second (gray) search box will take you anywhere on the web you want to go.
Custom Search
Custom Search
Please note that your search results page will have ads ABOVE and BELOW the actual search results. Those are not from the site, but should be of interest, since Google targets the ads to your particular search.