The Marx Triceratops Appeared in 1955
(and changed the world)
1955 saw the introduction of the Marx Triceratops and the Small Mold Group of which it was a member. It appears that the Triceratops was based upon the one in the "Age of Reptiles" Mural by Rudolph Zallinger in the Peabody Museum at Yale.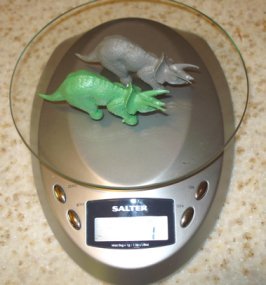 The Marx model comes in two flavors, the original from 1955 and the revised model from 1959. I will get into the differences in a moment but as can be seen from the weigh-in they are each about one-half (0.5- 14 gm) ounce in weight and three and a half inches (3.5"- 9 cm) in length from tail to horn tips. Considering that the real Triceratops was about thirty feet in length this little fellow is in 1/103 scale size.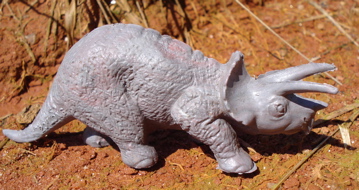 The original (1955) and the...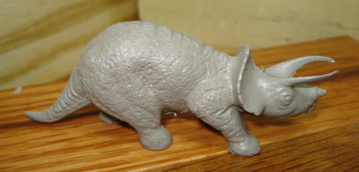 ... revised (1959) are very much the same.







And also quite different.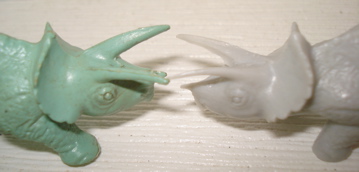 The most obvious difference is in the head where the horns on the original (left) are much more robust while the horns on the revised edition (right) are thinner. In fact, the original is more robust all around as can be seen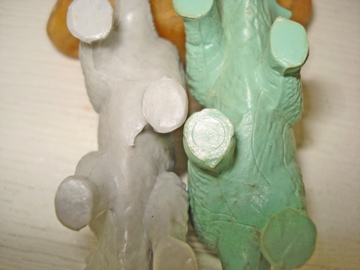 in this photo of the two, side by side, on their backs with the original (green) and the revised (gray). You can readily see that the original is broader, with wider feet and cross-section, more 'detail' and a round 'mold-circle' on the bottom of his right rear foot.

Want to see other Triceratops than the Marx Triceratops?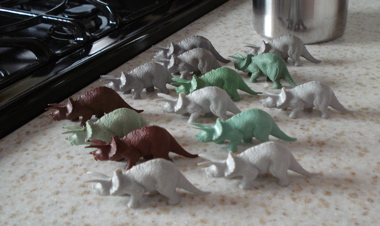 When the Marx Triceratops start making pests of themselves by getting up on the counters it's time for them to go outside

...and even as the Marx Triceratops gather to head outside...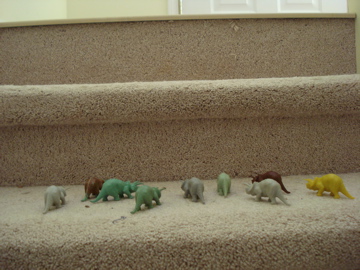 ...they face daunting obstacles...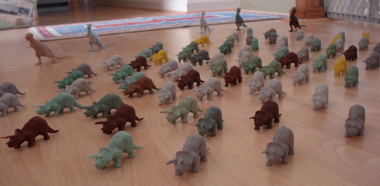 ...and their footsteps are shadowed whether in large herds...








...or small.




Once outside they break up into smaller groups...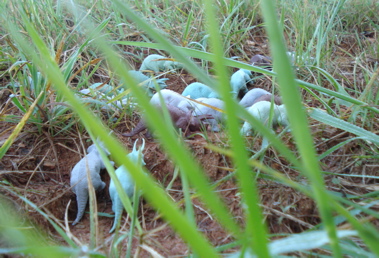 but...


...someone is watching.

Hungry Tyrannosaurs begin to bully our little Triceratops. In large groups they are quite capable of taking care of themselves...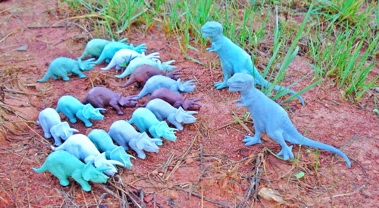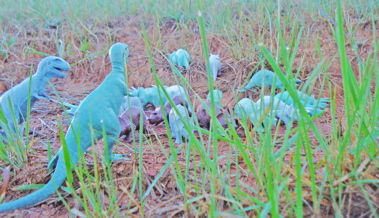 But in smaller groups...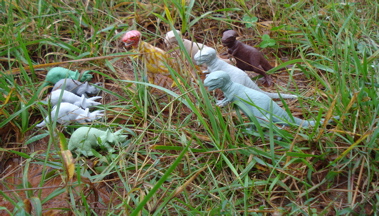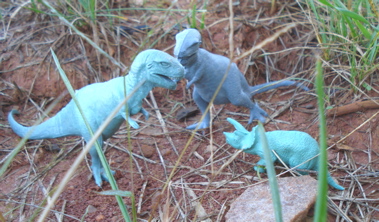 ...or when separated from from their herds individuals can find themselves in deep trouble.
As evening falls the herd returns home...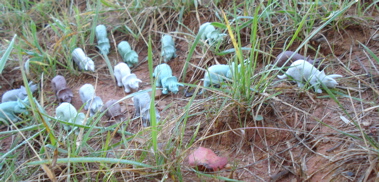 and heads to the couch for a rest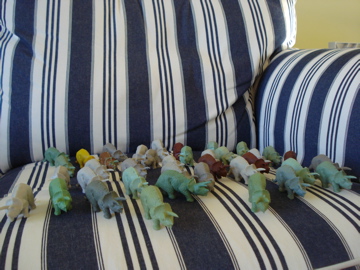 (Break for a dramatic interlude.)
Back in the 1950s Tarzan was one of my favorite comics and in every comic there was a continuing story about a "lost world" in which Dinosaurs still existed. The land was ruled by a tribe that rode on Triceratops and my imagination was forfeit to that idea. Here then is my paean to Tarzan and The Lost World:
(This is a dramatization.)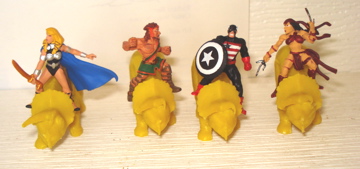 The end of the page about The Marx Triceratops-
(original end in green, revised end in gray)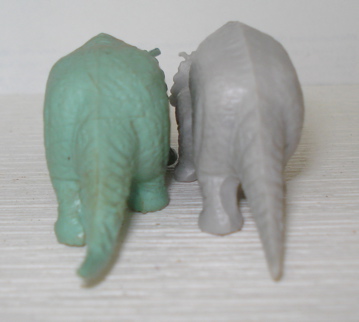 IF you enjoyed this page you may also enjoy the pages on other Triceratops, reading about other Marx Dinosaur toys, learning more about other companies Dinosaurs or by going to The Dinosaur Toys Collectors Guide Home Page to find everything you need to know.
We here at The Dinosaur Toys Collectors Guide have only one purpose in being here at all. Providing you, our readers, with the best, most informative and entertaining information about Dinosaur toys both past and present.
In order to best achieve that goal, in addition to providing pages on individual figures, advice and suggestions on obtaining the Dinosaur toys and pricing, availability and age and personality appropriateness information.... We have instituted our:
1) The (easily subscribed to, FREE) Daily "Dino-Blog" where you are regularly updated as each new page is created and kept up-to-date on Dinosaur toys news and the happenings in "Dino-town."
2) Our Contact-osaur-Us form which you can use to send us comments and tell us what you need and want to see. After all, this site is for your information.
3) Social Networking links (way bottom, upper left) so you can share this page, and our site, with your friends. Thank you.
4) Our mighty and inimitable Search-osaurus Center. (Click link or Below.) You can use the search bars to either search the site for all things Dinosaur (toys) or search the entire web for all things anything at All-a-saurus.
5) As you have been perusing this site you may be wondering, "Can I do that?" Well, if having your own website has been your dream you can make that dream come true, here.
The Marx Triceratops Search-O-Saurus Center
You can use this site-search box to find everything you need about Dinosaur toys collecting. Can't remember everywhere we mentioned, say, Velociraptors or Diplodocuses? Just put in your search term and you'll get a listing of everyplace on our site where you can find what you are particularly interested in.
Custom Search
Please note that your search results page will have ads ABOVE and BELOW the actual search results. Those are not from the site, but should be of interest, since Google targets the ads to your particular search.