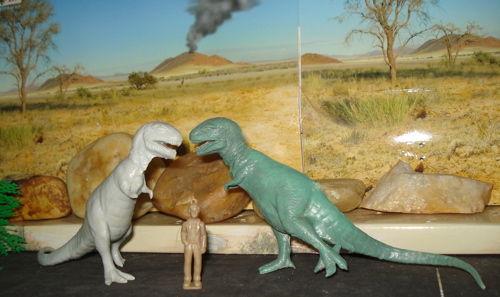 The 1959 Sleek Marx T-Rex is Still One of the Best
The Marx T-Rex
It is hard to remember back when I first came across this most wonderful Dinosaur toy. My first T-Rex toy(s) had been the SRG Tyrannosaurs from the American Museum of Natural History. They were inaccurate (three-fingered "hands") and breakable, but they served for several years.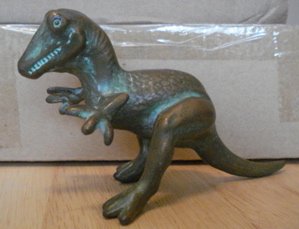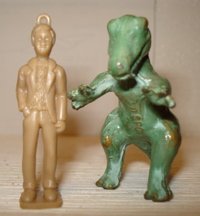 (Left Large SRG T-Rex, right ME with Small)
I had first gotten some
MARX Dinosaur toys
back in the late '50s, when I was ten or so. I had truly loved them but there was always a certain level of frustration. The
Pot Belly T-Rex
(from the
Large Mold Group)
and the
Allosaurus
(the
Medium Mold Group)
were just such static figures.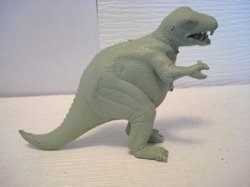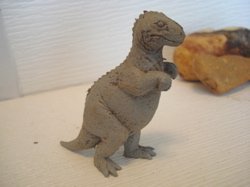 Both were based (loosely) on the Yale U. Zallinger/Peabody Hall Mural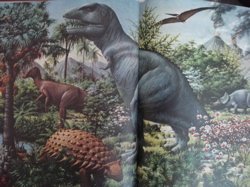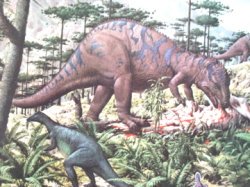 (Both images taken from Time-Life magazine/Yale Peabody Hall mural)
and, of course, the Pot-Belly's arms were comparatively huge. These were not, in any way, the dynamic predators I wanted to be playing with.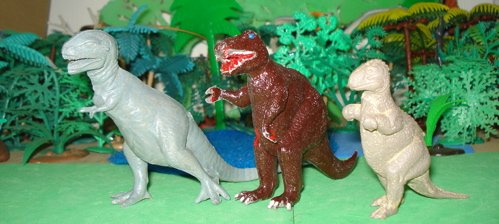 It was probably c1960 when I first discovered the 'sleek' Marx T-Rex from their new (1959) Revised Mold Group. At the time I knew nothing about "mold groups" but I sure knew what I liked, and I LIKED this new Marx T-Rex. A lot.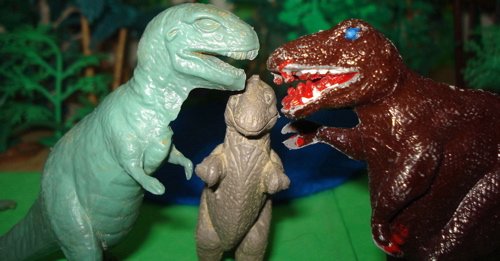 The "skin" on this new figure (middle picture) was sculpted differently from the earlier predators. The stippling (to represent scales) effect being abandoned in favor of a smoother skin armored with scutes.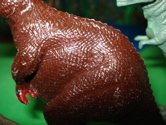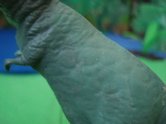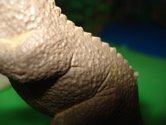 This "new" figure was/is beautifully sculpted with plenty of detail but, more importantly, beautiful lines and in an active and dynamic pose. It was, in effect, a dream come true.
It came about through a quirk of the casting process that Marx used to make their figures. The earlier, Pot Belly T-Rex simply cooled too slowly after being removed from the mold. This may have been only a few seconds per figure but those few seconds, multiplied thousands of times added up to a significant bottleneck in production. With the popularity of their Dinosaur toys line taking off MARX needed to create a new, 'faster cooling' T-Rex. Thus the "Sleek Marx T-Rex" was created.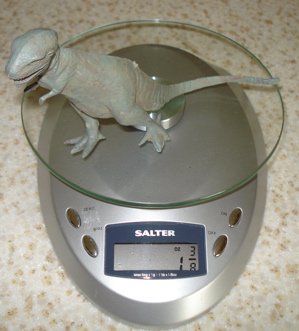 Weighing in at one and three eighths (1&3/8) ounces (1.3725 oz, 38 gms) and measuring eight and a quarter inches (8.25 inches, 21cms) in length this is ~1/64 (given a length of 44 feet) scale. This Marx T-Rex fits in well with the other Marx Dinosaurs and is a rather awesome predator in comparison to its fellows.
As can be seen (below) this Marx T-Rex gets along well (scale-wise) with the 2004 Safari-Sue/Field Museum "Sue" T-Rex, the Anatotitan and the Torosaurus, the new 2006 Safari Ltd Tyrannosaurus and the now OOP 2005 young T-Rex and the Carnegie Albertosaurus.
(with the 2004 Safari Ltd/Field Museum Sues)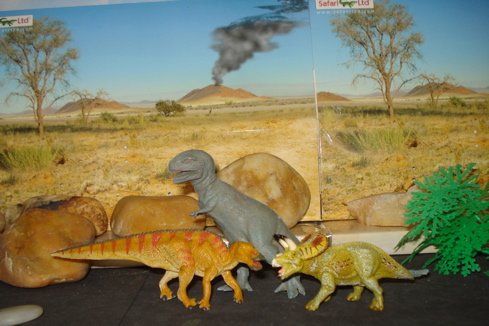 (with Safari Ltd/ Field Museum Anatotitan and Torosaurus)
(looking small with the 2006 Safari Ltd Tyrannosaurus Rex)
(seen with the OOP 2005 Safari Ltd Young Feathered Rex)
(finally in comparison to the 2003 Carnegie Collection Albertosaurus)
As can be readily seen not only does this fifty plus year-old Marx T-Rex readily fit in scale-wise it matches up quite well to today's best Tyrannosaurs in terms of both detail and good looks. It falls behind only in terms of its monotone coloring.
I was motivated by this poster (provenance unknown)
to paint one of my yellow Marx T-Rex as a redheaded step-child.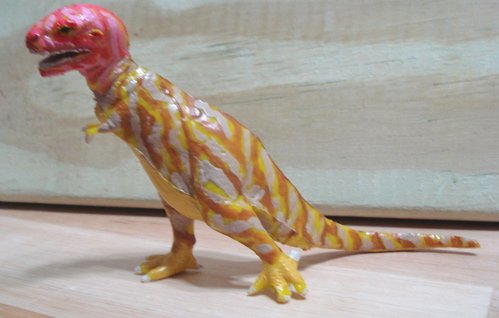 Whether wandering around in the garden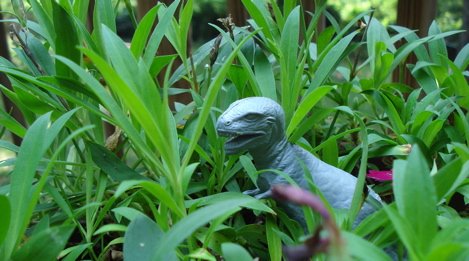 hanging out with a new friend in the office

or laying in ambush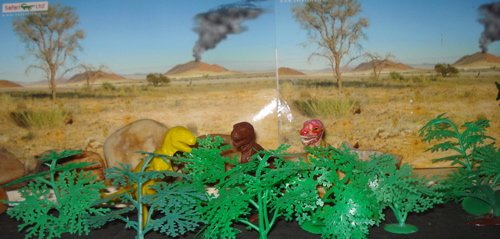 "How long do we have to hang out in this stupid bush?"
our Marx T-Rex is ready to take center stage. Marx T-Rex, come on down!
Despite being sculpted in the now defunct upright position this figure projects a very contemporary, dynamic and active look. It is so well balanced, in fact, that it can easily balance on its two feet, without the support of the tail for balance.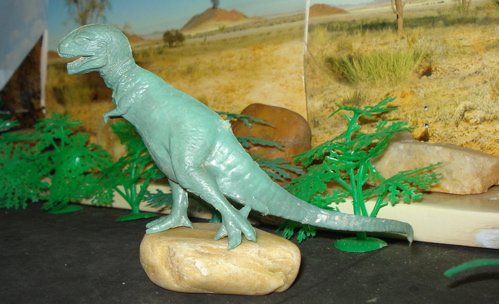 "I ROCK!"
The head is very good looking and I really like the somewhat artistically licensed "rounding off" or softening of the lines, which does not extend to the teeth. This is a unique take on the Tyrannosaurus head.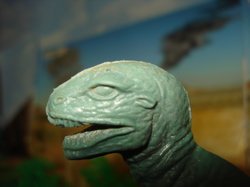 That great head blends in very well into the neck and body, creating a very dynamic look for the sculpt as the head seems to be caught in mid-swing to the left.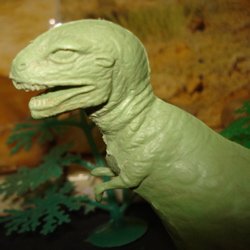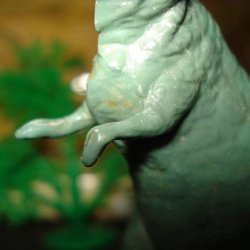 Those forelegs, or arms, are not highly detailed on the one two-fingered hand, but on the other hand they are realistic in size (their actual size was about six-feet long) and look quite natural on the Marx T-Rex figure. They definitely give the impression of being what paleontologists think they in fact were, largely vestigial and effectively useless.
The legs are also well sculpted and offer a real sense of motion, the front, right foot, is planted down flat while the trailing foot is rising up on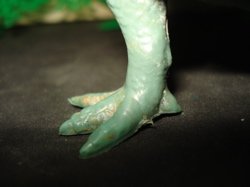 its toes ready to swing forward as the mighty predator stalks its prey....
"(grumble grumble) Darned prey, constantly running away (grumble grumble)"
The lower body of the Marx T-Rex strongly adds to the character and contributes to the playability of this great, old, archetype of Tyrannosaurus Dinosaur toys.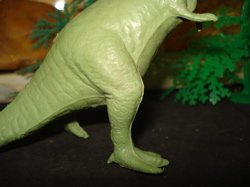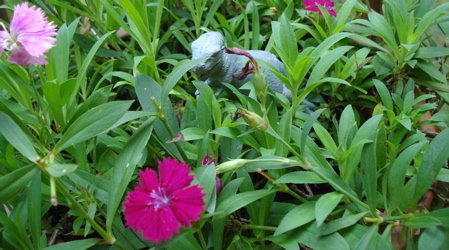 You never really know who's hanging out in the garden.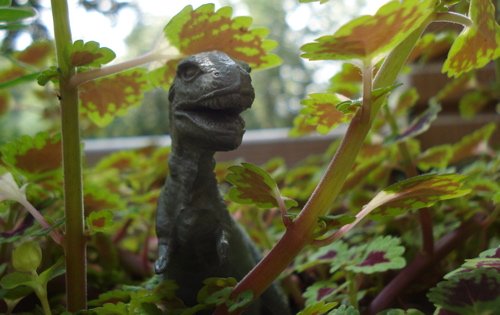 The sculpting and detail on the Marx T-Rex are crisp and sharp. Whenever they weren't, the figure (and often all those in the mold casting) went off to the dump.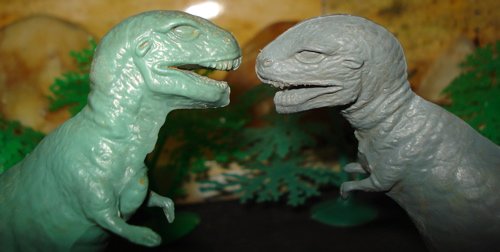 Perhaps a few head-on views of this Marx T-Rex are called for-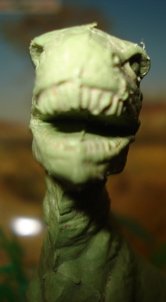 -and they certainly do offer up a relatively frightening visage in miniature. They also show off the wonderful detail that went into the Marx line of Dinosaur toys. And the teeth.
At the other end of this fabulous figure we find the somewhat elongated tail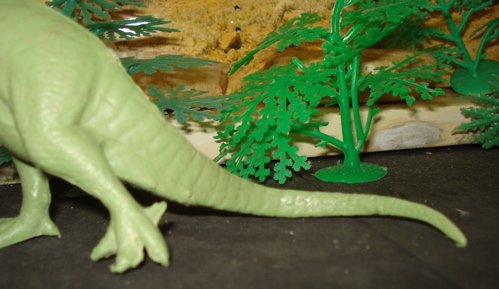 that, as noted, had been designed for a tripod stance but, in fact, is not needed for that function.
"I still ROCK!"
The Marx T-Rex waits silently in ambush....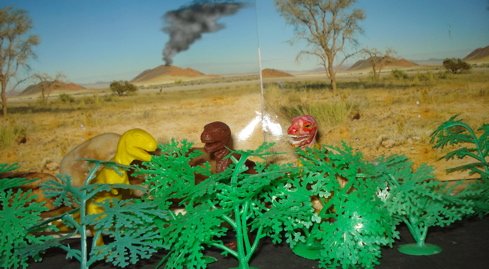 "Silent my butt! This bush is starting to itch!!"
Yet, impatience aside, their wait has not been in vain-
(chasing Marx Styracosaurs)

a "surprise party" for Marx Trachodons leads to
"There's the beef!"
the "guest of honor" getting "roasted." In a raw sort of way, Trachodon tar-tar, Yuck!
There are many theories about the Tyrannosaurus Rex and what kind of a hunter/predator/scavenger he may have been. For many years the prevailing thought had the Marx T-Rex pegged as a solitary hunter, like the modern day Tiger, working alone. There was/is a lot of discussion about how fast such a huge (45 feet, 7-8 tons) creature would/could have been. Could it have chased down prey on its own? (If it tripped at speed it would surely break a leg.) Was it an ambush hunter? (And how long would its prey have taken to figure that out?) Or merely a scavenger, stealing other, smaller, faster predators kills?
We have long imagined titanic battles between the ferocious Marx T-Rex and the mighty three-horned Triceratops...
"Oooops, excuse me fellas."
(Marx T-Rex confronts herd of Marx Triceratops with a visiting SRG T-Tops)
... But the Triceratops was a herd animal, unlikely to be caught out on its own, and much like the Water Buffalo, a but too dangerous to take on in any circumstance.
So current theory (opens new window) put forth by Philip Currie is that the younger and fleeter juvenile Tyrannosaurs would hunt in a pack of as many as ten, driving prey towards an adult or adults who would readily render the panicked prey puree. For modern play the Marx T-Rex will perfectly play the role of said youthful Tyrannosaurs whilst larger Safari Ltd, Carnegie, Papo or Bullyland Tyrannosaurs take on the role of adults.
Whether coming or going the Marx T-Rex was, is and remains one of the best renderings of this mighty predator ever produced. Its looks and playability (if not its playfulness) keep it in the forefront of Dinosaur toys and even its smaller scale do not necessarily bar it from play with its larger latter-day contemporaries.
This IS a SLEEK Tyrannosaurus and well lives up to the sobriquet of "Sleek Marx T-Rex."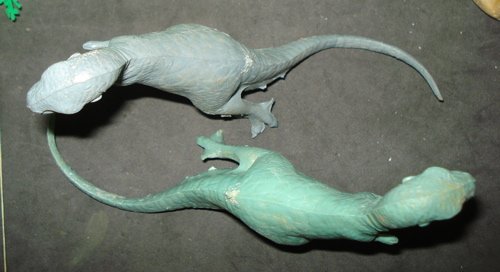 Like all the Marx Dinosaur toys this Marx T-Rex is a collectible and a collector's item. Given its very contemporary and still 'sleek' lines it plays well with other Dinosaur toys in addition to looking terrific up on the shelf if that is where you want it to abide. I would suggest that a standard sleek Marx T-Rex in good shape would be worth ten to fifteen dollars while one in an "odd" color (metallic green, silver, butterscotch, a dump figure, etc) would be worth considerably more. They remain findable on such venues as eBay, your grandmother's attic and estate sales. The normal damage is to the tail, the ends of which have found their way into generations of toddlers mouths (and between their teeth) but you should be able to find an intact figure without too much trouble. For a "collector" having at least one is a must (I have two dozen or so- but that's because I love them) as it is for anyone interested in the history of Dinosaur toys.
The earlier figures are in a flat plastic that may (or may not) have lead in them. The later, waxy-finished "Heritage Plastic" used after 1963 are not leaded but who knows what is in them. After all this was from before toys became considered as dangers to the children who play with them.
This Marx T-Rex is one of the nicest and most attractive Tyrannosaurs ever made. It remains quite contemporary in its design and quite 'play-with-able' even when compared to the wonderful new Dinosaur toys being produced by contemporary manufacturers such as Safari Ltd, Papo and Bullyland. It was, is and remains one of my all-time favorites.
Be Careful! These are breakable. They should always be wrapped carefully (this goes for all the Marx and other figures as well) for shipping or for transport.
Tragic Result of Bad Packing Technique- Receiving this otherwise pristine figure truly broke my heart. It was mailed in an envelope and not in a box. Other poor mailing techniques include just throwing figures into a box without buffering material. Don't let this happen to you.
We here at The Dinosaur Toys Collectors Guide have only one purpose in being here at all. Providing you, our readers, with the best, most informative and entertaining information about Dinosaur toys both past and present.
In order to best achieve that goal, in addition to providing pages on individual figures, advice and suggestions on obtaining the Dinosaur toys and pricing, availability and age and personality appropriateness information.... We have instituted our:
1) The (easily subscribed to, FREE) Daily "Dino-Blog" where you are regularly updated as each new page is created and kept up-to-date on Dinosaur toys news and the happenings in "Dino-town."
2) Our Contact-osaur-Us form which you can use to send us comments and tell us what you need and want to see. After all, this site is for your information.
3) Social Networking links (way bottom, upper left) so you can share this page, and our site, with your friends. Thank you.
4) Our mighty and inimitable Search-osaurus Center. (Click link or Below.) You can use the search bars to either search the site for all things Dinosaur (toys) or search the entire web for all things anything at All-a-saurus.
5) As you have been perusing this site you may be wondering, "Can I do that?" Well, if having your own website has been your dream you can make that dream come true, here.
Search-O-Saurus Center
You can use this site-search box to find everything you need about Dinosaur toys collecting. Can't remember everywhere we mentioned, say, Velociraptors or Diplodocuses? Just put in your search term and you'll get a listing of everyplace on our site where you can find what you are particularly interested in.
Custom Search
Please note that your search results page will have ads ABOVE and BELOW the actual search results. Those are not from the site, but should be of interest, since Google targets the ads to your particular search.
You have been reading about the Marx T-Rex. Click here to find out about the other Marx Dinosaur toys figures.
Let's see how ole Grumposaurus Rex is doing before we leave.
"(grumble) Danged page is over and I still haven't caught anything (grumble grumble)"