The Marx Allosaurus wasn't quite fragilis.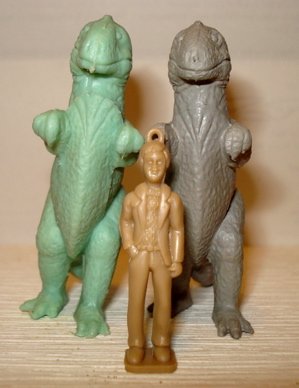 In 1955 the Marx Allosaurus (Small Mold Group) came out- the first dedicated Allosaurus among Dinosaur toys.

Apparently based upon this Allosurus in the Rudolf Zallinger Age of Reptiles mural (detail, Right) seen in the Peabody Museum at Yale, he is a bit stodgy and pot bellied. This first Allosaurus also has a slight tilt to the left, as can be seen in the picture with ME, above.(original is green, on the left)



The Two Marx Allosaurs
The first Marx Allosaurus came out in 1955. In 1959 the second arrived as a member of the Revised Mold Group. This now made me approximately twice as happy as I had been with one. The differences between the two Marx Allosaurus are minimal at best.

In fact there are only three. The first is (barely noticeable) in that the forepaws of the original are tucked in slightly more tightly. Second, the left foot of the original has a splayed outer toe, the revised toes are straight (see photo- gray original). Finally the original has that left-lean and the revised stands straight up (see photo with ME, top). Otherwise they are virtually identical.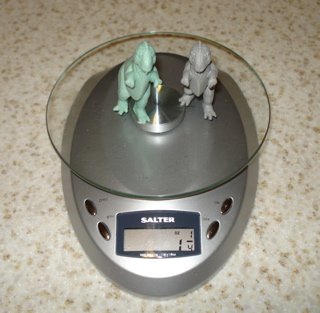 Weighing in, together, they total one and a quarter ounces so individual weight is five-eighths (5/8s, .625) of an ounce. They stand 2.75" tall and are ~4 inches from nose to tail making them 1/90 scale. Despite their rather pudgy and sedentary appearance the Marx Allosaurus can live an active and exciting life....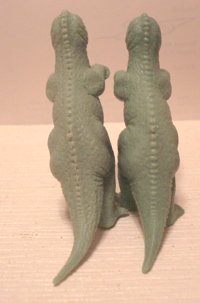 So whether seen from behind...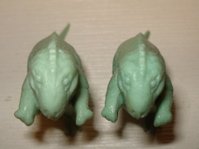 ... or overhead, the family resemblance is stark. Looking like fraternal twins they form their little packs to hunt....


A Day in the Life of the Marx Allosaurus unfragilis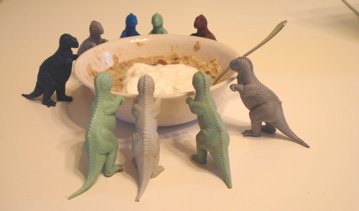 Not quite the breakfast that is hoped for- the 'Wolves of the Jurassic' go on the hunt...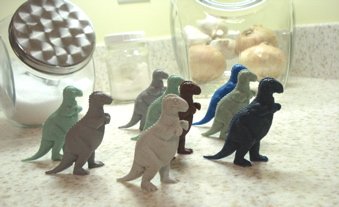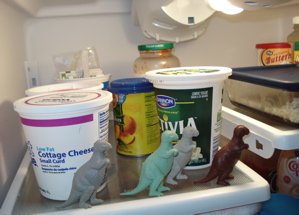 The pickings seem kind of poor hereabouts....

There's a jungle out there!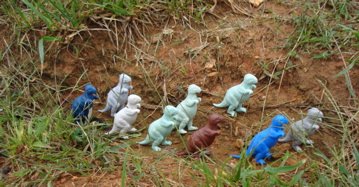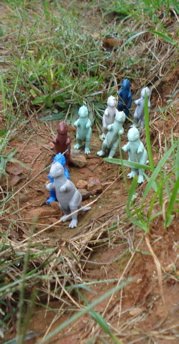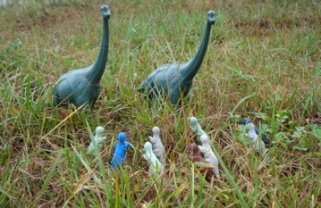 This little pack is brave, steadfast and indomitable in its search for its morning meal... But some meals are too big, even for a pack....

So it is back to their earlier and less menacing hunting grounds ...where a small herd of Brontosurus are stalked...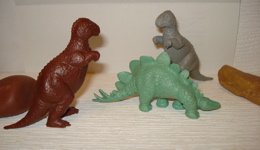 While others discover a Stegosaurus who proves to be too tough a buffet first thing in the morning.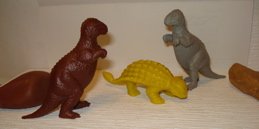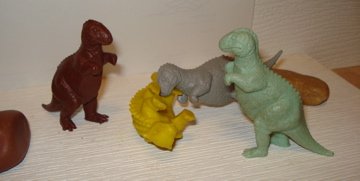 An Ankylosaurus is out of place in the Jurassic period and not ready for a pack of wily Allosaurs-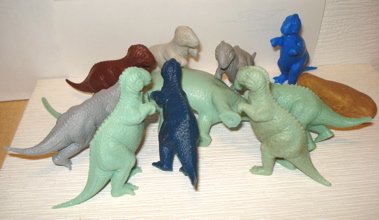 A Brontosaurus makes a meal for the other pack members, as does a Plateosaurus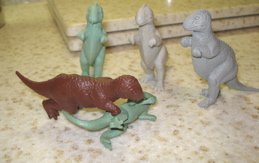 The Marx Allosaurus was the first of its breed and it was literally a thirty year wait before another came along. (I am disregarding the MPC Allosaur which was to my mind and eye a poor copy of the Marx. It will be discussed extensively, elsewhere.) Despite his pot belly and smirking look there will always be a place in my heart for this little character.
Click here if you are interested in other Allosaurs. For other Marx Dinosaur toys clicking here, or here will take you where you need to go.
We here at The Dinosaur Toys Collectors Guide have only one purpose in being here at all. Providing you, our readers, with the best, most informative and entertaining information about Dinosaur toys both past and present.
In order to best achieve that goal. In addition to providing pages on individual figures, advice and suggestions on obtaining the Dinosaur toys and pricing, availability and age and personality appropriateness information.... We have instituted our:
1) The (easily subscribed to, FREE) Daily "Dino-Blog" where you are regularly updated as each new page is created and kept up-to-date on Dinosaur toys news and the happenings in "Dino-town."
2) Our Contact-osaur-Us form which you can use to send us comments and tell us what you need and want to see. After all, this site is for your information.
3) Social Networking links (way bottom) so you can share this page, and our site, with your friends. Thank you.
4) Our mighty and inimitable Search-osaurus Center. (Click link or Below.) You can use the search bars to either search the site for all things Dinosaur (toys) or search the entire web for all things anything at All-a-saurus.
5) As you have been perusing this site you may be wondering, "Can I do that?" Well, if having your own website has been your dream you can make that dream come true, here.
6) Our always open Donate-O-saurus Center (opens new window) where you can make a donation and keep us in business, such as it is. We thank you for anything you can give.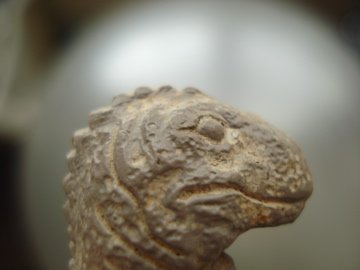 A Parting Dirty Look From a Marx Dump Allosaurus
Search-osaurus Center
You can use this search box to search within our site or search the web. Find everything mentioned about, say, Velociraptors or Diplodocuses onsite, or go anywhere on the web you want to go.
Please note that your search results page will have ads ABOVE and BELOW the actual search results. Those are not from the site, but should be of interest, since Google targets the ads to your particular search.