The Ankylosaurus is a Must-Have of Dinosaur Toys!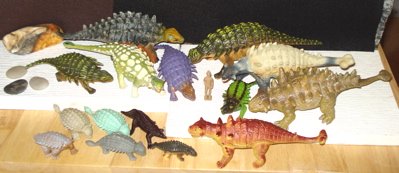 The Ankylosaurus
Check out AMAZON for all things Ankylosaurus by clicking here!



The MARX Ankylosaurus (1955) was the first attempt at presenting this marvelous Dinosaur to the world of toys. A member of their series of Dinosaur toys the Ankylosaur was a seemingly simple creature to reproduce.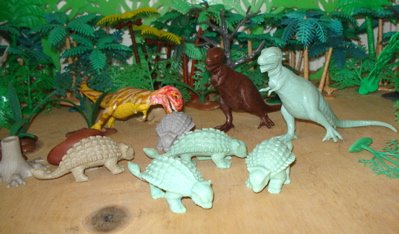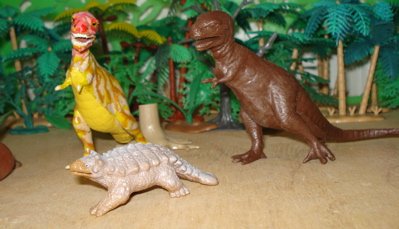 Built like a turtle with stumps for legs, the Marx model does not recreate the longer rear legs as on the original. It does however convey the essence of the animal which was a heavily armored body, almost impossible to bite through (see the sleek T-Rex doing his best), combined with a devastating club at the end of an armored tail which could be swung with enough force to break a predator's leg. An adult Ankylosaurus, thirty-feet (30') long and weighing six-and-a-half tons, yet standing only six feet tall... the Ankylosaurus was nobodies bowl of noodles.



In 1959 Marx produced a second, similar Ankylosaur and then, in 1974 Invicta came out with a very nice Scelidosaurus, an early Ankylosaur.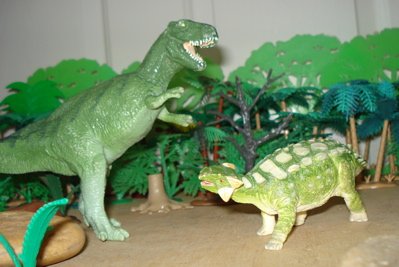 Then, in 1988 Safari, Ltd. came out with their Euoplocephalus for The Carnegie Collection. This was taken out of production in 1997 and a new Ankylosaur came out in 2004. New or old the only Dinosaur toys that could consider one a meal was the T-Rex, and even he had to be very careful.

The Ank's armored back consisted of thick, bony growths, called scutes, that were most likely covered in keratin (like a lobster). Additionally, its sides were lined with horny projections which made it very painful to try to flip over to get at its soft underbelly. This was a giant M&M that simply didn't melt anywhere, and fought back.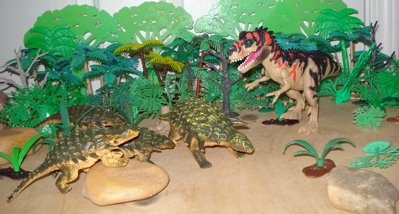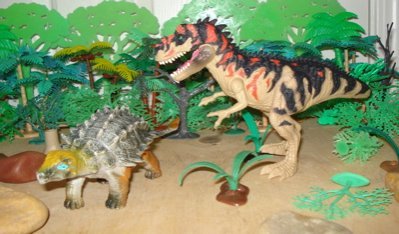 Here are three "China Trademark" Ankylosaurs from 1998-99 & 2000, battling a Chap-Mei T-Rex. The interesting thing about the top photo is that one is about twice the size of the other three, but the sculpt is just the same, down to the paint colors.

The Ankylosaur can be one of the very best of the generic China-Trademark Dinosaur toys!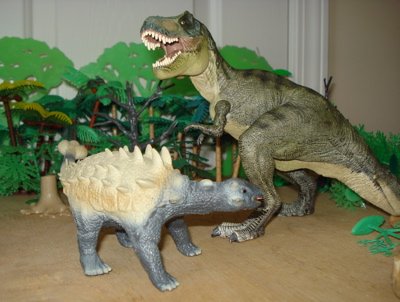 Also in 1997 Schleich came out with their own Ankylosaur, the Saichania ("beautiful one"), seen here battling a PAPO Tyrannosaurus Rex. As can be seen in both the Carnegie Ank and in this Schleich example the Ankylosaur has gone from a benign, slow-moving, slow-witted stationery stooge to a much more active and dynamic creature, with a personality to fit.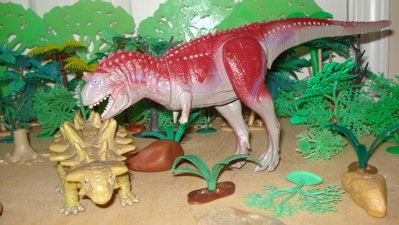 The year 2000 saw the opening of the Disney movie "Dinosaur" and several new Dinosaur toys, including their own entry into the Ankylosaur field. (here seen ignoring a Carnotaurus from the same movie) This was a hard plastic version which also has some battery operations. I have no idea what they may be as I rescued this one from a beach where it was partially buried in the sand, its electronics rusted out. The legs move as does the head and mouth (slightly) and the tail section is a more mobile rubber. For whacking obnoxious Carnotaurii, no doubt.


Ankylosaur Toys List of All Dinosaurs
(click on the highlighted Dinosaur name to get to its page)
You can find Ankylosaurus toys on Amazon by clcking here!

Bullyland


Carnegie (2004)


China Trademark Ankylosaurs


Disney (2001)


Invicta Scelidosaurus (1974)

MARX (1955 & 59)


MPC Ankylosaur (1964)


Schleich Saichania (1997)

The Ankylosaurus was one of the last of the Dinosaurs. It lived in the Cretaceous period and was a contemporary of the Tyrannosaurus Rex, Triceratops and the Hadrosaurs, among others.
We here at The Dinosaur Toys Collectors Guide have only one purpose in being here at all. Providing you, our readers, with the best, most informative and entertaining information about Dinosaur toys both past and present.

In order to best achieve that goal. In addition to providing pages on individual figures, advice and suggestions on obtaining the Dinosaur toys and pricing, availability and age and personality appropriateness information.... We have instituted our:
1) The (easily subscribed to, FREE) Daily "Dino-Blog" where you are regularly updated as each new page is created and kept up-to-date on Dinosaur toys news and the happenings in "Dino-town."
2) Our Contact-osaur-Us form which you can use to send us comments and tell us what you need and want to see. After all, this site is for your information.
3) Social Networking links (way bottom) so you can share this page, and our site, with your friends. Thank you.
4) Our Search-osaurus Center. You can use the search bars to either search the site for all things Dinosaur (toys) or search the entire web for all things anything at All-a-saurus.
5) As you have been perusing this site you may be wondering, "Can I do that?" Well, if having your own website has been your dream you can make that dream come true, here.
6) Our always open Donate-O-saurus Center (opens new window) where you can make a donation and keep us in business, such as it is. We thank you for anything you can give.

Search-osaurus Center
The first (black) box will let you search our site. Find everything mentioned about, say, Velociraptors or Diplodocuses. The second (gray) search box will take you anywhere on the web you want to go.
Custom Search
Custom Search
Please note that your search results page will have ads ABOVE and BELOW the actual search results. Those are not from the site, but should be of interest, since Google targets the ads to your particular search.