The Marx Ankylosaurus Led the Armored (Dinosaur toys) Attack
The Marx Ankylosaurus
1955 saw the introduction of the first, true, Dinosaur toys. Fifteen different plastic figures were presented and sold individually out of bins in Woolworth's 'five & dimes' and toy stores across the nation. These were relatively "static" figures, (see below), largely facing forward and not doing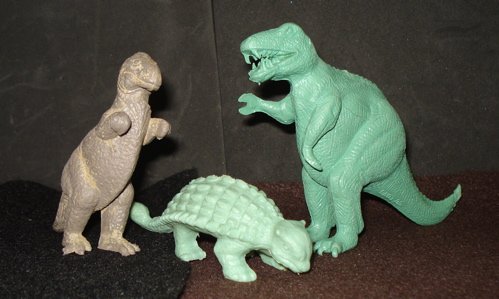 (Above, Allosaurus (left) and Pot-Belly T-Rex (right) flanking an Ankylosaurus.)
much of anything that the child playing with them didn't want them to do. Play with these was entirely up to the imagination with no particular prompting on the part of the toy maker.
Marx made their figures in "mold groups", the Marx Ankylosaurus being a member of the Medium Mold Group (PL-750) while others molds were the "Small Mold Group" (Pl-755) and the "Large Mold Group" (PL-749). You can find much more detailed information about Marx Toys here.
1959 saw the "Revised Mold Group" (PL-977) which introduced a brand new Sleek Tyrannosaurus Rex and actual revisions of seven extant creatures, including a newly revised Marx Ankylosaurus. We will be looking at both the original and revised Ankylosaur on this page.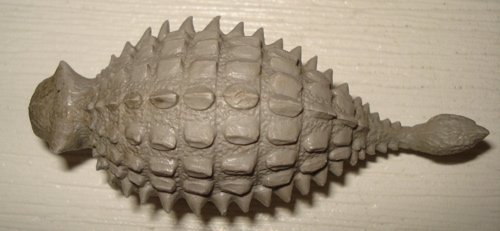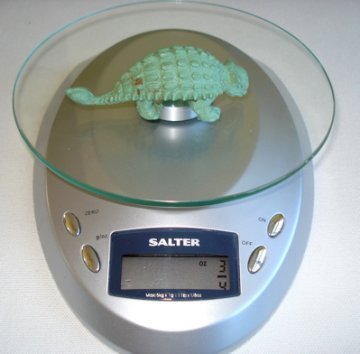 This little guy weighs in at three-quarters of an ounce (.75 oz) but in grams we find that the 1955 original weighs 21 grams, while the 1959 revised weighs 19.5 grams. My scale could not reflect this tiny difference in terms of "ounces."
While certainly the amount of plastic involved isn't much there are clear and visible differences between the two Marx Ankylosaurus.
(Below- herd of Marx Ankylosaurus gather by local waterhole.)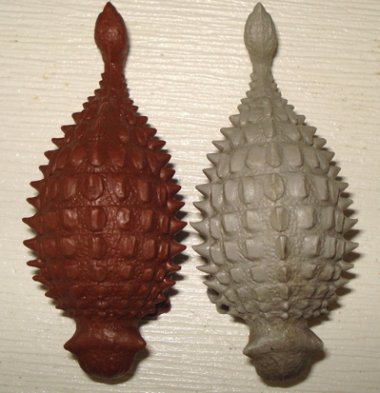 First of all these are in fact quite similar. (Right- Original gray, revised brown) From the top you really see no differences at all. Both having the wide armored head with flaring "horns", heavily armored back with sharp, pointy skirting, and that great "clubbed" tail.
Looking at their heads from the side you see virtually the same expression with the revised in brown and the original in gray. (Below)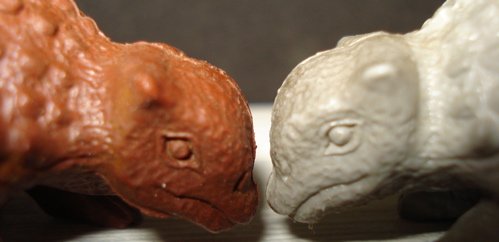 Given that, the originals (below) look really good in profile!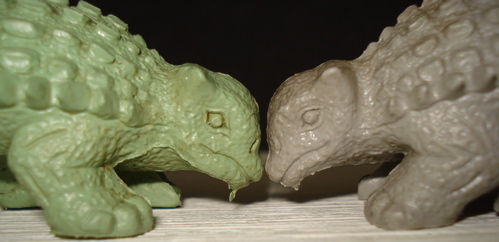 While (above) the revised in brown and original in gray are effectively indistinguishable they are even more so when they share the same color (below).
On the other hand the difference are visible when viewing these "bottom up." The belly of the original is slightly convex, with a large "mold circle" on bottom of the front right foot (Below, gray). The revised Marx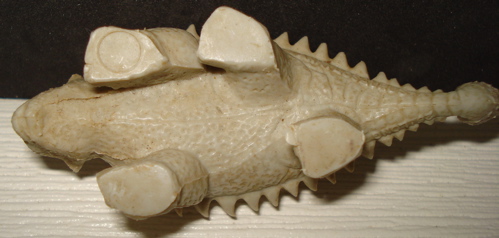 Ankylosaurus (below- green) shows a slightly concave belly with no mold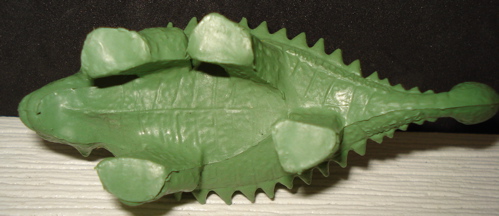 circles at all. Additionally the belly of the original is highly "stippled" while the revised has much shallower stippling with lines etched laterally across the belly radiating from a central line. Easily seen below.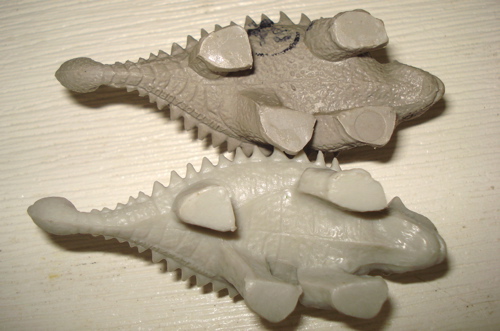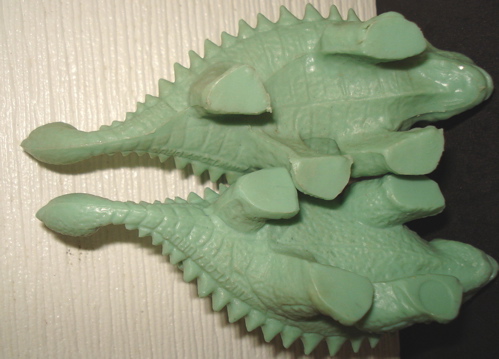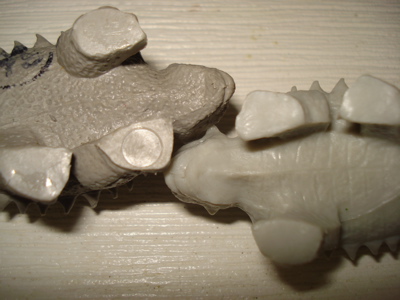 The differences are readily seen (above) even in the same-color Marx Ankylosaurus. Another difference, again seen from below (Right), is in the throat area, where the original figure is full throated, while the revised has a slight "wattle". In any event none of these differences amount to a hill of beans from most vantage points and have no effect on the Marx Ankylosaurus playability.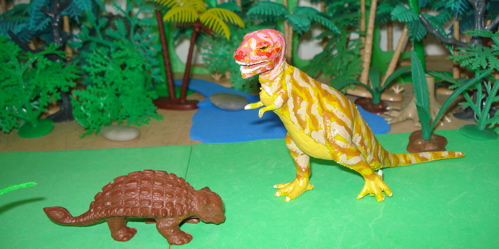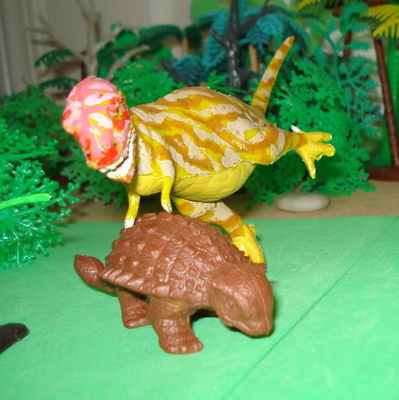 (Above) Revised (and hand-painted) yellow Marx Tyrannosaurus Rex stalks and attacks revised Marx Ankylosaurus. Below, three Marx Revised T-Rex stalk a small Marx Ankylosaurus herd...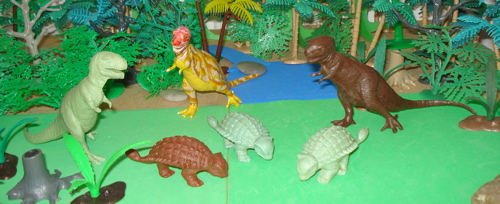 and one attacks!

Looking (Right) into the (dirty) face of the Marx Ankylosaurus leads one to feel that you have found a friend. We've already seen the Mona Lisa smile of this little character as well as its sharp, pointy edges. Cute, with an attitude.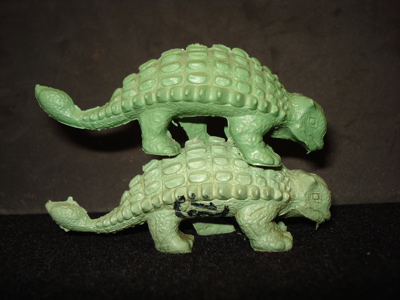 Seeing these in profile (left & below) the revised standing on the back of the original we can see additional differences between the two. The most noticeable of these is in the thickness of the legs.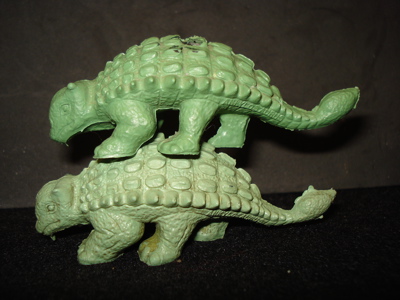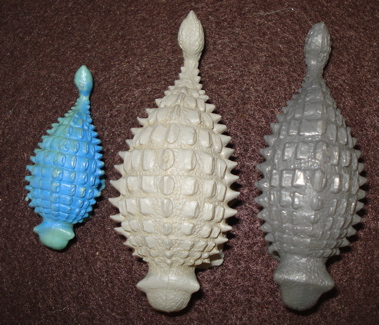 The Marx Ankylosaurus was such a success that it spawned many copies.
(Below) To the right the darker gray is from MPC while the small blue one on the left is a mini-knockoff from Hong Kong. As with all the Marx Dinosaur figures knockoffs and copies were rampant for years.
This means that there are a lot of Dinosaur toys from the early years (mid 1950s through the early 1970s) that match-up well with these figures. In 1974 with the introduction of the 1/45 scale Invicta Dinosaurs and the 1/40 Carnegie Collection in 1989 Dinosaur toys sort of "grew-up" in size.
The tail has the Dinosaur's name printed on the left base...

while on the right side of its tail it has its size- "25' LONG".

The Marx Ankylosaurus is, at four and one-quarter inches long (4.25", 11 cms) in (approximate) 1/70 scale. The Marx revised T-Rex you see in the accompanying photos is 1/67 scale. Joining it (below) are two also out of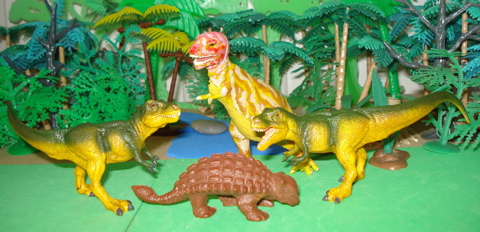 production Safari "SUE" T-Rex, produced for the Field Museum in 2004. "Sue" measures five and one-half inches in length making 'her' approximately 1/98 scale. Or, alternatively, simply a younger, ingenue T-Rex taking a "star-turn" here.
Here we find a Marx Ankylosaurus family out for a morning stroll....

While the young Ankylosaurus would be relatively easy pickings the adults make it very difficult to approach. Turning constantly to remain between the T-Rexes and their offspring while their dangerous, clubbed, tails are always in position to deal a crippling blow....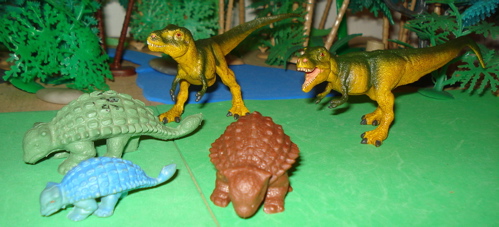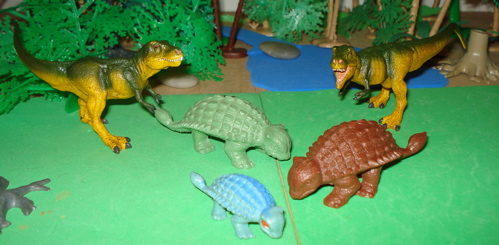 A herd of Marx Ankylosaurus are migrating across the Carpet Desert when

they are confronted by a pair of young Tyrannosaurs, hoping for a meal

and the herd "turns tail", making it clear that they want no part in the carnivore's dinner plans. Another dinner-date shot to heck!
Complaints echo down the corridors of time.
The Marx Ankylosaurus is an archetypal Dinosaur toy. It is simple, straightforward in more ways than one and has become, along with all the Marx Dinosaur toys, a vintage collectible. These were designed before there was such a thing as an "action-figure" toy. They are made to stand quietly, chomping on imaginary flora, waiting for the hand of the Dinosaur toy collector (or eager child) to move them into action. They are about as un-busy as a toy can get. These are actually quite well done and certainly meet all of my personal criteria for a great toy with high playability. I prefer the "Originals" myself. They are relatively unbreakable and out of the literally hundreds of these I have personally handled only two have suffered from broken tail syndrome. That, folks, is a very sad sight.
Since they are long out of production (see) your only chance of obtaining one (or more) is through the secondary market (eBay, estate sales, flea-markets) or private sales. The Marx Ankylosaurus is not one of the most prized of the series in its normal gray-green-brown monochrome self and sells for approximately $5.00 (plus shipping if applicable). It can often be found as part of a group of Marx figures on eBay. Occasionally you may come upon a "dump" figure, a colorful "swirled" one from Superior, or a rare "mottled" or other off-color example. Those will all go for more, usually whatever a collector is willing to pay.
The early, flat colors, are considered to have used a lead-based pigment and are possibly, probably, quite problematical to chew on and ingest. Of course a generation and more of perfectly healthy children have grown up just fine with the terrible threat barely in abeyance but I still wouldn't recommend these as chew toys for man or beast. Besides you have to watch out for those tails.
We here at The Dinosaur Toys Collectors Guide have only one purpose in being here at all. Providing you, our readers, with the best, most informative and entertaining information about Dinosaur toys both past and present.
In order to best achieve that goal, in addition to providing pages on individual figures, advice and suggestions on obtaining the Dinosaur toys and pricing, availability and age and personality appropriateness information.... We have instituted our:
1) The (easily subscribed to, FREE) Daily "Dino-Blog" where you are regularly updated as each new page is created and kept up-to-date on Dinosaur toys news and the happenings in "Dino-town."
2) Our Contact-osaur-Us form which you can use to send us comments and tell us what you need and want to see. After all, this site is for your information.
3) Social Networking links (way bottom, upper left) so you can share this page, and our site, with your friends. Thank you.
4) Our mighty and inimitable Search-osaurus Center. (Click link or Below.) You can use the search bars to either search the site for all things Dinosaur (toys) or search the entire web for all things anything at All-a-saurus.
5) As you have been perusing this site you may be wondering, "Can I do that?" Well, if having your own website has been your dream you can make that dream come true, here.
6) Our always open Donate-O-saurus Center (opens new window) where you can make a donation and keep us in business, such as it is. We thank you for anything you can give.
Search-O-Saurus Center
You can use this site-search box to find everything you need about Dinosaur toys collecting. Can't remember everywhere we mentioned, say, Velociraptors or Diplodocuses? Just put in your search term and you'll get a listing of everyplace on our site where you can find what you are particularly interested in.
Custom Search
Please note that your search results page will have ads ABOVE and BELOW the actual search results. Those are not from the site, but should be of interest, since Google targets the ads to your particular search.
You have been reading the Marx Ankylosaurus page. Click HERE to return to the Ankylosaurus main page or here to go to the Marx Toys main page. Thank you.