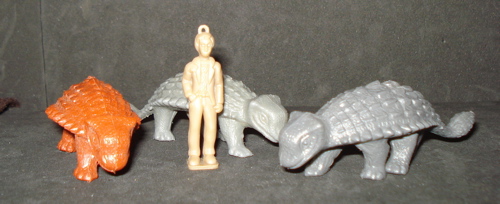 The MPC Ankylosaurus was a Copy of the Marx
The MPC Ankylosaurus Story
Debuting in 1964 this was but one member of a twenty-four Dinosaur toys figure set created to meet a perceived need by MPC (Multiple Plastics Corporation). Beginning in 1955 Marx Toys had introduced their own series of twenty-three Dinosaur toys to great acclaim and ferocious sales. The perceived need was one that even Marx, the largest toy manufacturer in the world (at the time), could not fill. Where Marx had introduced their figures over a period of eight years MPC introduced theirs all at once.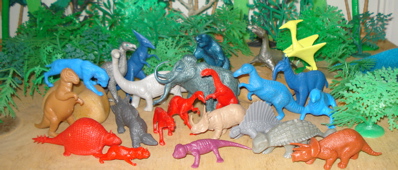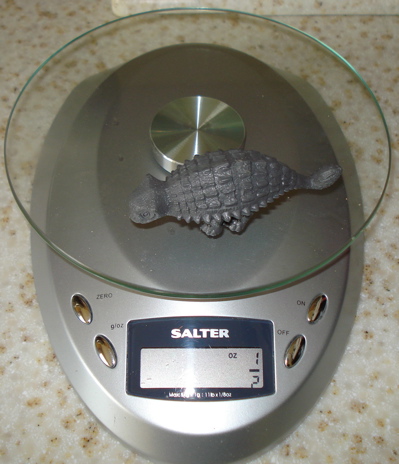 Weighing In at one half ounce (.5 oz, 13 gms) and measuring four and a quarter inches (4.25" & 11cms) these are the same length and scale (1/70) as the Marx Ankylosaurus but weigh only two-thirds as much.
The resultant MPC Ankylosaurus is therefore considerably slighter and smaller than the Marx figure, which is pretty much what you might expect from someone (in this case the "someone" is a corporate entity) who is largely trying to cash-in on someone else's success. The MPC Ankylosaurus is simply a cheaper and lower quality product. (IMHO) So let's take a closer look at this little fella....

(Above- three MPC Ankylosaurus and a pale green Marx)
The MPC Ankylosaurus has a big smile on its happy little face (above).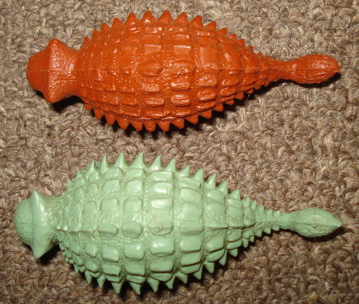 At first glance (above) the MPC Ankylosaurus doesn't look too bad at all. The legs appear to go straight up, like telephone poles, merging into the body with no suggestion of hip or shoulder joints to be found. There are round mold circles on the insides of the right side legs. The bottom of the body looks rather flat and the figure itself seems rather like a stylized bread-box on thick stilts. But looking down, so to speak, on the figures (above right- brown is MPC, pale green is Marx), we see that the comparison is actually quite favorable, the difference in the amount of plastic is seen in the significantly narrower MPC Ankylosaurus body.
Below we see three MPC Ankylosaurus being challenged by a pair of dreaded MPC Grapeosaurus Rex. The MPC Dinosaur toys came in a broad range of bright, very plastic, colors ranging from the "earth tones" seen on this page through bright yellow, fire engine red, blues, greens this weird "grape" purple.
Looking left we see a comparison of the Marx (pale green and MPC Ankylosaurus in gray) and MPC Ankylosaurus heads. That big smile on the MPC's face indicating satisfaction with the way it has horned in on the Marx's territory. Beyond that we see that the stippling on the MPC is much shallower than the Marx and the "eye" is closer to vertical, with a much beadier eye.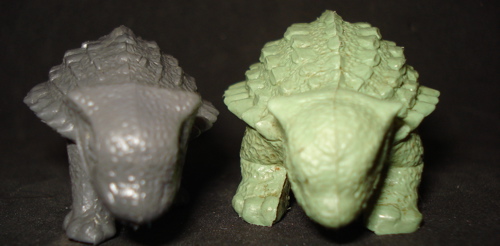 Seen head-on (Right) the head of the Marx is more triangular while the MPC Ankylosaurus has a rounded "muzzle". By the same token this view gives another perspective on the narrow-body MPC figure.
In a side to side comparison (above- Marx as supporting Ankylosaurus) we can easily see how the MPC Ankylosaurus is much thinner in every way, from legs to body and degree of detailing. It looks like it has been living in a famine in comparison to the much heftier Marx figure.
Below we see the MPC Ankylosaurus (I have only these three) 'circling their wagons' to protect a baby (MiC) Ank from marauding Marx (sleek) T-Rex.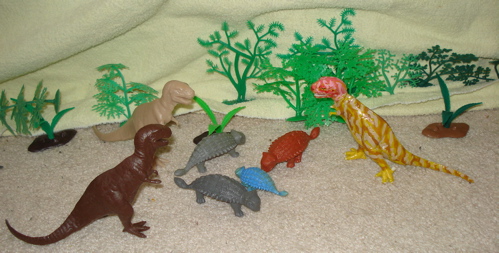 Flipping these guys over (which is the only way they were truly vulnerable. Imagine trying to flip an angry five-ton animal with impregnably armored sides and back and an extremely low center of gravity.) we can get a clear look at their bellies. CFrom this perspective we can see the desultory
detailing on the MPC Ankylosaurus, along with its much thinner, but rounder, feet. You can also see that there was clearly little energy devoted to melding the legs into the body. They look as if they were stuck on as an afterthought. All details not visible from the top, which is the way you will be usually looking at them anyway. So here's another comparative view from (of) the top of the Ankylosaurus....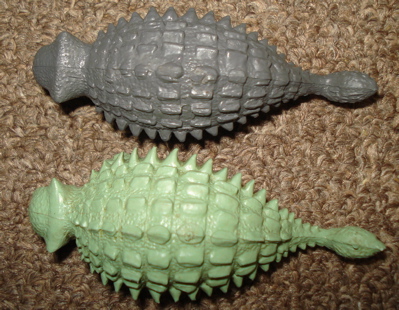 Finally we can look at the imprint on these. They were made prior to everybody and his aunt manufacturing their own Dinosaur toys and the need for a trademark, country of manufacture (both being made in the USA) or toxicity report. Therefore both of these had only its name and length. As part of the differentiation from Marx (See here for Marx.) the MPC Ankylosaurus ("I am no clone, sir. And I resent the suggestion. Clubs at dawn!!") has its name imprinted, centered on its left side, just above the line of horn-like projections skirting its left side (below)
while its length (twenty-five feet) is imprinted on the right side of its tail, just before the "club."

As a demonstration of its versatility the MPC Ankylosaurus has volunteered to be attacked by the 2004 Safari Ltd. "SUE" Tyrannosaurus Rex, (Below) created in collaboration with the Field Museum of Chicago. This is one of my favorite T-Rex and it scales well with Marx and MPC Dinosaur toys figures.
(The mini-Ankylosaur says that it didn't sign-up for this.)
You may be wondering why I even did a page on a figure that I clearly have a level of contempt for. An Ankylosaurus grazing in a field planted by someone else, so to to speak. A fair question. My fairly shallow answer is that MPC, if nothing else, is a a vintage Dinosaur toys maker and their product has a necessary place in the history of Dinosaur toys. Also because the pages on MPC figures are largely comparisons (and unfavorable ones at that) with my beloved Marx figures and so do not require excessive thought or imagination. They are a bit of a working holiday. Besides, I don't despise them. Just don't love 'em.
There are even less favorable comparisons to be made than the MPC Ankylosaurus anyway and it is, from the top at least, quite comparable to the Marx Ankylosaurus. It will also serve to fill out herds of Ankylosaurs when Marx (et al) are in short supply.
These are definitely collectibles, in the sense that they are old, vintage figures from the early age of Dinosaur toys. They are (for the most part, I understand that the molds may be back in production) long out-of-production and there are some very nice folks who specialize in collecting them. For anyone who wants a complete and historic collection of Dinosaur toys these are a must have. Luckily for all and sundry they tend to come fairly cheap.
I have picked up my MPC Ankylosaurus and other figures primarily on eBay, usually as part of large lots of mixed Dinosaur toys, often advertised as Marx. The most I have paid for one is $2.50 and the least has been six-cents, most averaging around a dollar. I have used them as "filler" in sets that I have sold on eBay. I have never gone out of my way to purchase one but I have never focused on collecting MPC Dinosaur toys either. They have just kind of come to me as I collected other figures.
These were all produced in the years before America (and our European friends) became obsessed with toys and childrens health concerns and so none of these have passed any of the stringent tests currently performed to guarantee that your child, dog or self can make a healthful, herbal tea out of your Dinosaur toy. If you want to. Of course there is less reason to imbibe these toys because they aren't all that easily replaceable because they are no longer readily available in your local toy store, which, itself, probably no longer exists in favor of a "-Mart" of some sort.
We here at The Dinosaur Toys Collectors Guide have only one purpose in being here at all. Providing you, our readers, with the best, most informative and entertaining information about Dinosaur toys both past and present.
In order to best achieve that goal, in addition to providing pages on individual figures, advice and suggestions on obtaining the Dinosaur toys and pricing, availability and age and personality appropriateness information.... We have instituted our:
1) The (easily subscribed to, FREE) Daily "Dino-Blog" where you are regularly updated as each new page is created and kept up-to-date on Dinosaur toys news and the happenings in "Dino-town."
2) Our Contact-osaur-Us form which you can use to send us comments and tell us what you need and want to see. After all, this site is for your information.
3) Social Networking links (way bottom, upper left) so you can share this page, and our site, with your friends. Thank you.
4) Our mighty and inimitable Search-osaurus Center. (Click link or Below.) You can use the search bars to either search the site for all things Dinosaur (toys) or search the entire web for all things anything at All-a-saurus.
5) As you have been perusing this site you may be wondering, "Can I do that?" Well, if having your own website has been your dream you can make that dream come true, here.
6) Our always open Donate-O-saurus Center (opens new window) where you can make a donation and keep us in business, such as it is. We thank you for anything you can give.
Search-O-Saurus Center
You can use this site-search box to find everything you need about Dinosaur toys collecting. Can't remember everywhere we mentioned, say, Velociraptors or Diplodocuses? Just put in your search term and you'll get a listing of everyplace on our site where you can find what you are particularly interested in.
Custom Search
Please note that your search results page will have ads ABOVE and BELOW the actual search results. Those are not from the site, but should be of interest, since Google targets the ads to your particular search.
You have been reading our MPC Ankylosaurus page. Click HERE to return to our main Ankylosaurus page where you can find other Ankylosaurus toys of interest.