Schleich Dinosaur Toys & Prehistoric Mammals Are Among the Best Today.
These Are All the Schleich Dinosaurs I Have at This Time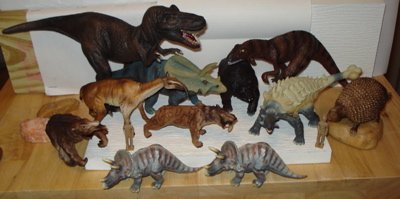 Schleich prehistoric Mammals and Dinosaur toys are produced by the German Company of the same name, founded in 1935 by Friedrich Schleich. While most of their sales are still in Europe they are expanding into the United States and their Dinosaur Toys can be found in better retail stores and on eBay. Prices range from ~$4.00 to $20.00+, depending on the particular Dinosaur toys or prehistoric mammals.
These extinct animals are brought to life by Schleich and come in many different kinds of Dinosaurs and mammals. I currently have only five of each and do plan on augmenting my herd.
They tend to be done in earth tones and their detail is excellent. Skin, scales and fur are done extremely well and the painting is superb. My oldest figure, the Torosaur, I have had for ten years and he shows no wear despite spending nearly all that time in a box rubbing up against other rubber types of Dinosaurs.
A cute addition is that many of these extinct Schleich animals come with a small, hard plastic figure of a boy as a size gauge for the dinosaurs themselves and an information booklet in five languages (German, English, French, Spanish & Italian) about the particular Dinosaur toys.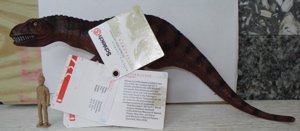 An exhaustive list of Dinosaurs (and prehistoric mammals) made by Schleich is really un-necessary as I cannot show you what I do not, as yet, have. I do welcome offers of loans and contributions to the site, in the form of Dinosaur toys. Thank You.
Schleich makes these creatures in at least two groupings in different scales. The larger and more expensive are 1/40 scale. The smaller are, well, smaller and not quite as well detailed. The ones I have collected happen to be the larger sized ones. These are very, very nice as you can see when clicking on the individual prehistoric animal pages.
Want to check-out other toy companies? Then just click here. If not then lets move along to the....
List of Schleich Dinosaur Toys



Schleich Allosaurus (2001)


Schleich Anhanguera (2005)


Schleich Plateosaurus (1999)


Schleich Saichania (1997)


Schleich Torosaurus (1999)

Schleich Triceratops (2002)


Schleich Tyrannosaurus (2002)

Schleich Tyrannosaurus (2004)

Now For the Prehistoric Mammals List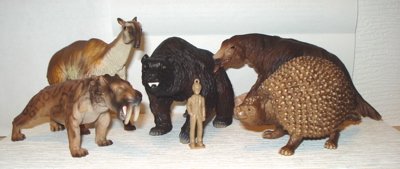 Schleich Glyptodon (2002)


Schleich Machrauchenia (2002)

Schleich Megatherium (2002)


Schleich Smilodon (2002)


Schleich Ursus Spelaeus (Cave Bear- 2002)

Want to See Other Companies' Dinosaurs?

Tired of Prehistoric Mammals and Want to Go Back to The Dinosaur Collectors' Guide Home Page....
Bye Bye From the Gang of Ten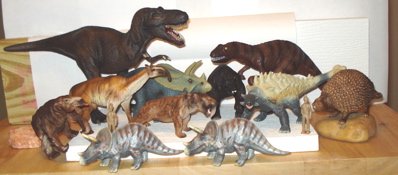 We here at The Dinosaur Toys Collectors Guide have only one purpose in being here at all. Providing you, our readers, with the best, most informative and entertaining information about Dinosaur toys both past and present.

In order to best achieve that goal. In addition to providing pages on individual figures, advice and suggestions on obtaining the Dinosaur toys and pricing, availability and age and personality appropriateness information.... We have instituted our:
1) The (easily subscribed to, FREE) Daily "Dino-Blog" where you are regularly updated as each new page is created and kept up-to-date on Dinosaur toys news and the happenings in "Dino-town."
2) Our Contact-osaur-Us form which you can use to send us comments and tell us what you need and want to see. After all, this site is for your information.
3) Social Networking links (way bottom) so you can share this page, and our site, with your friends. Thank you.
4) Our mighty and inimitable Search-osaurus Center. (Click link or Below.) You can use the search bars to either search the site for all things Dinosaur (toys) or search the entire web for all things anything at All-a-saurus.
5) As you have been perusing this site you may be wondering, "Can I do that?" Well, if having your own website has been your dream you can make that dream come true, here.
Search-osaurus Center
You can use this site-search box to find everything you need about Dinosaur toys collecting. Can't remember everywhere we mentioned, say, Velociraptors or Prehistoric Mammals? Just put in your search term and you'll get a listing of everyplace on our site where you can find what you are particularly interested in.
Custom Search
Please note that your search results page will have ads ABOVE and BELOW the actual search results. Those are not from the site, but should be of interest, since Google targets the ads to your particular search.