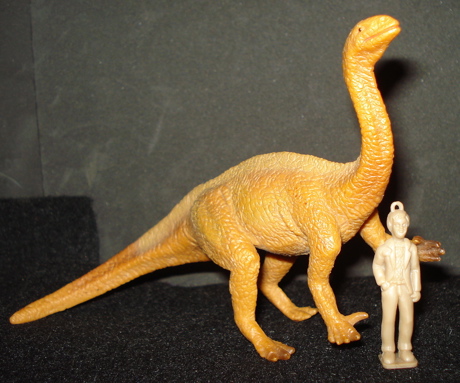 Adventures and Definition of the Schleich Plateosaurus
The Schleich Plateosaurus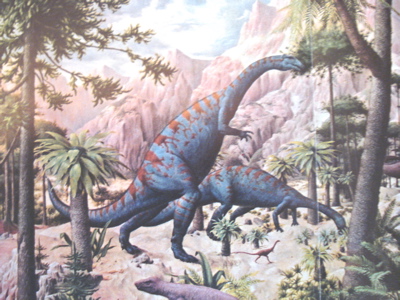 In 1999 Schleich came out with their very nice looking Plateosaurus. The Schleich Plateosaurus, however, seems to have one potential flaw. Despite its really fine detail and excellent casting it is presented with unnaturally long front legs which seems quite unrealistic given contemporary (link opens a new window) reconstructions. (detail Zallinger mural left)
Weighing in at two & one-eighth ounces (2.125 oz, 61 gms) and measuring eight and one-half inches (8.5", 21.5 cms) making this figure approximately 1/42 (based on a thirty foot Plateosaurus) so it will fit right in with contemporary Plateosaurus like the Carnegie Plateosaurus. (Below)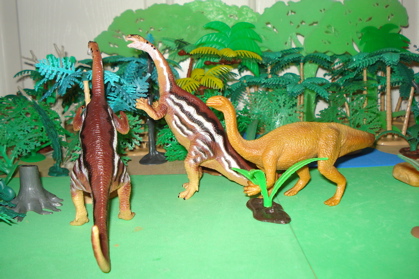 The detail on the Schleich Plateosaurus is really quite excellent as can be seen in, for example, the head (below left and below).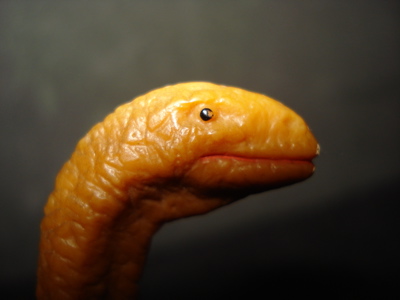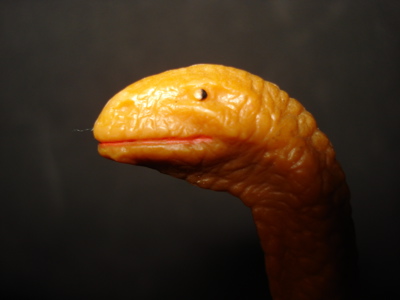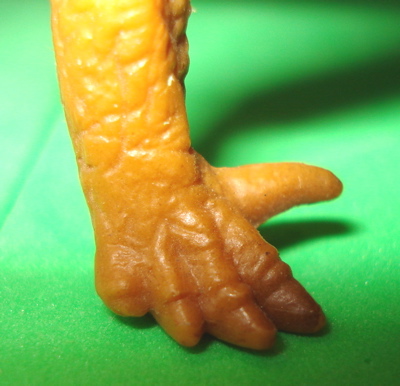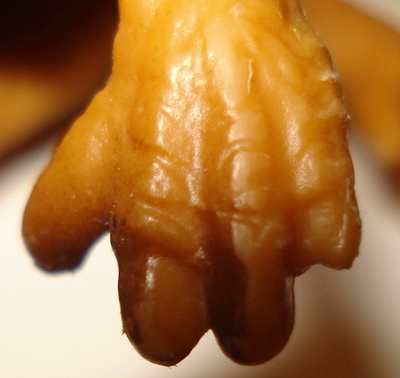 The right front paw (Left) is just about perfect with the long thumb-claw, the three central fingers and small "pinky". The left paw (Above) is completely wrong! The thumb claw is smaller and there are too few fingers. How the heck did this happen? What a failure of quality control! I'm deeply shocked. I'll get over it. Don't worry. And that "good" right paw is down on the ground presupposing that the Schleich Plateosaurus is quadrupedal in nature.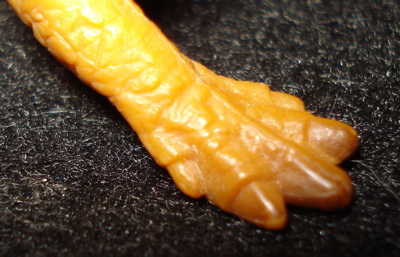 The feet, however, are superbly detailed (right foot detail- Right) and apparently both correct and consistent in form. The "skin" (Below)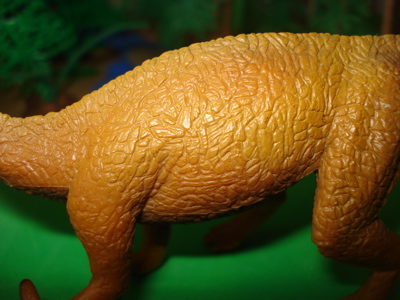 is highly detailed throughout the entire Schleich Plateosaurus' body which is molded in a largely monochromatic yellow-tan plastic fading to tan down the back and darker brown on the belly. Interesting.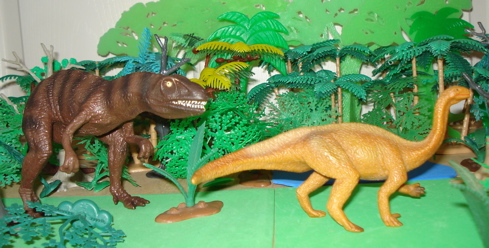 (This is a very scary looking predator)

The Schleich Plateosaurus has its own problems with the introduction of the sinister 2001 Schleich Allosaurus (Above) and the block-headed 2004 Schleich Tyrannosaurus Rex (Below).
(This is a particularly large one. With great teeth.)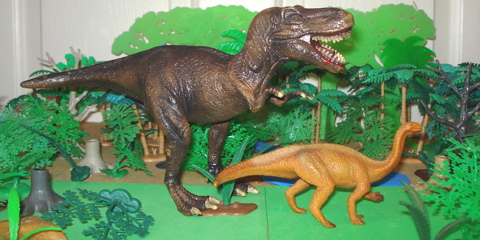 Looking really good in this top down view (Above) (kind of the T-Rex's view of the Schleich Plateosaur) or even from the bottom up, you can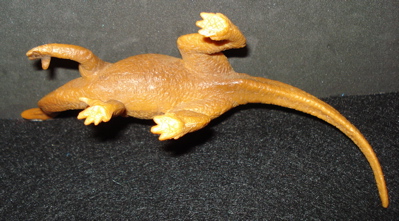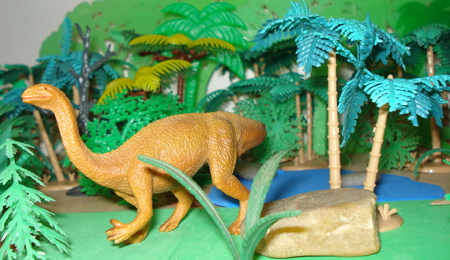 see the wonderful detailing and natural look of the unnaturally posed Schleich Plateosaurus. It looks so good in this quadrupedal position thanks to the elongated front legs. Given the many points of balance of this figure it can be readily posed rearing up on its hind legs, using the tail as the third leg of the tripodal pose.

(Here seen rearing up to get at the tender tops of a local palm tree.)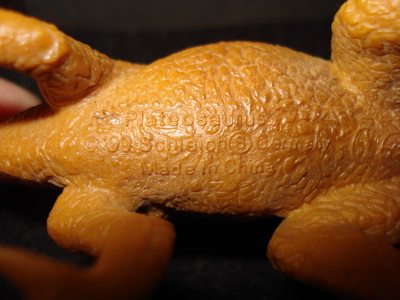 Even the manufacturers imprint seems to fit into the detail of the skin. It is clear yet not in any way intrusive to the overall "look" of the figure. The only thing I really don't like about this is that I have only the one. The Schleich Plateosaurus is and should be a herd animal and being all alone makes it particularly vulnerable, even to the 2003 Schleich Dilophosaurus.
("Okay. I've had it. I'm gonna check my penny jar.") (Below)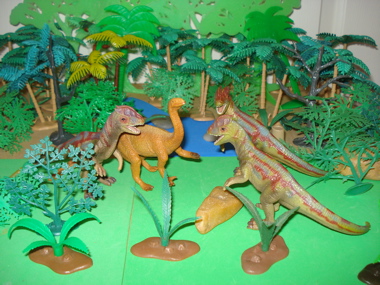 (The Schleich Dilophosaurus is actually a cute little guy that I will really enjoy doing a page on. But then I'm a lot bigger than it is. I might feel differently if I were the Schleich Plateosaurus.)
-How the Schleich Plateosaurus got its name.-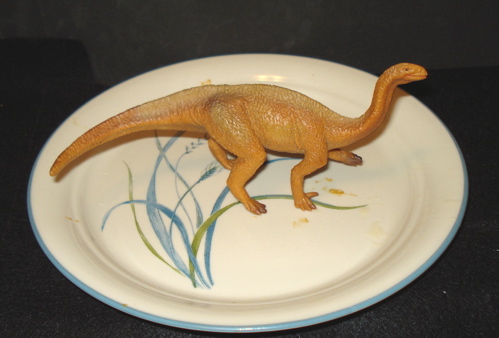 The Schleich Plateosaurus is an extremely well done and high quality example of how Dinosaur toys can go wrong. Its elongated forelegs, quadrupedal stance and misshapen left fore paw combine to take what would have been a high quality and realistic Dinosaur toys figure and just, well make it into a very, very nice Dinosaur toy. My (limited) experience with Schleich Dinosaur toys figures (as well as several prehistoric mammals) is that some are very good, others not so. The actual figure quality varying from realistic to exaggerated and toy like. I think that this is marginal as a collectable (as different from an actual collectible) as its Dinosaur qualities and detail make it acceptable, but not a Plateosaurus.
Out-of-production and not readily findable in a Google search on December 18, 2009.... What can I say. If you really want one you might find it as part of a lot of figures which is how I got mine (off ebay). If you're "into" Schleich you'll certainly want one. If you're not passing won't do your collection any harm. These were released in 1999 and production ceased in 2003 which suggests to me that they weren't very popular in the first place. Schleich has not replaced this "hole" in their lineup. Unfortunately there simply are very few contemporary Plateosaurs around.
Edibility, as we have seen, seems limited to Schleich (and other's) predators although it does have the European Union "CE" indicating that it meets their health and safety standards. I still wouldn't want it in my souffle.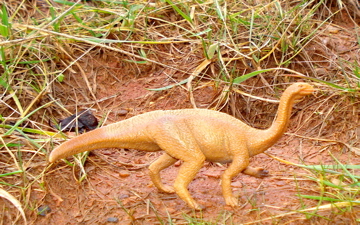 (Wandering around outside is a dangerous proposition for a lone Plateosaurus.)
Now you may have been wondering why this Schleich Plateosaurus was interested in counting the pennies in its penny jar. We have seen the dangers it faces in its "hood" and, sometimes, when you really have no friends you can rely on, you have to hire bodyguards....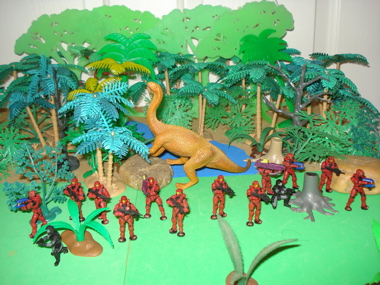 (Peace at last. As long as the pennies hold out at least.)

We here at The Dinosaur Toys Collectors Guide have only one purpose in being here at all. Providing you, our readers, with the best, most informative and entertaining information about Dinosaur toys both past and present.
In order to best achieve that goal, in addition to providing pages on individual figures, advice and suggestions on obtaining the Dinosaur toys and pricing, availability and age and personality appropriateness information.... We have instituted our:
1) The (easily subscribed to, FREE) Daily "Dino-Blog" where you are regularly updated as each new page is created and kept up-to-date on Dinosaur toys news and the happenings in "Dino-town."
2) Our Contact-osaur-Us form which you can use to send us comments and tell us what you need and want to see. After all, this site is for your information.
3) Social Networking links (way bottom, upper left) so you can share this page, and our site, with your friends. Thank you.
4) Our mighty and inimitable Search-osaurus Center. (Click link or Below.) You can use the search bars to either search the site for all things Dinosaur (toys) or search the entire web for all things anything at All-a-saurus.
5) As you have been perusing this site you may be wondering, "Can I do that?" Well, if having your own website has been your dream you can make that dream come true, here.
Search-O-Saurus Center
You can use this site-search box to find everything you need about Dinosaur toys collecting. Can't remember everywhere we mentioned, say, Velociraptors or Diplodocuses? Just put in your search term and you'll get a listing of everyplace on our site where you can find what you are particularly interested in.
Custom Search
Please note that your search results page will have ads ABOVE and BELOW the actual search results. Those are not from the site, but should be of interest, since Google targets the ads to your particular search.
You have been reading our page about the 1999
Schleich Plateosaurus. You can read about other Plateosaurus by using this link to our main Plat-page.