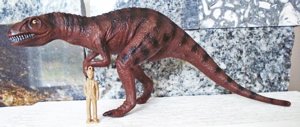 The Schleich Allosaurus Dinosaur Toys are Very... "Playful"
The Schleich Allosaurus came out in 2001 but wasn't until late 2008 that I got my first and a few weeks ago my second. Now that first Allosaur was pretty tame seeming. He would quietly join with other Allosaurs on a hunt but, generally, behave in a reserved manner. But as soon as I got that second one... The "Trouble Twins" were loose.
Weighing in at a svelte seven and a quarter ounces (7.25 oz) and measuring one foot (12") from snout to tail tip this great looking Allosaur is ready for action. It is made of soft rubber which makes it rugged (and safe) while it is also hand-painted which makes each one an individual. The paint itself wears well. You really can't see much difference between my brand-new Schleich Allosaurus and my year-old one.
The bright eyes and teeth show up beautifully and give these what I see as a mischievous (perhaps more of a "lean and hungry") look.
If you are not interested in the Schleich Allosaurus, perhaps other Allosaurs will strike your fancy. But if you go you'll be missing some pretty interesting doings....
Now what might a pair of Schleich Allosaurus do to pass the day?
The day begins..."
Checking the news
and seeing what the relatives are up to can really stimulate the appetite. So our twin Schleich Allosaurus head into the kitchen where they find the meal is still being prepared.
This is truly bad news and patience (except when hunting) is not a part of the Allosaur repertoire. There has to be someplace else where they can find a meal....
So it's off to the Jungle...

Stealth is called for when one (or two) is preparing to rumble in the jungle.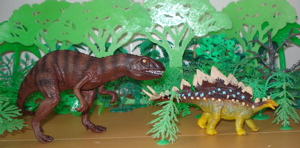 Separating to hunt seems like a good idea, but actually consummating the hunt is more difficult,
and rejoining proves somewhat more successful.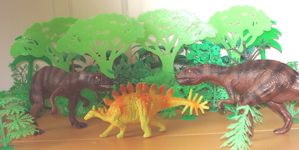 Heading Outside in the hopes of finding take-out

our intrepid hunters are relieved to see that their biggest competitor is safely behind bars.

Causing Trouble for Others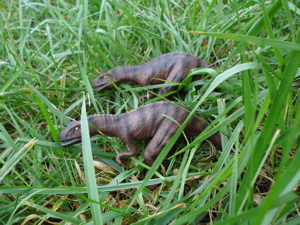 Sneaking through the high grass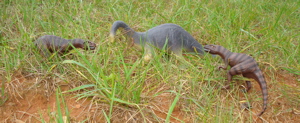 a tasty meal is spotted, stalked,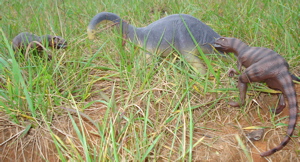 and pounced upon....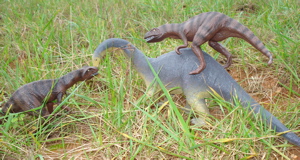 Getting into Trouble of Their Own

Da dum...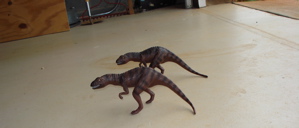 ...da dum...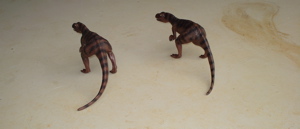 da dum da dum da dum...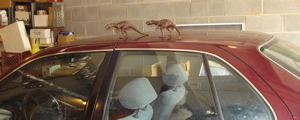 "Getting into this will be cinch..."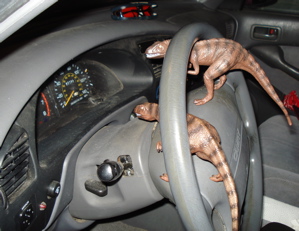 "uhhh...How do you start this thing?"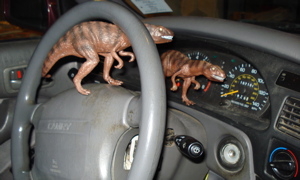 "C'mon...c'mon..."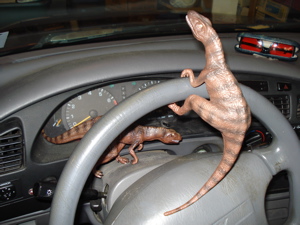 "I think I need a steering committee."

"I'm shifting as fast as I can!"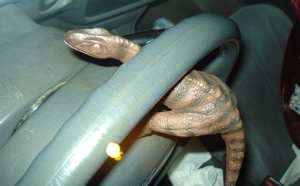 "Oh, officer. I left my wallet upstairs. How about wait here with my brother while I go get it..."

Back Home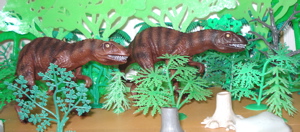 Slipping back into the house our Schleich Allosaurus twins are hungry and ashamed. Well, hungry anyway...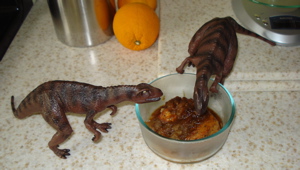 Luckily dinner is ready after a long and eventful day...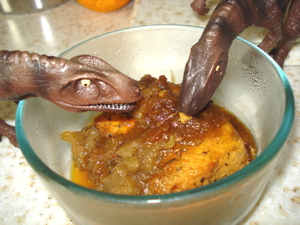 The Schleich Allosaurus has surprised me with its versatility and adaptability to many different play situations, both indoors and out. They have great expressiveness and the adaptability to find themselves (being placed) in all manner of situations. These are terrific Dinosaur toys.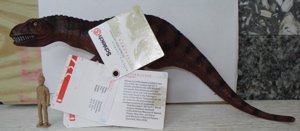 It is still in production and can be found at "better" retail outlets and on eBay for ~$12-14.00. It's definitely worth a pick-up. Brand-new he comes with a little plastic statuette- the one I use as ME- which can serve very well when hunting is poor. And a little information "booklet" in German, English, French, Spanish & Italian.
If your interest runs to Dinosaurs that the Allosaurus liked to eat, such as Stegosaurs and Apatosaurs, they too can be found right near by. And the Dinosaur Toys Collectors Guide Home Page is never far off.
We here at The Dinosaur Toys Collectors Guide have only one purpose in being here at all. Providing you, our readers, with the best, most informative and entertaining information about Dinosaur toys both past and present.
In order to best achieve that goal. In addition to providing pages on individual figures, advice and suggestions on obtaining the Dinosaur toys and pricing, availability and age and personality appropriateness information.... We have instituted our:
1) The (easily subscribed to, FREE) Daily "Dino-Blog" where you are regularly updated as each new page is created and kept up-to-date on Dinosaur toys news and the happenings in "Dino-town."
2) Our Contact-osaur-Us form which you can use to send us comments and tell us what you need and want to see. After all, this site is for your information.
3) Social Networking links (way bottom) so you can share this page, and our site, with your friends. Thank you.
4) Our mighty and inimitable Search-osaurus Center. (Click link or Below.) You can use the search bars to either search the site for all things Dinosaur (toys) or search the entire web for all things anything at All-a-saurus.
5) As you have been perusing this site you may be wondering, "Can I do that?" Well, if having your own website has been your dream you can make that dream come true, here.
6) Our always open Donate-O-saurus Center (opens new window) where you can make a donation and keep us in business, such as it is. We thank you for anything you can give.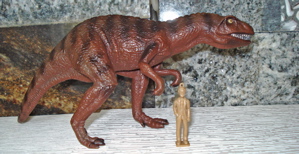 The Schleich Allosaurus Search-osaurus Center
You can use this site-search box to find everything you need about Dinosaur toys collecting. Can't remember everywhere we mentioned, say, Velociraptors or Diplodocuses? Just put in your search term and you'll get a listing of everyplace on our site where you can find what you are particularly interested in.
Custom Search
Please note that your search results page will have ads ABOVE and BELOW the actual search results. Those are not from the site, but should be of interest, since Google targets the ads to your particular search.