The Carnegie Collection Dinosaur T Rex Has Seen at least Five Versions
The Carnegie Collection Dinosaur T Rex
All part of Safari Ltd's Carnegie Collection. (open new windows)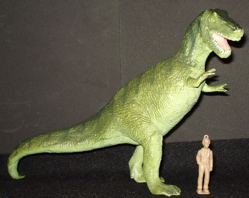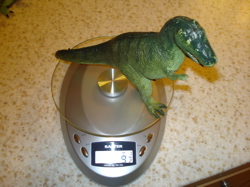 It is
hard to even know where to begin in describing the
Carnegie Collection
Dinosaur
T Rex
figures. Above left is the first figure that came out in 1988. It was kind of a "blockhead", weighing in at nine and one-half ounces (9.5 oz, 268 gms) and is twelve and one-half inches long (12.5", 32cms).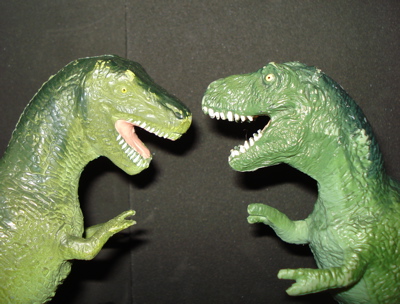 The forepaws are well done (especially for their time) the feet do have the three claws and the mouth was as solid as the head with no particular detail to be found. The teeth are nothing more than notches in the block, painted white, with the mouth interior painted in 'baby-pink'. Still, this was a major improvement and a near revolutionary new figure. It was redesigned in 1994 with an accurate, rounded head with detailed individual sculpts of teeth and a subdued-pink mouth. The remake weighed in at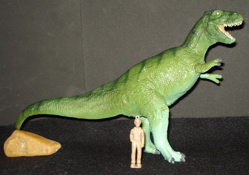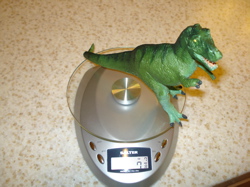 eight & a quarter ounces (8.25 oz, 235 gms) and is one foot (30.5 cm) in overall length. Its fore-claws look like barely differentiated stubs on the end of 2x4s and it has "fatter thighs" than the first model. The feet are better detailed and the balance on the figure is such that by placing it in hot water the ankles can be bent adequately for this figure to balance in a bipedal pose.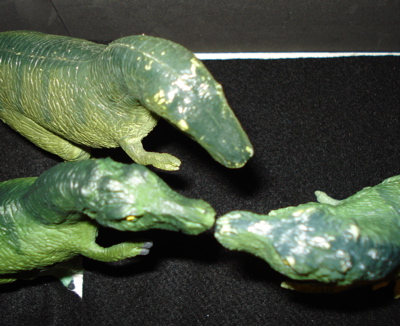 In 1996
a second resculpting of this figure was introduced (photo right- top left original, right 1st remake, left lower 2d remake). This third iteration is lighter at seven and seven-eighths ounces (7.875 oz, 222 gms), is closer to eleven and a half inches and isn't very willing to balance on its two feet under any circumstances. I've tried.
This
re-made Carnegie Dinosaur T Rex is still in production. (right- newest on left, earlier on the right) The main difference, apart from the balance, is that the head on this newest model is a little better detailed and "realistic." These green Tyrannosaurus Rex were not the only, but they were the best- until 1998.
The Carnegie Collection Dinosaur T Rex: Today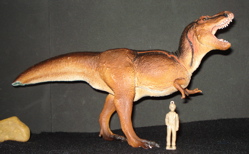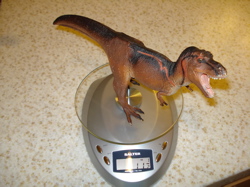 1998 saw the presentation of the Tenth Anniversary Commemorative Dinosaur T Rex. This all new figure is in what is a much more realistic pose, back parallel to the ground and its great mouth open in a terrifying roar(?)!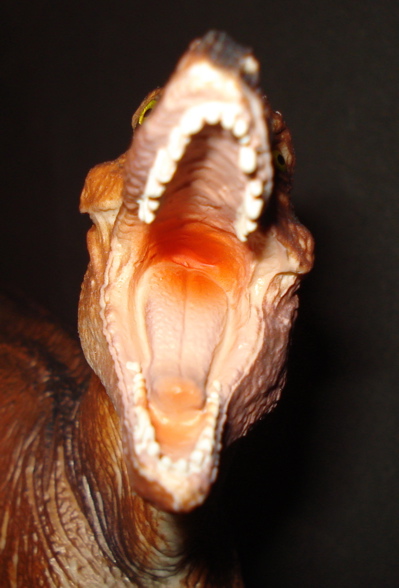 This newest figure was ~12 ounces or so (340 gms) and approximately 14 inches in total length. It was posed so as to use the bent tail for a triangular stance. You can see from my model(s) that I shortened the tail (I felt it was incongruously long, like the Invicta Tyrannosurus Rex and I hate three-point stances.) and rebalanced it so as to be bipedal.

The detail on this fourth Rex is superb. The two fingered hands are reasonably well done (although the 1996 Wild Safari Dinosaur T Rex is better done in this respect.) and the legs and feet are extre-e-emely nice.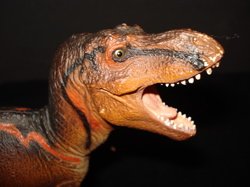 The head is beautiful and as good as any head on any Dinosaur T Rex made by anybody. (right) I want to take this opportunity to thank Safari Ltd (opens new window) for their generosity in supplying the third green Tyrannosaurus Rex and for this fellow- (below & next)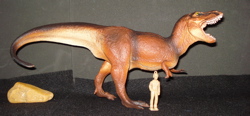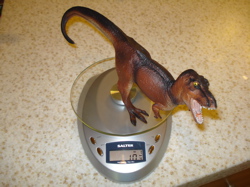 The resculpt of the 10th Anniversary Dinosaur T Rex. This is a lighter weight (ten and one-quarter ounce [10.25 oz, 290 gm]) fourteen inch long (14", 35.5 cm) Tyrannosaurus than the 1998 version yet it has thicker fore claws and feet and (despite the somewhat elongated tail) balances perfectly on its own two feet ((+:!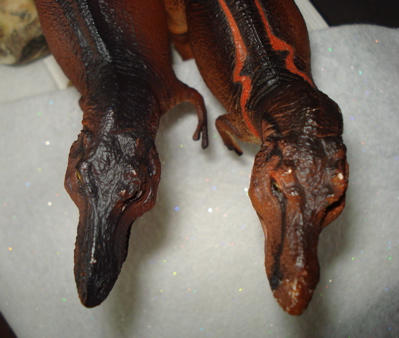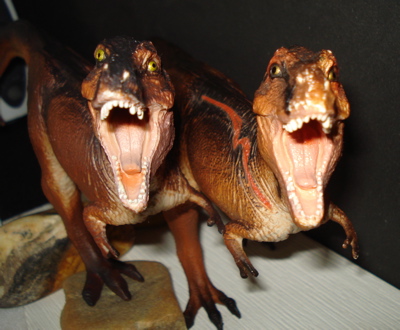 As can be seen in the view (above, left) of the two heads the new (left) is a bit narrower than the original. This holds true throughout the entire figure (except for the feet and paws-claws, that is). The weird thing, and only really noticeable in this head-on view (Above, right) is that this new sculpt looks like he got hit in the head (specifically on top of the left eye-socket) as the left eye is significantly lower than the right. From this frontal view it appears deranged, with that left eye visibly smaller than the right as well.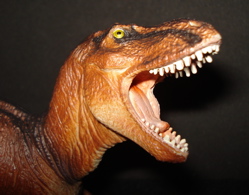 On the other hand the head looks great from either side although (in my opinion) not quite as good as the earlier version, which is just a little more of a "hunk."
Both are presented in an overall reddish-brown, the first version being a bit lighter, with red highlights. The current model is darker as well as being thinner. More of a runway model, model.


Parallel Evolution of the Carnegie Dinosaur T Rex and Triceratops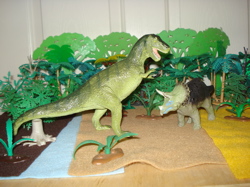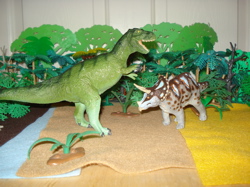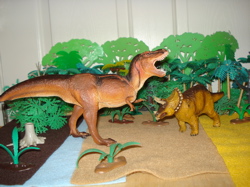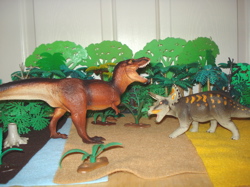 What I like about this little picture vignette is that it shows how manufacture, as in nature, must never cease to change and innovate as the environment changes. Those early, green, Dinosaur T Rex were the "best" when they were released but had The Carnegie Collection just sat back and not continuously "evolved" their figures the market would have passed them by, as it did the Invicta Dinosaurs series.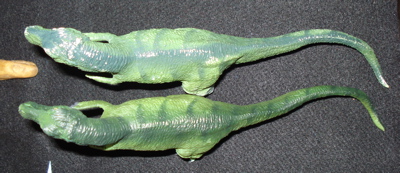 Here we see a top-down view of the Carnegie Tyrannosaurs. I think that the newer ones (below) look better. What do you think? You can also see the greater "heft" of the earlier figure (bottom).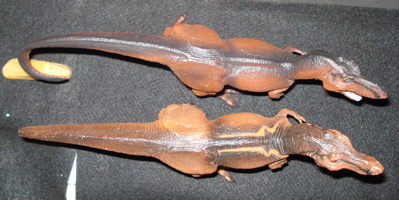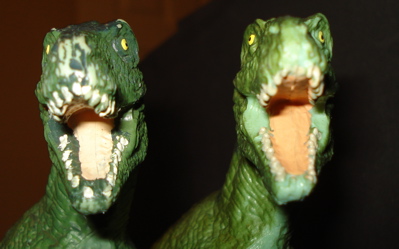 Then, of course, you always have the cute Dinosaur faces of the earlier figures (both second series versions, early on left) to admire as well.

The first Carnegie Dinosaur T Rex figure is not one of the better Dinosaur toys. I never really could get involved with it. However, for a small child it might be ideal. Its '3-point stance' makes it easy to stand up, first time, every time and it is quite rugged. Of course if you are planning on a complete Carnegie Collection, collection, it is indispensable, And I know where you can find one. Otherwise its very upright stance, blocky head and toylike (read 'unrealistic') appearance make it undesirable to anyone who values "realism."
As best I can figure it may have been 1994 when this was re-sculpted, improving the head primarily. This middle figure can be made to stand on its own feet and the head is really fine. This one I recommend. It could not have been in production for very long and may very well be able to parley rarity into collectibility. It is too early to tell. Lots of people don't even know about this interim model. One easy way of recognizing it is that the claws on the feet are not painted. I have found pictures of this one on retail sites, but they may be using old advertising photos.
The 1996 makeover is still in production and available for from $8.50 to $12.00 or so. This one has black toes and is readily available.

The second wave of these is the Tenth Anniversary (We're at the twentieth anniversary now!) Commemorative. The very nice brown Dinosaur T Rex. My preference are Dinosaur toys in relatively neutral poses. This one certainly isn't! With his outstretched neck and wide-open mouth, head tilted upwards, I am not sure what he is doing and whatever it is, it doesn't cover a broad behavioral spectrum.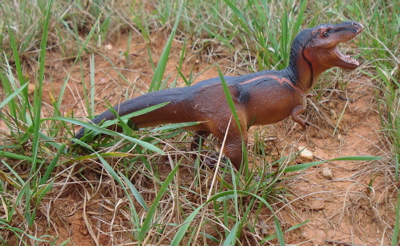 Given, though, the beautiful shaping of the beast, the superb detail of the head and mouth and the excellent, natural way the legs are melded into the torso. The ease of getting it to stand bipedally (despite the 3-point manufacture) and the fine detail of the feet... I recommend THIS figure highly. It is a true collectible. It is currently still available retail (though actually out of production) if the pictures are accurate.
If you can buy one, get it. It is recognized by the red striping on the neck and shoulders.

The re-issue of the "10th Anniversary Commemorative" is a fine figure of a Dinosaur but not nearly as good as the original. The feet and fore-hands are thicker and stubbier, overall it is thinned down and the head is distorted, the left eye being significantly below the level of the right. The face looks like Marty Feldman's "Igor" in Young Frankenstein". This odd distortion is not at all what I expect from the otherwise continually improving Carnegie Collection.
These "anniversary" editions are selling for from $5.99 to $43.00 but hover in the $10-15.00 arena. There are a lot of both editions out there.
In both cases the you have an essentially rugged Dinosaur toy that will stand up to both in- and outdoor play. The paint on the 10th Anniversary edition is subject to easier wear though.

And don't forget, the Carnegie Collection has plenty of other Dinosaur toys to play with your Dinosaur T Rex... whether they really want to or not.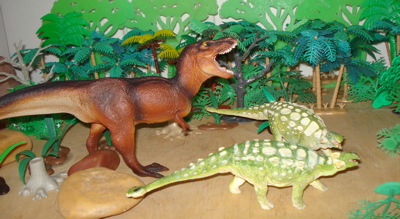 We here at The Dinosaur Toys Collectors Guide have only one purpose in being here at all. Providing you, our readers, with the best, most informative and entertaining information about Dinosaur toys both past and present.
In order to best achieve that goal, in addition to providing pages on individual figures, advice and suggestions on obtaining the Dinosaur toys and pricing, availability and age and personality appropriateness information.... We have instituted our:
1) The (easily subscribed to, FREE) Daily "Dino-Blog" where you are regularly updated as each new page is created and kept up-to-date on Dinosaur toys news and the happenings in "Dino-town."
2) Our Contact-osaur-Us form which you can use to send us comments and tell us what you need and want to see. After all, this site is for your information.
3) Social Networking links (way bottom, upper left) so you can share this page, and our site, with your friends. Thank you.
4) Our mighty and inimitable Search-osaurus Center. (Click link or Below.) You can use the search bars to either search the site for all things Dinosaur (toys) or search the entire web for all things anything at All-a-saurus.
5) As you have been perusing this site you may be wondering, "Can I do that?" Well, if having your own website has been your dream you can make that dream come true, here.
6) Our always open Donate-O-saurus Center (opens new window) where you can make a donation and keep us in business, such as it is. We thank you for anything you can give.
Search-O-Saurus Center
You can use this site-search box to find everything you need about Dinosaur toys collecting. Can't remember everywhere we mentioned, say, Velociraptors or Diplodocuses? Just put in your search term and you'll get a listing of everyplace on our site where you can find what you are particularly interested in.
Please note that your search results page will have ads ABOVE and BELOW the actual search results. Those are not from the site, but should be of interest, since Google targets the ads to your particular search.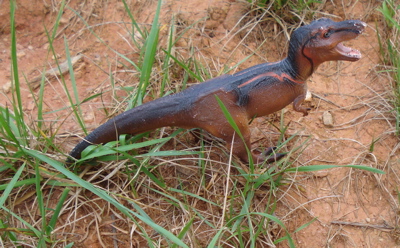 (Original 10th Anniversary behind, reissue in front)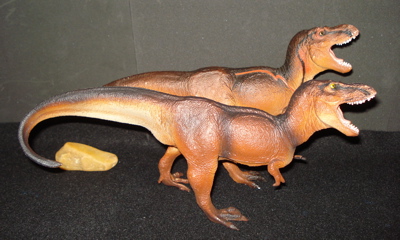 We hope that you enjoyed this page on the Carnegie Dinosaur T Rex and by clicking here you can return to our main Tyrannosurus Rex page.