I Liked The Bullyland Allosaurus So Much I Bought a Six-Pack.
The Bullyland Allosaurus: One of my favorite Allosaurs
The Bullyland Allosaurus is made in Germany and comes individually handpainted but, interestingly enough, without a date so I do not know when this was first produced. I do know that it is one of the best renderings of an Allosaurus fragilis available on the retail Dinosaur Toy market today.
This Allosaur is done in 1/30 scale, weighs in at 5&5/8 ounces and is ~12" in length while standing 4" tall. He is made of a comparatively soft but durable white rubber although his "hand painted" coat is vulnerable to wearing off to the bright-white undercoat.
He can also be found in both lighter...
...and darker...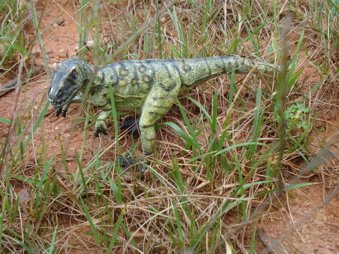 ...sub-species.

Bullyland Allosaurus Too Ferocious and You Want a Different Allosaur? Click here....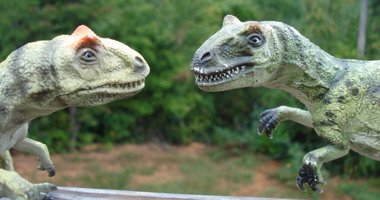 The detail on these Allosaurs is excellent and the hand painting is extremely well done.
The skin scales and the way the teeth are outlined in bas relief lends a realistic and lifelike aspect to the Allosaurs. By the same token they are very well balanced in their natural bipedal stance.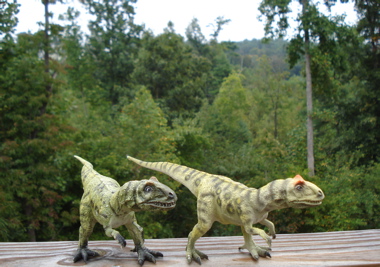 Whether preparing to go on a hunt and carefully surveying the territory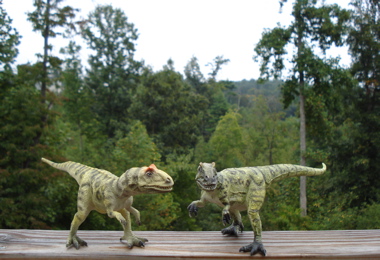 or discussing the best means of attack....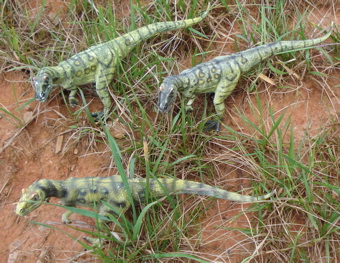 So whether you find yourself hunted by or hunting with a pack of these Allosaurs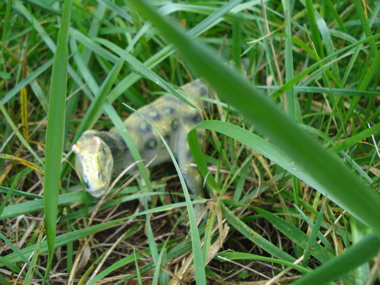 coming out of the high-grass you don't necessarily want to see this face staring at you eye-to-eye.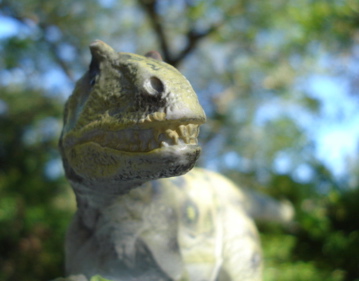 To conclude then The Bullyland Allosaur is a very realistic and very play-withable Dinosaur Toy. Given the full grown Allosaur size of 30-40 feet this guy scales in at ~30 feet and its real will fit in with most all other contemporary dinosaur toys. In absolute size this is larger and thicker than the Papo Allosaurus, for instance, but will work and play well with one... if you so desire.
Male Papo Allosaurus invites female Bullyland Allosaurus on a picnic.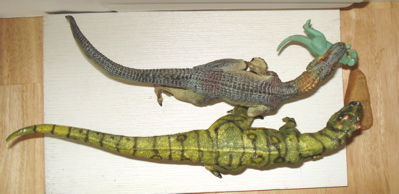 She accepts and they are off....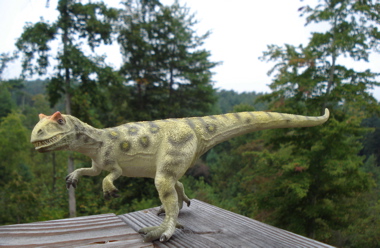 It doesn't really matter which way you're heading if you are heading out to get a Bullyland Allosaurus!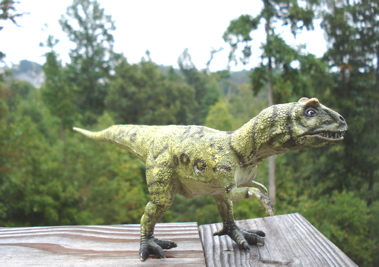 (or several)
Want to check-out other Allosaurs? Click here!

As you can see from my little six-pack, thanks to individual hand painting each Bullyland Allosaurus is a little different from every other one. Six unique individuals.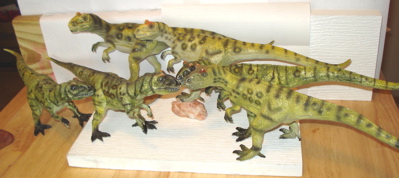 If the Bullyland Allosaurus strikes you as being as desirable as it is to me you might be interested in other Bullyland Dinosaur toys. These are currently in production and available online and at quality brick & mortar retailers. Online I have found these for from $13-$20.00. They are warranted to be non-toxic (I wouldn't set one on fire and breathe the fumes) for any normal use and are suggested for people over the age of three or so. They can be chewed-up so I wouldn't be giving one to anyone who is into teething. They are great Allosaurs and a valuable addition to any collection.
We here at The Dinosaur Toys Collectors Guide have only one purpose in being here at all. Providing you, our readers, with the best, most informative and entertaining information about Dinosaur toys both past and present.
In order to best achieve that goal, in addition to providing pages on individual figures, advice and suggestions on obtaining the Dinosaur toys and pricing, availability and age and personality appropriateness information.... We have instituted our:
1) The (easily subscribed to, FREE) Daily "Dino-Blog" where you are regularly updated as each new page is created and kept up-to-date on Dinosaur toys news and the happenings in "Dino-town."
2) Our Contact-osaur-Us form which you can use to send us comments and tell us what you need and want to see. After all, this site is for your information.
3) Social Networking links (way bottom, upper left) so you can share this page, and our site, with your friends. Thank you.
4) Our mighty and inimitable Search-osaurus Center. (Click link or Below.) You can use the search bars to either search the site for all things Dinosaur (toys) or search the entire web for all things anything at All-a-saurus.
5) As you have been perusing this site you may be wondering, "Can I do that?" Well, if having your own website has been your dream you can make that dream come true, here.
6) Our always open Donate-O-saurus Center (opens new window) where you can make a donation and keep us in business, such as it is. We thank you for anything you can give.
Search-O-saurus Center
You can use this site-search box to find everything you need about Dinosaur toys collecting. Can't remember everywhere we mentioned, say, Velociraptors or Carnegie Allosaurus? Just put in your search term and you'll get a listing of everyplace on our site where you can find what you are particularly interested in.
Custom Search
Please note that your search results page will have ads ABOVE and BELOW the actual search results. Those are not from the site, but should be of interest, since Google targets the ads to your particular search.