The PAPO Allosaurus Leads a New Breed of Dinosaur Toys
The Papo Allosaurus Has Set a New Standard for Dinosaur Toys.
From the Bedroom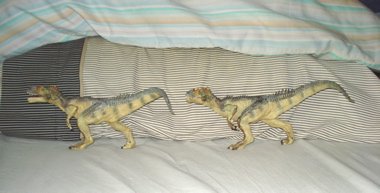 to the kitchen
and out into the yard
this Allosaur makes his, her and their presence felt.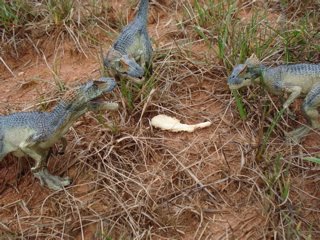 If the PAPO Allosaurus isn't what you want maybe one of These Allosaurs will do....


Your Allosaurus weighs in at a five and a three-quarter ounces (5.75 oz), measures almost eleven inches (11") from nose to tail tip and stands just over four inches (4.+") tall. Quite the 1/40th scale predator.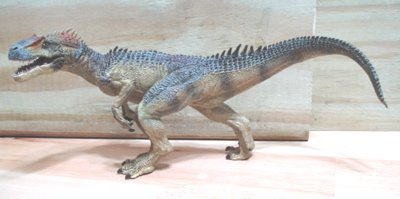 His pose is very active with a full, very well balanced, stride. The arms are back and the beautiful head is thrust forward. A truly dynamic pose.


He is so well balanced, in fact, that he can maintain his balance in exercise class. Whether stepping up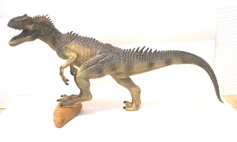 or stepping down,
he doesn't fall down.
He is also quite svelte, clearly watching his diet as this shot shows,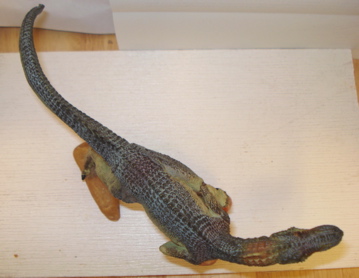 and remains the ferocious Wolf of the Jurassic that he is.
You want a PAPO Allosaurus of Your Very Own? Go Here to Find a Retailer Near You!


Whether out hunting its prey
or just milling around in the restaurant lobby waiting for a table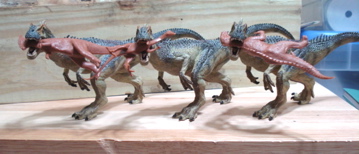 all work and no play makes for a hungry Allosaurus and here we find a trio leaving the MARX Buffet (Second Series).

The Papo Allosaurus is, as clearly seen in the accompanying photos, highly and finely detailed. Every square millimeter of this figure is a work of art from the claws on the hands and toes to the teeth in its mouth. All handpainted by some very near-sighted Chinese citizen for the Papo Corporation this is the closest you will come to a true museum quality toy dinosaur at a reasonable price.
In addition to being very well balanced, extremely detailed and naturally colored the Papo Allosaurus has two additional qualities that make it a great Dinosaur toy.
The first is the sculpt itself. It is different from every Allosaur toy that has come before it in that it has 'spikes' on its spine, on its neck, shoulders and the base of its tail. This is a bit of an aesthetic reach but a very pleasing one and adds to the character of this plastic creature immeasurably. This is truly an artistic and unique take on an old wolf.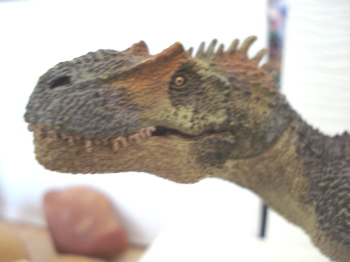 The other is the "Papo jaw." Following the Raptor, T-Rex and Spinosaurus (all based on the Jurassic Park movie critters) the Allosaur's lower jaw can open or close at the master's (your) whim.
This adds a lot of personality to what is already one of the most dynamic Dinosaur toys ever made.
He will go wherever you want him to and will stand pretty much wherever you place him. He also doesn't need batteries, has no mechanism(s) to break (apart from the very well made jaw) and is just a great toy. A true spark for the imagination.
The Papo Allosaurus will also set you back about $20.00 so while you might not get many I strongly suggest you get at least two. They are definitely worth it!
One of my top-five all-time-favorite Dinosaur Toys and my favorite Allosaur.
---
A minor Caveat (not Dick's progeny):
This, and all the PAPO carnivores, MAY not be suitable for very small children due to the movement of the lower jaw. It could potentially be ripped off and swallowed or otherwise discarded. I have never tried to remove the piece but it is something to consider. If you want this PAPO Allosaurus for your kiddo be aware of what he or she might have in mind for it. Know your child. That is all.
If you are interested in reading about the other Papo Dinosaur Toys click here!
For more information on Dinosaur toys in general, click here or go to Hotaling Imports to find a PAPO retailer near you. (link opens new window) (A public service brought to you by The Dinosaur Collector and the Dinosaur Toys Collectors Guide.)
We here at The Dinosaur Toys Collectors Guide have only one purpose in being here at all. Providing you, our readers, with the best, most informative and entertaining information about Dinosaur toys both past and present.

In order to best achieve that goal. In addition to providing pages on individual figures, advice and suggestions on obtaining the Dinosaur toys and pricing, availability and age and personality appropriateness information.... We have instituted our:
1) The (easily subscribed to, FREE) Daily "Dino-Blog" where you are regularly updated as each new page is created and kept up-to-date on Dinosaur toys news and the happenings in "Dino-town."
2) Our Contact-osaur-Us form which you can use to send us comments and tell us what you need and want to see. After all, this site is for your information.
3) Social Networking links (way bottom) so you can share this page, and our site, with your friends. Thank you.
4) Our mighty and inimitable Search-osaurus Center. (Click link or Below.) You can use the search bars to either search the site for all things Dinosaur (toys) or search the entire web for all things anything at All-a-saurus.
5) As you have been perusing this site you may be wondering, "Can I do that?" Well, if having your own website has been your dream you can make that dream come true, here.
6) Our always open Donate-O-saurus Center (opens new window) where you can make a donation and keep us in business, such as it is. We thank you for anything you can give.
The PAPO Allosaurus Search-osaurus Center
You can use this site-search box to find everything you need about Dinosaur toys collecting. Can't remember everywhere we mentioned, say, Velociraptors or Diplodocuses? Just put in your search term and you'll get a listing of everyplace on our site where you can find what you are particularly interested in.
Custom Search
Please note that your search results page will have ads ABOVE and BELOW the actual search results. Those are not from the site, but should be of interest, since Google targets the ads to your particular search.