A Great Styracosaurus
The X-Plus Masterpiece Collection Styracosaurus
Sometimes you come across what amounts to a piece of art that is made out of a material or in such a fashion or at a price point that allows it to be considered as a toy. Sometimes all three. X-Plus, based out of China has created in their Albertosaurus a model that approaches this concept but in their companion piece, the Styracosaurus they have achieved that goal, presuming it was their goal at all. To me, a lover of Dinosaur toys, it should have been their goal. The more realistic the better.
Made out of hollow plastic and weighing twelve and seven-eighths ounces (12.875 oz, 365 gms) and measuring fifteen and one-half inches (15.5", 37 cms) from beak to tail tip and seven inches tall this incredible figure is approximately 1/10-1/14 scale (the original Styracosaurus is about eighteen feet long, and six feet tall- height measured to the middle of the back).
This Styracosaurus comes in two basic models, one pre-painted and the other is more of a beige crafts-project. In both cases you have the same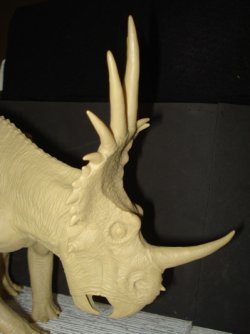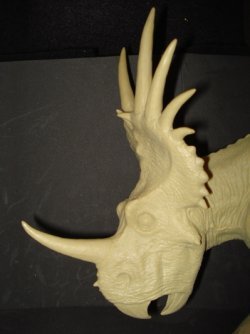 incredibly detailed figure. Quite capable of of standing loose, on its own four feet and quite ready to play with its Dinosaur toys buds....
"I don't want to play with you guys!"
The pre-painted and unpainted versions are otherwise identical and get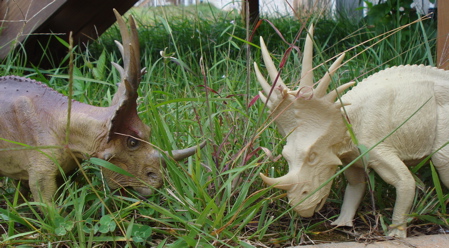 along very well together as you can see (Above).
The painted model displays beautifully and is very natural looking in the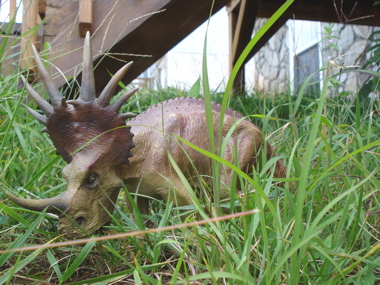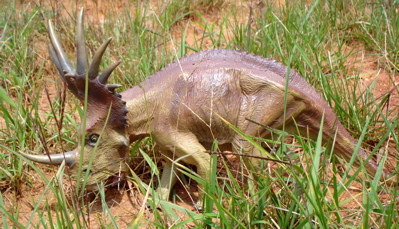 high grass, whether thick or thin. The unpainted figure tends to appear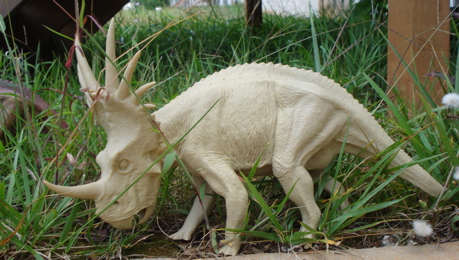 a bit ghostly, especially when compared to the painted figure.
You may note that the majority of pictures are of the left side of this figure. This is because the Styracosaurus is molded in a posture that is, more or less, turning or curving leftward. This is best seen from a top view. (Below)

Pictures taken of the right side tend to cut off good views of the head.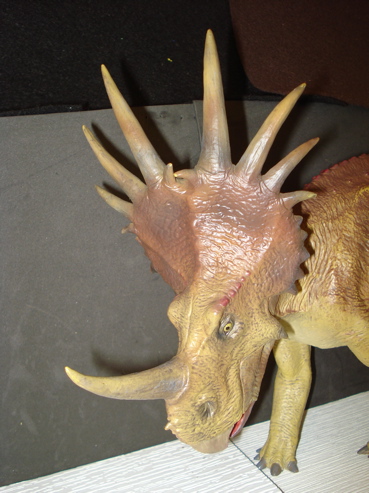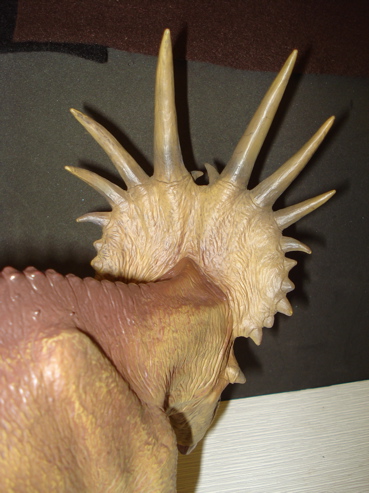 Looking at the head, from both the front and rear (Above) shows the excellence of execution of this sculpture. This goes to the basic brown/tan paint job provided on the pre-painted model. A fairly close look at the detail of the body (Below) shows both "scutes" (opens new window) and minutely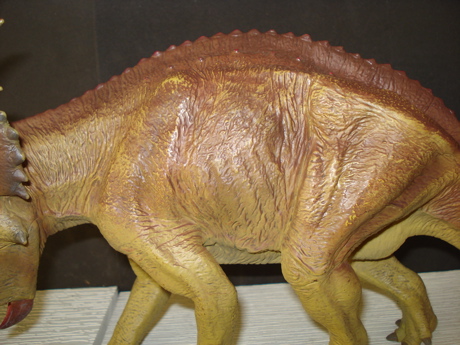 detailed spinal spikes as well as the creases and folds in the skin.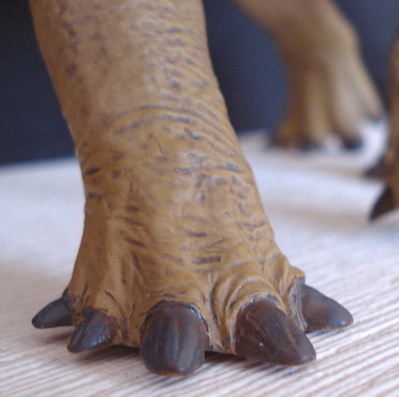 This marvelous detailing carries on right down into the feet of the figure (Right) where you see the individual toes beautifully rendered. In this picture we see the front right foot.
Probably more often than occasionally with these figures you will find that the plastic has warped a bit, making the balance (despite being four-footed) slightly precarious. You may (read "probably") require a hot water bath to bend the plastic legs a bit to get the proper balance.

Looking at the figure from the rear quarter (Below) offers a dynamic view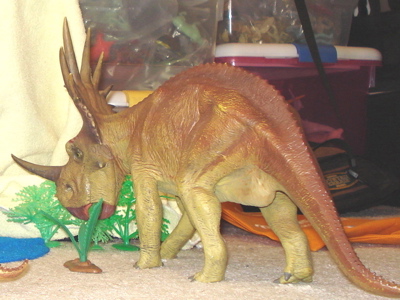 of a lifelike model that appears to be in motion. note the rear right foot raising up in preparation for a forward step.
Of particular note is the detail of the interior of the mouth. The Styracosaurus had a beak (obviously) that it used to snip-off branches, leaves, as it browsed along feeding it's 3-4 ton body. It had rows of sharp, shearing interior "cheek-teeth" and these are included on the figure (Below)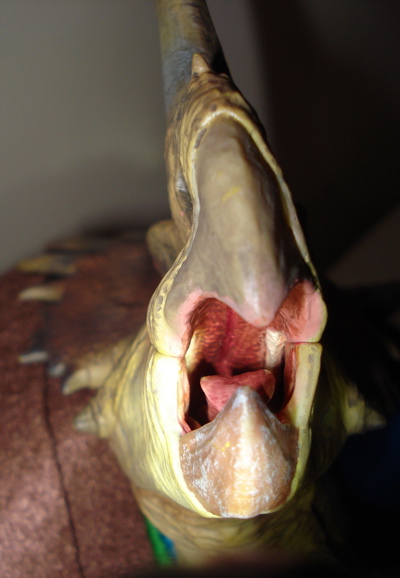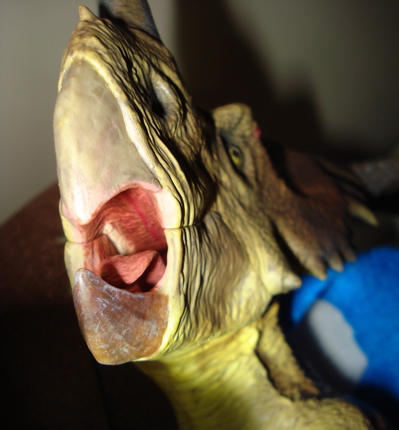 (Left) best shown up in the pre-painted version (you can also see the marvelously rippled tongue!) this is one of those details that we just so rarely find in our basic Dinosaur toys.
Part of the reason is the large sized scale of this Styracosaurus and the other is the way it is in fact molded. It consists of five mold pieces:
1) the tongue
2) lower jaw
3) upper jaw, head and frill.
(These three form a complete structure which is connected to the body at the throat and neck.)
4) body front consisting of neck, front legs and torso
5) rear body beginning just in front of rear legs/hips and tail.
Whether they are 'welded' or glued I am not sure. My experienced guess is that they are well glued.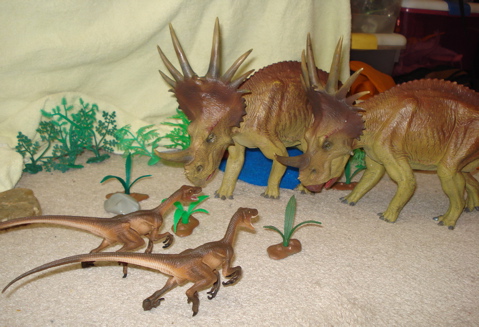 "We're a lot more than you little guys can bite off, you know"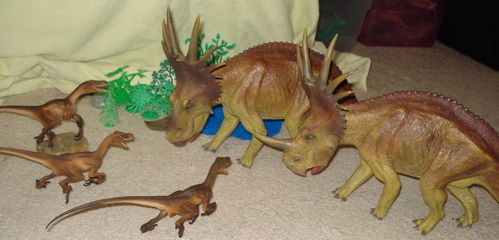 "One more's not gonna help you much... get the point?"
So what we have here is a fairly large sized (~16" from the end of its nose-horn to tail tip and nine inches to the top of the frill horns) hollow plastic Dinosaur toys figure that actually scales best with the other large-scaled (1/4 - 1/20) sized Dinosaur toys from, for example the Safari line, the Carnegie Collection (by Safari) and certainly the PAPO Velociraptors.
(Below)
"So, you guys want to go out to eat? Or what?"
With a price point of approximately $15.00 these are really hard to beat when it comes to bang for the buck. Now I usually think that anything over ten dollars is pretty steep for a toy but I am probably still living in the 1990s with that attitude. Despite the fact that nearly all other Dinosaur toys today are made out of "rubber" these are hard plastic but appear to be pretty rugged. They came out in 2002 and may (or may not) still be in production. While the X-Plus Prehistoric Masterpiece Albertosaurus is really more of an acquired (and eminently acquirable) taste this Styracosaurus is, I think, quite easily and readily taken to. The pre-painted version, in particular, is especially well done. They are available primarily on the internet and I have never seen one in a brick & mortar store.
Given its plastic nature, however, I would not recommend it as a gift for a child necessarily at all. While the card that comes attached to it (one of those plastic thingies that comes through a hole in the upper-left back to which the card is attached) (Below) cautions against a "choking hazard"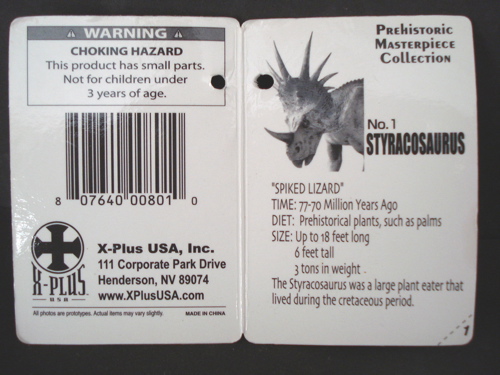 I see a much more intimidating "stabbing hazard". This is a hard plastic and there are very attitudinal pointy parts at all angles ranging from the nose-horn and tail to the frill-spikes and toe-nails. I fail to see the "small parts" that comprise the choking hazard myself. (Perhaps the tongue.) It is definitely not for suckling tots, none the less.
Personally I really like these despite having had to do some after-market orthopedic work in the hot tub. Their extreme detail makes them the kind of Dinosaur toys I just love to have.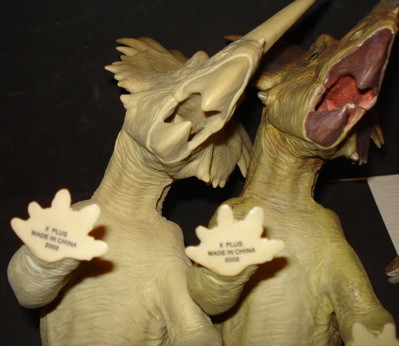 Being "Made in China" and having only "X Plus Made in China 2002", and that actually printed on the bottom of the right forefoot (Left) as identification they lack the Euro-"CE" and for all I know are actively radioactive... which could explain my own near-baldness.
The truth of the matter is nothing about them invites gnawing. Having neither "proof" of lack of toxicity nor an inviting, chewable texture these are best kept out of and away from the mouth and tender body parts. The lack of detail of the feet bottoms, however, is saddening although the lack of manufacturer-imprint gives them a stronger art-like quality. I'm beginning to ramble.
We here at The Dinosaur Toys Collectors Guide have only one purpose in being here at all. Providing you, our readers, with the best, most informative and entertaining information about Dinosaur toys both past and present.

In order to best achieve that goal. In addition to providing pages on individual figures, advice and suggestions on obtaining the Dinosaur toys and pricing, availability and age and personality appropriateness information.... We have instituted our:
1) The (easily subscribed to, FREE) Daily "Dino-Blog" where you are regularly updated as each new page is created and kept up-to-date on Dinosaur toys news and the happenings in "Dino-town."
2) Our Contact-osaur-Us form which you can use to send us comments and tell us what you need and want to see. After all, this site is for your information.
3) Social Networking links (way bottom) so you can share this page, and our site, with your friends. Thank you.
4) Our mighty and inimitable Search-osaurus Center. (Click link or Below.) You can use the search bars to either search the site for all things Dinosaur (toys) or search the entire web for all things anything at All-a-saurus.
The Styracosaurus Search-osaurus Center
You can use this site-search box to find everything you need about Dinosaur toys collecting. Can't remember everywhere we mentioned, say, Velociraptors or Styracosaurus? Just put in your search term and you'll get a listing of everyplace on our site where you can find what you are particularly interested in.
Custom Search
Please note that your search results page will have ads ABOVE and BELOW the actual search results. Those are not from the site, but should be of interest, since Google targets the ads to your particular search.
You have been reading the X-Plus Styracosaurus page. Click here to return to the main Ceratopsian page, thank you.