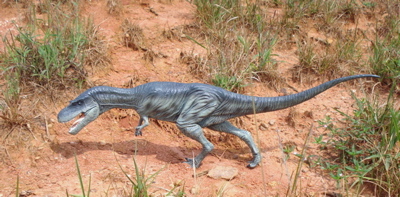 The X-Plus Albertosaur is a Masterpiece to Add to Your Dinosaur Toys Collection
This wonderful Albertosaur is really not a Dinosaur toy. It is made of a hard plastic and comes in both painted and unpainted versions. Because it is not a toy this page is very different from all my other "Dinosaur toys" pages. This figure does not play well with others. In fact, it doesn't play at all. It is hard, pointy and breakable. But it looks terrific. The factory painted model


is done in a subtle blue-gray while the basic unpainted is a stark black.


This can be readily painted (I used acrylics) to create your own personal Albertosaurus.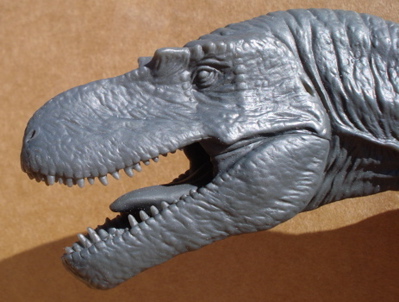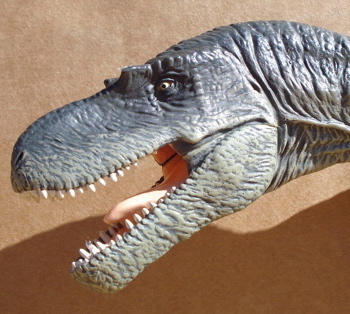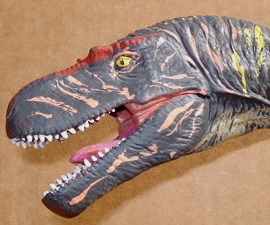 The detail in this figure is really exquisite and can be found throughout the sculpture, paint does tend to bring it out a bit, however. These are available online for about $21.99+ shipping and are made by X-Plus as part of their Prehistoric Masterpiece Collection. The "collection" consists of this Albertosaurus and an equally (maybe even "more equally") nice Styracosaurus.
They come in a very active pose, the right leg stretched out behind and the left leg tensed, propelling the Albertosaurus towards its prey. It is in a low-slung horizontal position with a slight curving to the left. This is why all my pictures are facing left, it is his best profile.
While the figure itself is not poseable you may find that yours has been warped slightly upon receipt. The balance is such that it cannot stand when not leaning against something or when not attached to its stand. It comes with a small hole in the chest and holes in the bottoms of both feet. The feet holes fit onto pegs on the stand and a metal pole fits into the chest and a hole in the stand to prevent it from falling forward. If it is warped the feet may not fit properly onto the stand. Fitting such warped legs onto the pegs can result in broken limbs.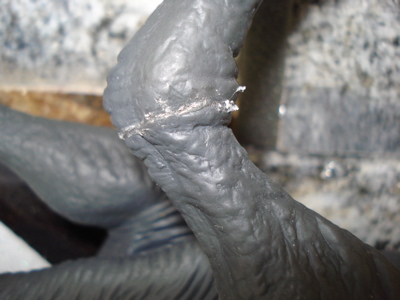 This has happened to two out of three of my figures. You can see on the left that this break (hopefully) occurs at what is the ankle joint of the forward leg and is readily glued back together. Unfortunately that just means you have glued the leg back in its warped position. Using the hot water "plastic surgery" technique previously presented you can soften and gently bend the figure's legs into a proper position. One way of doing this is to place the feet onto their pegs (the longer peg is for the rear foot) and then run cold water on the leg to set the new pose. This works quite well as you can see from the photos.

Since this is both rigid and fragile it does not make a good toy. I have tried. It just doesn't work out. It cannot stand unless the feet are either ground into the dirt or placed on the pegs of its stand. On the other hand it makes a great static model. It is beautiful to look at and will make an excellent centerpiece in a diorama. But I reiterate, it is not a toy and most certainly not made for children. For an adult who thinks that a toy is something you just look at... it is a toy.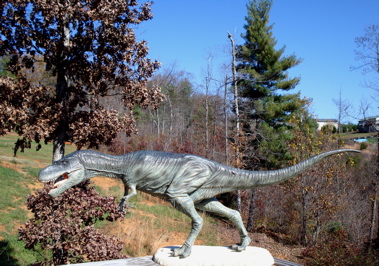 It comes prebuilt and (if you buy the painted model) pre-painted with the stand and the metal post. That's it. Ready to place on the stand and admire. If you paint it yourself then you can admire your handiwork.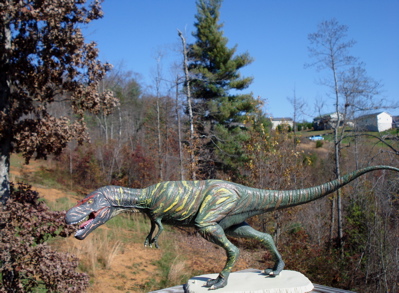 The Albertosaurus was a Tyrannosaurid. An apex predator that roamed North America several million years before the "Rex" appeared. The real Albertosaur was about 30 feet in length and weighed about two and a half tons. This replica is about twenty-two inches (22"- 56cm) long, making it about 1/16 scale and weighs eight & a half ounces (8.5 oz- 241gms).
If you are wanting your Albertosaurus to terrorize your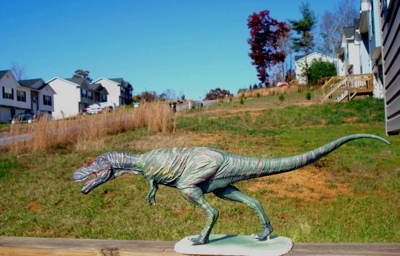 neighborhood then it will have to do so on its stand which severely detracts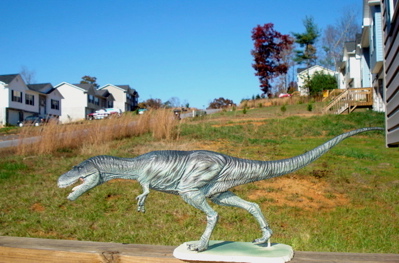 from its ability to terrorize. Don't embarrass your Albertosaurus that way.

This is not one of the great Dinosaur toys. It is a great Dinosaur model. Don't get it for or give it to a child. Or anyone who will try to play with it. Okay?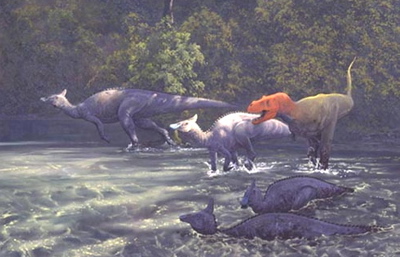 Here is a great painting of an Albertosaurus at play. It is not on a stand and the neighborhood is being terrorized. That's what it was all about!




We here at The Dinosaur Toys Collectors Guide have only one purpose in being here at all. Providing you, our readers, with the best, most informative and entertaining information about Dinosaur toys both past and present.
In order to best achieve that goal. In addition to providing pages on individual figures, advice and suggestions on obtaining the Dinosaur toys and pricing, availability and age and personality appropriateness information.... We have instituted our:
1) The (easily subscribed to, FREE) Daily "Dino-Blog" where you are regularly updated as each new page is created and kept up-to-date on Dinosaur toys news and the happenings in "Dino-town."
2) Our Contact-osaur-Us form (below) which you can use to send us comments and tell us what you need and want to see. After all, this site is for your information.
3) Social Networking links (way bottom) so you can share this page, and our site, with your friends. Thank you.