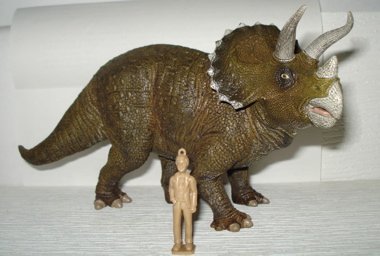 PAPO: Dinosaurs-Triceratops Punches Your Ticket
I would like to give a very special thank you to Hotaling Imports for making this Papo Dinosaurs-Triceratops page possible.
The Papo Triceratops- Coming at-ya...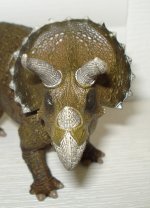 Of all the herbivorous Dinosaurs Triceratops
horridus
may have been the most daunting. It wasn't the biggest but with its huge armored head, great frill and three horns it would have been terrifying to see coming at you. Powered by up to thirteen tons of muscle and thirty feet long this was one powerful fellow. Papo has created a beautiful little replica of this mighty beast and I am glad to be able to present him to you.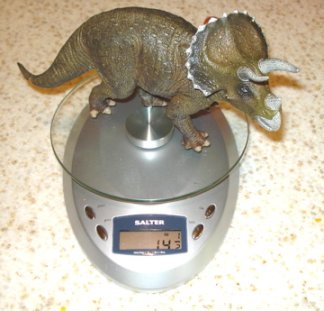 Weighing in
at fourteen and one half ounces (14.5 oz) and measuring ~eleven inches (11") from tail tip to nose-beak the Papo Triceratops is a hefty and good sized model of the original. He is made of a (relatively) soft rubber so he is neither breakable nor dangerous. His sharp points aren't that sharp. You can find him (and other
PAPO
products by contacting Hotaling Imports (see above) to find a retailer near you. I strongly recommend adopting one.
So What's a Triceratops To Do?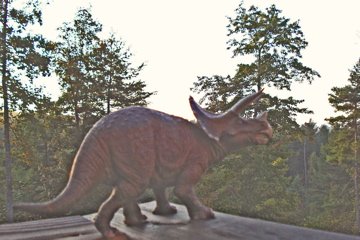 (Triceratops at Dawn)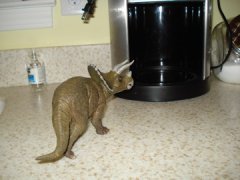 After checking on the territory you come inside but "Where's the coffee?" Dinosaurs Triceratops or not, need their coffee to start the day right!! This is no way to start the day.






Even if you have some chewy macaroons to go with it, ya gotta have the "it" that they go with. Dinosaurs-Triceratops included- aren't allowed to use electricity. So it's outside he goes to make some on his own....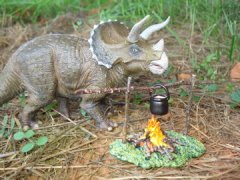 After which it's a long day of defending himself, his coffee and his territory against all comers....



Against the old...
__________________________________________________________
and the young...
_______________________________________________________
and the many...
_________________________________________________________
...and the few.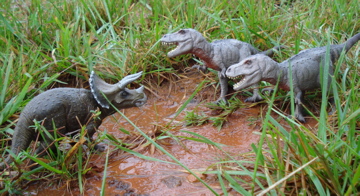 ___________________________________________________________
And especially those who are entirely unexpected....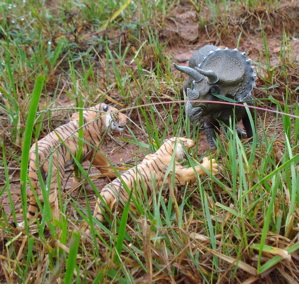 PAPO Triceratops miss the point? Try these T-Tops...
So whether it is hanging out in the high grass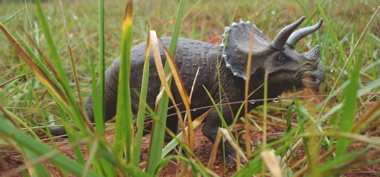 or heading home for the evening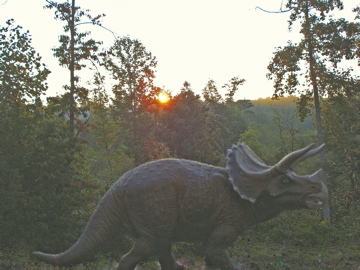 ...


Love Dinosaurs-Triceratops Not Your Thing? Try the Home Page for Lots of Other Dinosaur Toys!
All in all ...the Papo Dinosaurs-Triceratops is currently the finest, best detailed and most life-like of the Triceratops Dinosaur toys available today. When you think of Dinosaurs Triceratops thy name is Papo.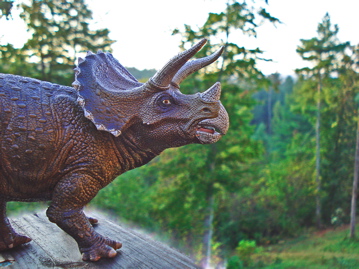 For more great Dinosaur toy companies and their products or more Dinosaurs at the Home Page this site has all you'll ever need in a Dinosaur Toys Collectors Guide.
We here at The Dinosaur Toys Collectors Guide have only one purpose in being here at all. Providing you, our readers, with the best, most informative and entertaining information about Dinosaur toys both past and present.

In order to best achieve that goal. In addition to providing pages on individual figures, advice and suggestions on obtaining the Dinosaur toys and pricing, availability and age and personality appropriateness information.... We have instituted our:
1) The (easily subscribed to, FREE) Daily "Dino-Blog" where you are regularly updated as each new page is created and kept up-to-date on Dinosaur toys news and the happenings in "Dino-town."
2) Our Contact-osaur-Us form which you can use to send us comments and tell us what you need and want to see. After all, this site is for your information.
3) Social Networking links (way bottom) so you can share this page, and our site, with your friends. Thank you.
4) Our mighty and inimitable Search-osaurus Center. (Click link or Below.) You can use the search bars to either search the site for all things Dinosaur (toys) or search the entire web for all things anything at All-a-saurus.
Dinosaurs-Triceratops Search-osaurus Center
You can use this site-search box to find everything you need about Dinosaur toys collecting. Can't remember everywhere we mentioned, say, Velociraptors or Diplodocuses? Just put in your search term and you'll get a listing of everyplace on our site where you can find what you are particularly interested in.
Custom Search
Please note that your search results page will have ads ABOVE and BELOW the actual search results. Those are not from the site, but should be of interest, since Google targets the ads to your particular search.