The Carnegie Cryolophosaurus Was a Cold Hearted Predator
The Carnegie Cryolophosaurus
Initially this seems to be a rather unimpressive little Theropod addition to the Carnegie Collection, (opens new window) especially when put up against the 2008 Giganotosaurus and 2009 Spinosaurus: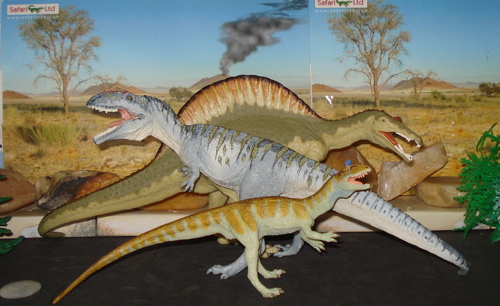 The Spinosaurus and Giganotosaurus are truly impressive figures, beautifully detailed and quite colorful. But what does this little Carnegie Cryolophosaurus have going for it? Let's find out.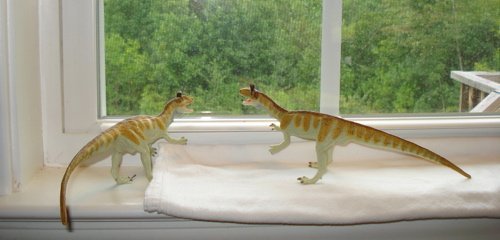 "I don't see anything tasty out there. We'll have to check around in the house."
To begin with the detail on these Cryolophosaurus is just extraordinary!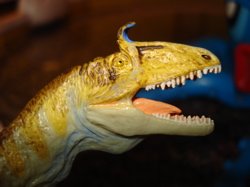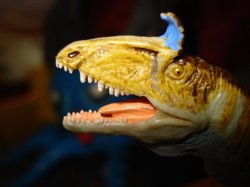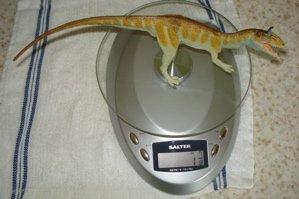 This nearly two ounce (1&7/8 oz, 52gms) and ten and a quarter inch (10.25", 26cms) long plastic predator is a wonderful example of the newest sculptures from Safari Ltd, in a base very pale green with brown spine and thick, golden stripes it is very much the Carnegie Collection answer to the contemporary Tiger.
(Here seen with the Playskool Tiger)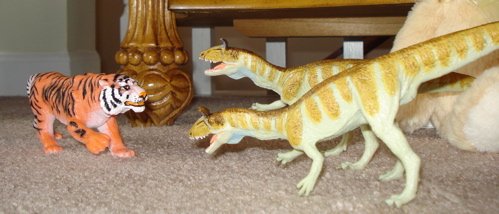 "So, you expect to take our place?"
"Gruff?"
The Cryolophosaurus is (was?) a carnivore (meat eater) from the Early Jurassic Period, approximately 188 million years ago. It was related to other Theropods, such as the Dilophosaurus:
(below with the Safari Ltd 2008 Dilophosaurus)
"We're the good looking side of the family."

"More like the stuck-up side of the family."
The Cryolophosaurus was the first Dinosaur discovered on the Antarctic continent. It was ~21 feet (6.5 meters) in length and weighed 1030 pounds (435 kgs). Its name means "cold crest lizard", named after the rather bizarre single, bony crest on the top of its head, just in front of its eyes.


Most recent thought about Theropods is that they mostly and most likely hunted in packs. How they "joined up" is unknown.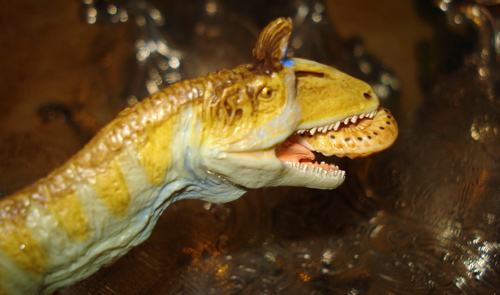 "Hey, wanna share a cookie?"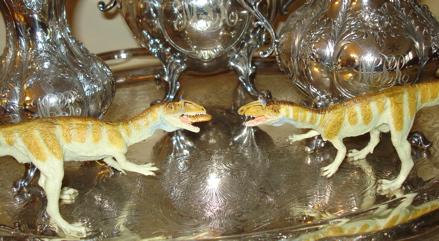 "Sure. Don't mind if I do."
The Carnegie Cryolophosaurus is sculpted in a three-point stance, two feet and the tail, much like the iconic Marx T-Rex-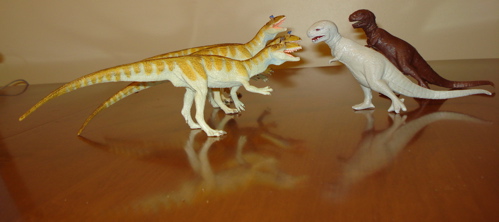 "Hello old-fashioned Dinosaur Toys predator predecessors."
"(Grumble)...We may be older....(grumble)"
"But we're a lot like you are."
the Carnegie Cryolophosaurus is quite capable of balancing on his own two feet with only some very slight "plastic surgery."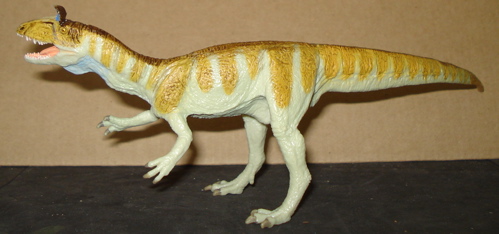 That l-o-n-g tail curves a bit to the right, as can be seen in the Pterosaur's view, below.

The beautiful sleekness of this sculpture can be readily seen in the above views. Also the darker brown down the spine running from that crest to the tail tip. These are handpainted in their now native China (kind of adds to the myopic-oriental stereotype) and are each slightly different and individually unique. I'm not sure how clearly you can see the differences between the four Carnegie Cryolophosaurus below.
Sometimes hunting requires both numbers...
(The 2006 Carnegie Diplodocus)
"This guy's pretty big...."
"We better call in for some help. This is dangerous."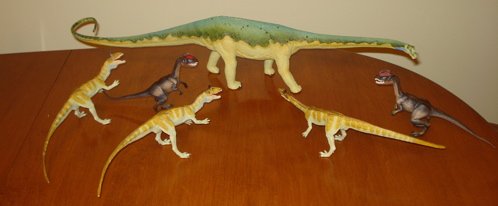 "You rang?"
"Now I can use some help."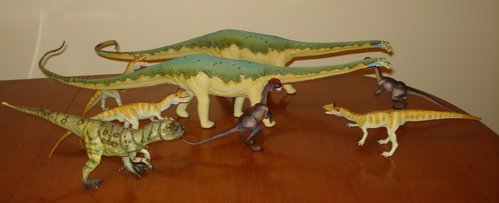 "All this escalation is getting out of hand."
"We're too BiG to fail! (We hope.)"
Joining the Cryolophosaurus and Dilophosaurs in the above photos is the Bullyland Allosaurus, one of my favorites.

You can see a similarity in their stances quite readily.
While the head is clearly much more massive, showing how the Apex Predator Theropods developed over the years.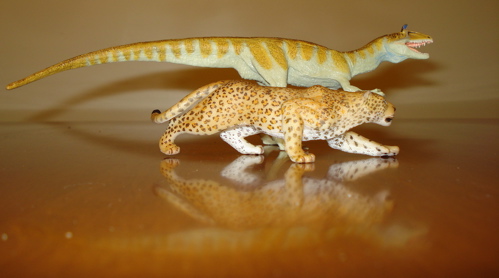 The beauty of the sleek Carnegie Cryolophosaurus compared to the Papo Leopard. Above and below.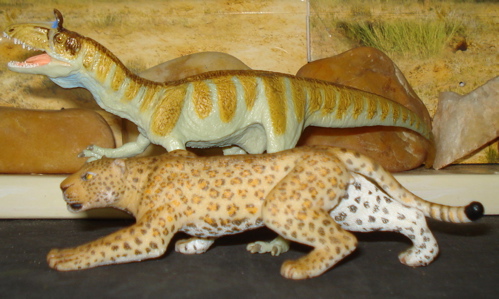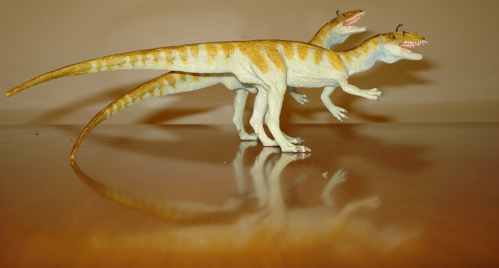 "We're pretty, oh so pretty...."
The detail on this figure is really extraordinary. Ranging from the head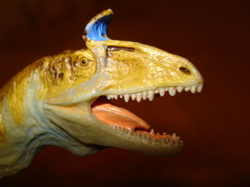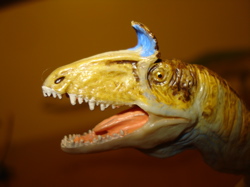 with each individual tooth, the tongue, eyes, nostrils and jaw clearly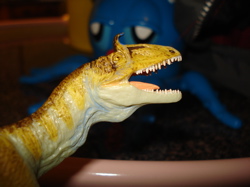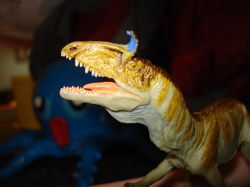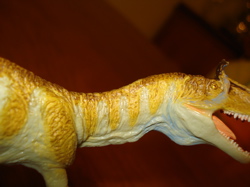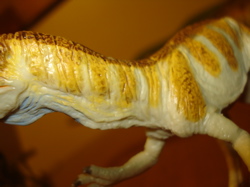 delineated and each fold of skin, connecting the head to the neck and neck to torso right down to the light-blue wattle on the throat the detail is just "something else." This is a really artistic creation as the entire figure is just so seamlessly brought together.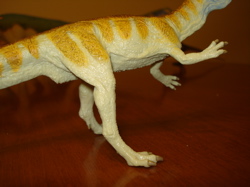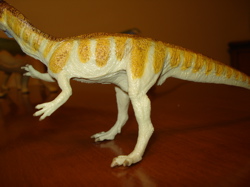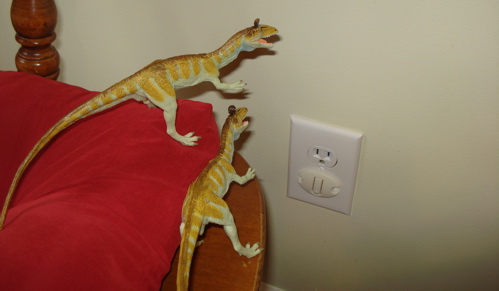 "I wonder what these holes in the wall are for?"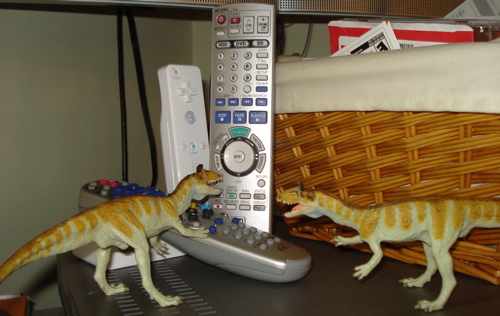 "Could they have anything to do with these odd gadgets?"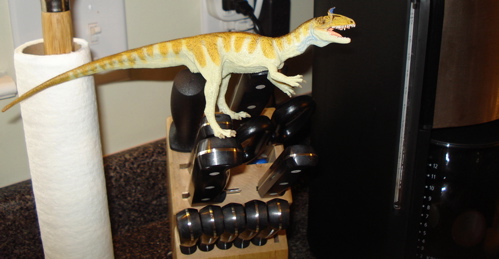 "Hey! Let's stick one of these in the hole and see what happens!"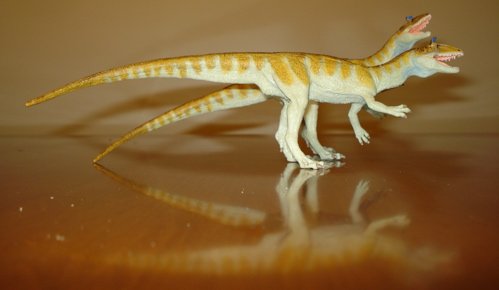 "...Oh so pretty, and witty and wise..."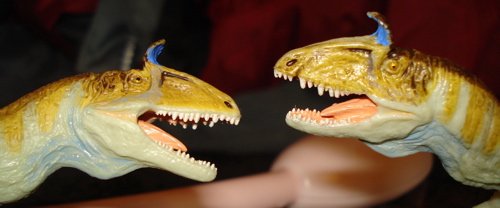 The beautiful detail work on this Cryolophosaurus isn't limited to the head and neck. It can be readily seen through the torso and down into the
chest (below left) and pubis area (right) where the legs and body coincide.
Our Cryolophosaurus have been searching for something to eat now for a while and they are starting to behave badly...
"Hey you. WE want your bone!"
"??Wha??"
"Hah! Thanks for giving it up, punk."
"I want my mommy!!"
There are other creatures for our temporarily satiated predators to meet.
T.V. Stars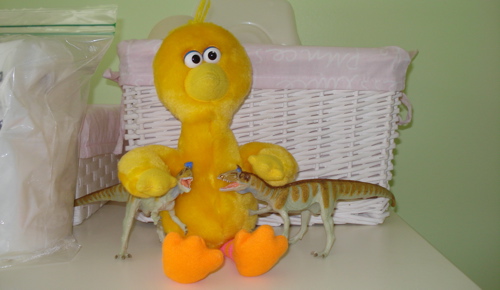 "Can we have your autograph?"
Celebrities.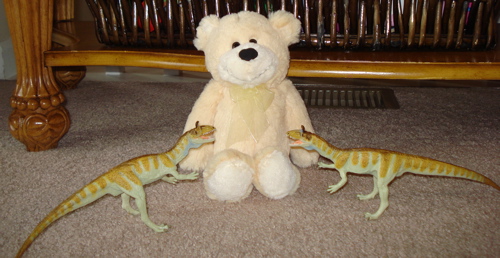 "Can we have your honey?"
"I think you have me confused with someone else."
...and ????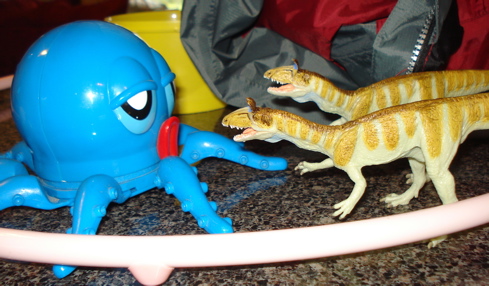 "Exactly who or what are you?"
"Plant a big juicy one right here fellas."
"Uh, oooooh. Time to leave."
The detail on this figure continues, moving right along, through the paws or forelegs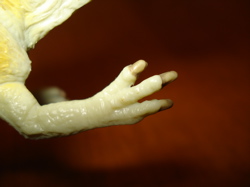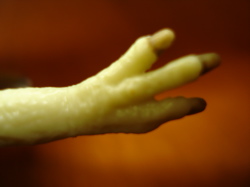 and the legs and feet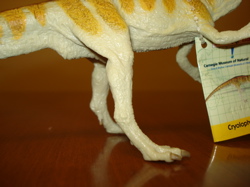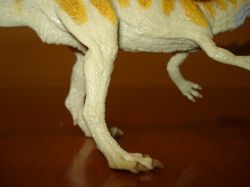 including both the tops and bottoms thereof. As you can see the detailing doesn't stop on this sculpture.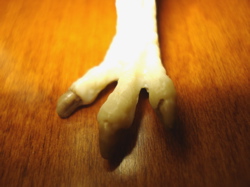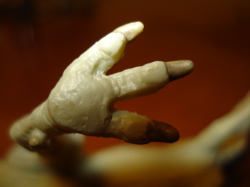 And those beautifully detailed teeth, feet and claws serve to enable our two anti-heroes in the creating of another potentially gustatory incident on the playground.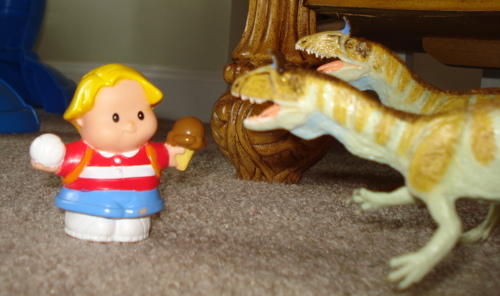 "Hey kid, can we have the bite of your ice cream?"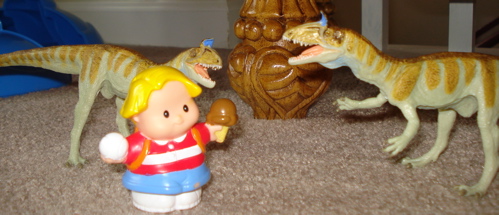 "Do I have a choice?"
"Uh, NO! Mmmmmm."
"Hey piggy, leave some for me!"

We've already taken a look at this Carnegie Cryolophosaurus from the top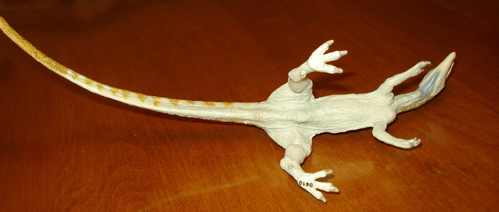 and the view from the bottom is probably better seen in close-up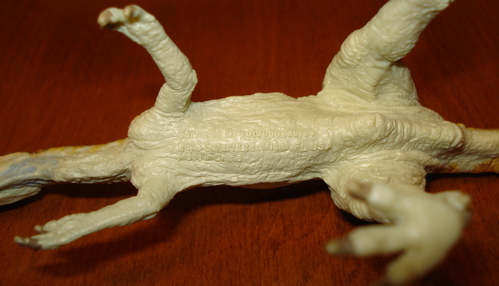 given that the belly is a monotone, that very pale green that is the basic color of the figure. It looks more pale gray or even off-white in the photos. So sue me.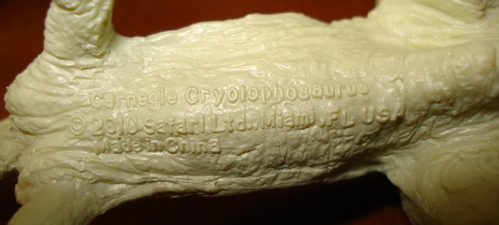 The imprint has "Carnegie Cryolophosaurus" and all the usual suspects, "c 2010 Safari Ltd Miami FL USA" and the inevitable, "Made in China."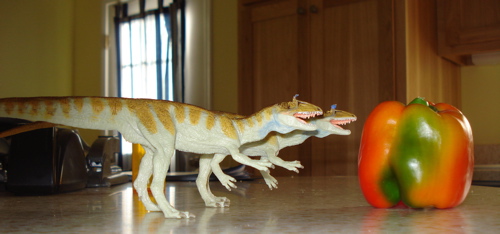 "What the heck is this thing?"
"I sure don't know."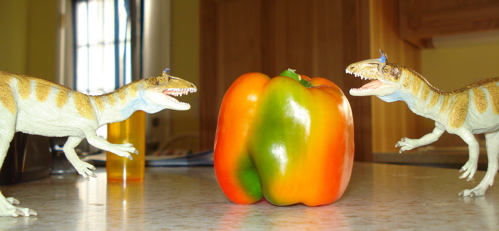 "I bet that Diplodocus would know."
"Yeah. Too bad we ate him."
The Carnegie Cryolophosaurus is the latest offering (along with an Icthyosaurus) from Safari Ltd in their Carnegie Collection 1/40 scale line up. This thrightening Theropod ruled the Antarctic Continent when it bore life other than Penguins and now has returned to take its place in our Dinosaur toys boxes. It has been out for less than a year so it is impossible to determine its historical, "collectible" value. What is not hard to establish is its value to anyone who collects Dinosaur toys. There it is high. For the past four years the quality of such toys, the coloring, the details and the resilience (of their paint jobs) has increased geometrically. This two ounce toy personifies all that is best in the new breed of toys, Dinosaur toys in particular.
Parents need not be concerned about toxicity as the new regulations enacted by the US congress and Safari's assiduous following them pretty much guarantees you could serve this up on a dinner plate. The only resulting problem would be from inherent indigestibility, not from toxicity. It also bears the mark of "CE", the European Union's equivalent.
The availability of the Carnegie Cryolophosaurus is a bit spotty at the moment (Summer 2010) due to the high demand for this little creature. (That could be an indication of future collectibility.) However Safari Ltd has ramped up production and they are available all over the internet, eBay and brick & mortar stores that sell Safari Ltd products, (opens new window) which are the good ones anyway. Prices range from $7.29 to $11.95, MSRP is $9.99.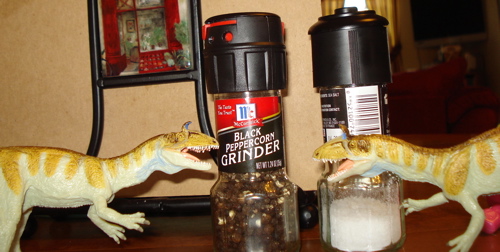 "Gee. I wonder what this stuff is?"
"Well lets get some out and, ah... ah... ah-choo!"
We here at The Dinosaur Toys Collectors Guide have only one purpose in being here at all. Providing you, our readers, with the best, most informative and entertaining information about Dinosaur toys both past and present.
In order to best achieve that goal, in addition to providing pages on individual figures, advice and suggestions on obtaining the Dinosaur toys and pricing, availability and age and personality appropriateness information.... We have instituted our:
1) The (easily subscribed to, FREE) Daily "Dino-Blog" where you are regularly updated as each new page is created and kept up-to-date on Dinosaur toys news and the happenings in "Dino-town."
2) Our Contact-osaur-Us form which you can use to send us comments and tell us what you need and want to see. After all, this site is for your information.
3) Social Networking links (way bottom, upper left) so you can share this page, and our site, with your friends. Thank you.
4) Our mighty and inimitable Search-osaurus Center. (Click link or Below.) You can use the search bars to either search the site for all things Dinosaur (toys) or search the entire web for all things anything at All-a-saurus.
5) As you have been perusing this site you may be wondering, "Can I do that?" Well, if having your own website has been your dream you can make that dream come true, here.
Search-O-Saurus Center
You can use this site-search box to find everything you need about Dinosaur toys collecting. Can't remember everywhere we mentioned, say, Velociraptors or Diplodocuses? Just put in your search term and you'll get a listing of everyplace on our site where you can find what you are particularly interested in.
Custom Search
Please note that your search results page will have ads ABOVE and BELOW the actual search results. Those are not from the site, but should be of interest, since Google targets the ads to your particular search.
You have been enjoying (we hope) the Carnegie Cryolophosaurus page. Click here to return to our main Theropods page to read about other Theropod Dinosaur Toys.