You Don't Want the Carnegie Apatosaurus Stepping on Your Toes
Carnegie Apatosaurus! Come on down...!
The Carnegie Apatosaurus has BIG FEET!

Introduced in 1988 Carnegie's first Apatosaurus weighed in at two-pounds, one and one half ounces (2', 1.5 oz) and measured nearly twenty-three (23) inches in length. This is a huge member of the Dinosaur toys family. Despite being made of a soft rubber you definitely do not want to drop this guy on your bare foot. Retired in 1994 (or so) he was reissued the following year
in a different rubber and in much, much brighter colors. This new model is also a bit thicker and heavier in weight at two pounds four and one-half ounces (2'-4.5oz). Providing several more ounces reason to hold tight when carrying it around. All-in-all this is simply a somewhat thicker and heavier model, although basically the same sculpt.
Finally, in 1996, the third model was released. This is a significantly lighter weight (one pound, ten and seven-eighths ounce- 1', 10.8725 oz) and shorter (at twenty-one [21] inches) figure. It makes up for its smaller stature with a much more dynamic (yet very similar) pose and finer detail work. You still aren't looking to let him land on your toes though.

I would like to take this moment to thank Safari Ltd. (opens new window) for their generous help and support in the completion of this page, thank you.
A Re-creation for Recreation
Here we find our early issue Carnegie Apatosaurus' personal take

on the famous Rudolf Zallinger "Brontosaurus" in his Mural "The Age of Reptiles" in the Yale Peabody Museum.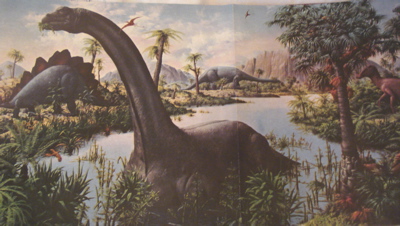 A View From the Top
Looking down on our Carnegie Apatosaurus we can see the differences between them-

(earliest issue on top, most recent below)
to a view of them "belly-up, where you can see not only the difference in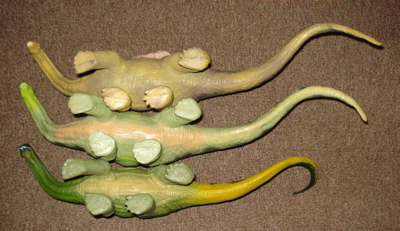 sizes but also in the detail of the feet. Both the original and most recent model have that large inner toe/claw clearly seen whereas the middle version has more of a "tree stump" look to it. You may not ("may not"? HA- can't) be able to see it in the picture but the manufacturer's imprint is reversed on the 1996 model from the other two as well.

Overall the detail on all three is excellent with skin in folds, pachyderm-like, which seems appropriate for such huge beasts and large Dinosaur toys.

Heads UP!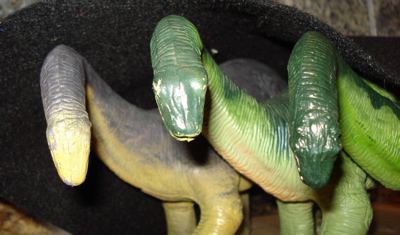 (1st, 2d & 3d issues, left to right)
Interestingly enough the heads of both the first and third issues are narrower and closer to the Apatosaurus-ideal than that of the second (heavier weight) issue. That middle child just put on the ounces everywhere. Even so these are pretty much the standard that any new Apatosaurus toy will have to live up to. Here is the last thing a toy "leaf" on a toy tree may be seeing...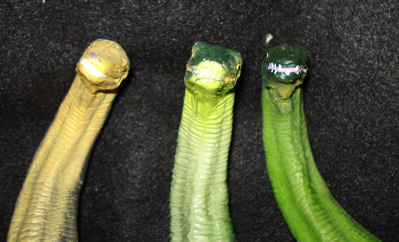 Here is where you can learn a bit more about the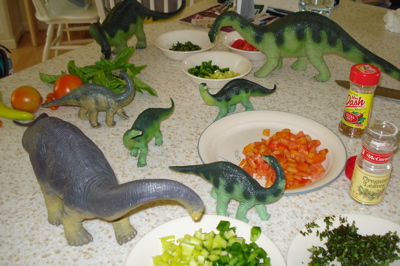 The Carnegie Apatosaurus Has a Baby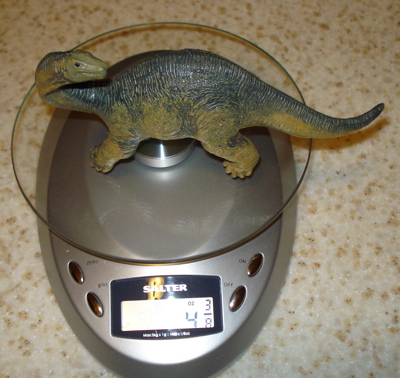 Concurrent with the adult Carnegie Apatosaurus a baby, looking over its shoulder, was issued. This first was made of the same, softer, rubber as the adult and is colored in much the same fashion. It weighs four and three-eighth ounces (4.3725 oz) and measures ~eight (8) inches from nose to tail-tip.






It was followed-up in much the same manner as the adult was, with a second issue in 1994 or so by a very slightly lighter weight (one eighth ounce lighter) but again, much more brightly colored sibling. This re-issue had the same "foot-faults" in detail that the adult second-series had, but on the other hand it had a narrower, more Apato-like head and a wonderful expression.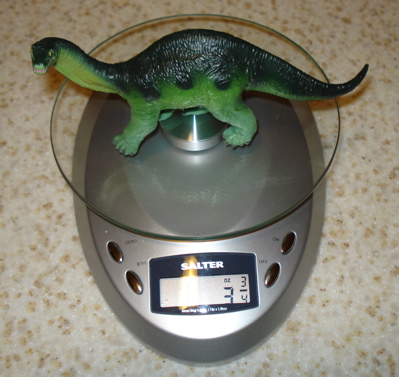 But the third and most recent (1996) issue is both the lightest weight (at 3.75 ounces) and once again a significant improvement in sculpt. I've never been terribly fond of the "over the shoulder" look and this one's more straight ahead look at life is much more to my liking. All three are the same ~eight inches in length. The detail on the babies is as good as the adult's and these "little" ones actually have a baby-like cuteness as well.
Baby Apatosaurs Had a Problem
It must be remembered that the Apatosaurus came from an egg. As best we can figure these had to buried somewhere safe, away from where they might get trampled by the herd. The herd itself had to keep- moving along as it could denude an area of vegetarian pretty quickly and those eggs, and subsequent hatchlings, were, at least initially, left to their own devise.
As the hatchlings grew they would find themselves in desperate danger and not all would survive.

Others, joining together, might be able to raise enough of an uproar with their terrified "hooting" to attract an adult, whose presence alone, with her dangerous tail and overawing size, could chase off danger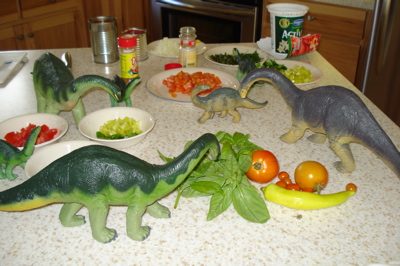 and offer an invitation to join "the herd." This arrangement assured that the Apatosaurus' gene-pool stayed deep and healthy and that the "smart" and lucky survived.
You can learn more about the Apatosaurus, here.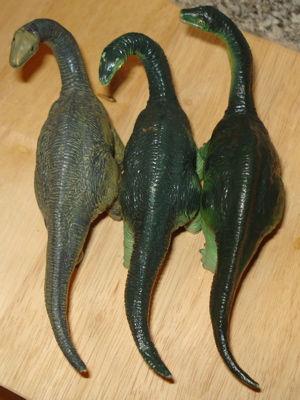 Looking down on the Carnegie Apatosaurus babies certainly isn't the thing to be doing with these although the view does show off some of their differences to good advantage. The first and last seem the best fed in their case and the most recent arrival has an air of delicacy as well.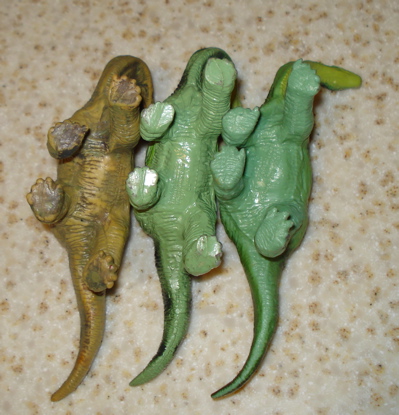 Looking UP, however, gives us insight into the more significant differences. The first and the last, just as with the adults, have much more and better detail in the feet and the current iteration has the best. One can see the steady improvement that has been made not only in this figure, but across the

entire line-up of Carnegie Dinosaur toys. For those of you who care to look the "foot" problems and solution can be seen in the photo to the right. Overall, the three Carnegie Apatosaurus babies can be seen in all their glory posing below- They share the adult's thick-looking pachydermal skin and the most recent arrival has a more aware-air, not checking out what is behind but more interested in what his future may hold....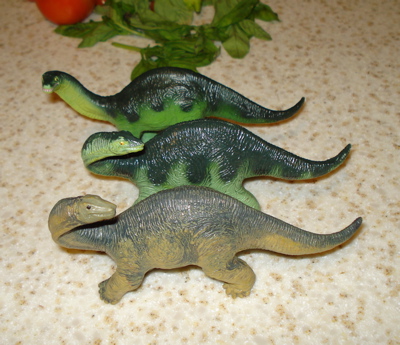 Things Are Tough All Over

Just being a grown-up Carnegie Apatosaurus doesn't exempt you from the troubles that life can through at you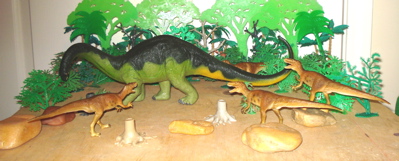 but a good upbringing in a caring family/herd atmosphere can best prepare you to handle them, even if they don't go away.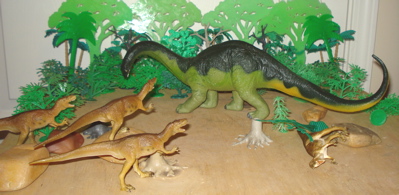 Both of these, adult and child, are currently in production and readily available from retailers both online and in brick & mortar stores. The adults tend to run from $20-35.00+ and the babies for $4.00-$6.00. The out of production figures generally run the same and the older figures may be considered as collectible. Collectible pricing is entirely dependent on the desires of the buyer and seller. They will fill out any collection and are simply "must haves" for a Carnegie Dinosaur toys collection, like, fer sure...
Thank you for coming along with me on this look into the life of the Carnegie Apatosaurus. If you find yourself wanting to see the other Carnegie Dinosaur toys or simply learn more about collecting Dinosaur toys you are at the right place, the Dinosaur Toys Collectors Guide!


We here at The Dinosaur Toys Collectors Guide have only one purpose in being here at all. Providing you, our readers, with the best, most informative and entertaining information about Dinosaur toys both past and present.

In order to best achieve that goal. In addition to providing pages on individual figures, advice and suggestions on obtaining the Dinosaur toys and pricing, availability and age and personality appropriateness information.... We have instituted our:
1) The (easily subscribed to, FREE) Daily "Dino-Blog" where you are regularly updated as each new page is created and kept up-to-date on Dinosaur toys news and the happenings in "Dino-town."
2) Our Contact-osaur-Us form which you can use to send us comments and tell us what you need and want to see. After all, this site is for your information.
3) Social Networking links (way bottom) so you can share this page, and our site, with your friends. Thank you.
4) Our mighty and inimitable Search-osaurus Center. (Click link or see below.) You can use the search bars to either search the site for all things Dinosaur (toys) or search the entire web for all things anything at All-a-saurus.
5) As you have been perusing this site you may be wondering, "Can I do that?" Well, if having your own website has been your dream you can make that dream come true, here.
6) Our always open Donate-O-saurus Center (opens new window) where you can make a donation and keep us in business, such as it is. We thank you for anything you can give.
Carnegie Apatosaurus Search-osaurus Center
You can use this site-search box to find everything you need about Dinosaur toys collecting. Can't remember everywhere we mentioned, say, Velociraptors or Diplodocuses? Just put in your search term and you'll get a listing of everyplace on our site where you can find what you are particularly interested in.
Custom Search
Please note that your search results page will have ads ABOVE and BELOW the actual search results. Those are not from the site, but should be of interest, since Google targets the ads to your particular search.