Cartoon Dinosaurs Are Just Another Way of Playing With Dinosaur Toys, or Not.
The Cartoon Dinosaurs Blog Archive. Part 1
The Riches of Crowseus: December 21, 2009
As I am sure most of you know running a website isn't free, cheap or even easy (I was hoping for at least one of the three) and so I am seeking ways to make it pay for itself. You may have noticed the ebay links on some of my pages. Now, I will be adding, in time, some ads from our friends at Google. Hopefully all of these links will lead you places where you can find Dinosaur toys that you met here, and were taken with thanks to my silver (hunt and peck) wordsmithing skill and now want to take home yourself....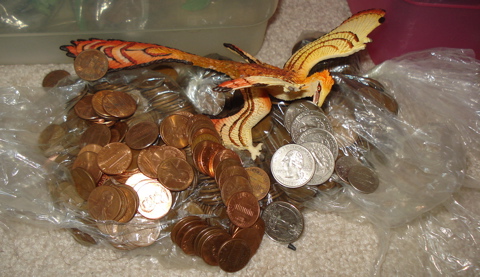 "Rich! Wealth beyond my wildest dreams. Now I can have it all"

In any event while I am learning the ins and outs there will be a slow down on page production although I do expect to provide an ongoing and continuing blog presence and of course, there is the Dino-blog Archive where you will find some of the older blogs that have garnered their own brand of infamousy, and reminisce.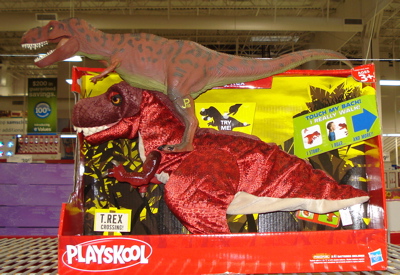 "That blog entry will always remind me of the night I proposed."
(Left)
Meanwhile the snow continues to lie there, inciting the winter runners... (Below)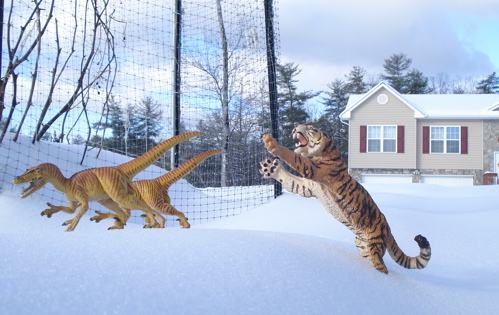 who may not want their pictures taken....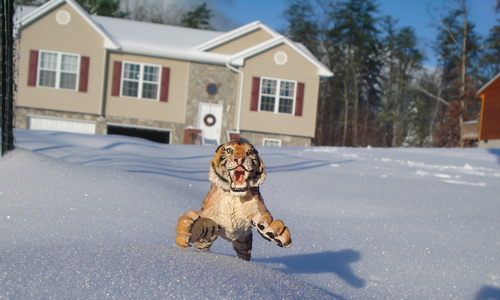 Or who find photographers quite tasty. (I'm outta here....)

The Cartoon Dinosaurs Blog Archive page. Part 2
Happy Movies: December 22, 2009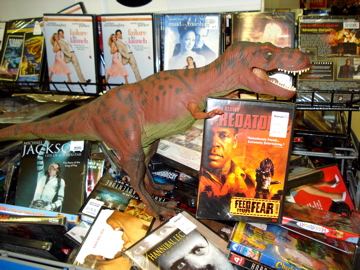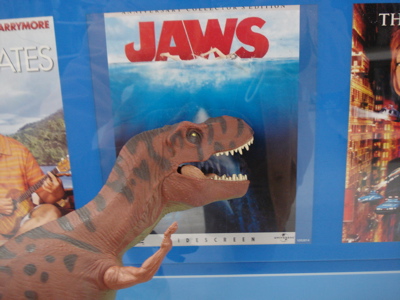 Rexford checked out Christmas movies today. These two looked really good to him. They both seem, well, quite intimate and touching family fare. Perfect to watch with Rexie and Junior.
After checking out the movies he visited with uncle Bob who hasn't been feeling too well....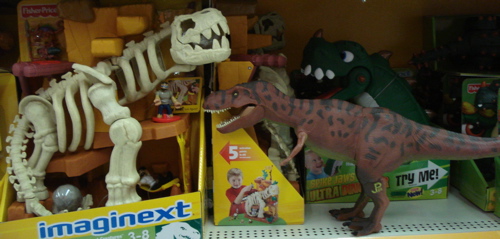 "You're not looking too good there, Bob."
Cartoon Dinosaurs Blog Archive page.
We here at The Dinosaur Toys Collectors Guide have only one purpose in being here at all. Providing you, our readers, with the best, most informative and entertaining information about Dinosaur toys both past and present.

In order to best achieve that goal. In addition to providing pages on individual figures, advice and suggestions on obtaining the Dinosaur toys and pricing, availability and age and personality appropriateness information.... We have instituted our:
1) The (easily subscribed to, FREE) Daily "Dino-Blog" where you are regularly updated as each new page is created and kept up-to-date on Dinosaur toys news and the happenings in "Dino-town."
2) Our Contact-osaur-Us form which you can use to send us comments and tell us what you need and want to see. After all, this site is for your information.
3) Social Networking links (way bottom) so you can share this page, and our site, with your friends. Thank you.
4) Our mighty and inimitable Search-osaurus Center. (Click link or Below.) You can use the search bars to either search the site for all things Dinosaur (toys) or search the entire web for all things anything at All-a-saurus.
Cartoon Dinosaurs Blog Archive page.
Search-osaurus Center
You can use this site-search box to find everything you need about Dinosaur toys collecting. Can't remember everywhere we mentioned, say, Velociraptors or Diplodocuses? Just put in your search term and you'll get a listing of everyplace on our site where you can find what you are particularly interested in.
Custom Search
Please note that your search results page will have ads ABOVE and BELOW the actual search results. Those are not from the site, but should be of interest, since Google targets the ads to your particular search.
You have been reading the cartoon Dinosaurs blog archive page. Click here to return to our main blog archive page.