Robot Dinosaurs or Auto Mechanics? We report, you decide.
(The robot Dinosaurs Blog Archive page.)
January 13, 2010: Your Chariot Awaits
The Dino-buggy had to go into the shop today. For some reason it always turns out to be an expensive visit. First though, it needs to be inspected. Maybe this time I'll be lucky.
"Hmmm. Boat payments coming up. Lets find out what's wrong with this sucker."(Above)
(chomp-chomp)"These wires are badly frayed!"(Above)
(crunch)"There are lots of holes in this hose thing!"(Below)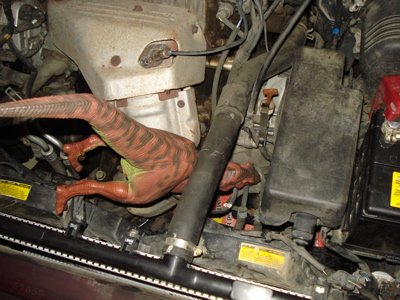 (snip)"And way down here these tubes are loose...."
(Left)
And Rex's assistant, Spike, found a problem with the radiator....(Below)
(thunk)"Uh, mister. Ya gotta coupla three holes in your radiator..."
Rexford always says: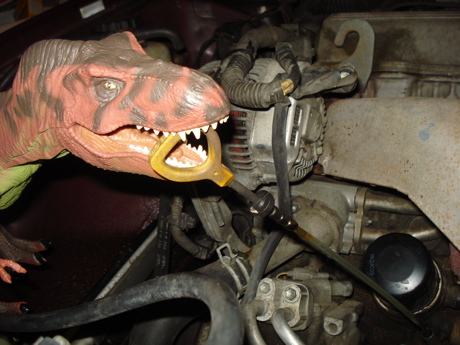 "You should always check your oil. (While I check your credit!)"
"What's in YOUR wallet?"
We here at The Dinosaur Toys Collectors Guide have only one purpose in being here at all. Providing you, our readers, with the best, most informative and entertaining information about Dinosaur toys both past and present.

In order to best achieve that goal. In addition to providing pages on individual figures, advice and suggestions on obtaining the Dinosaur toys and pricing, availability and age and personality appropriateness information.... We have instituted our:
1) The (easily subscribed to, FREE) Daily "Dino-Blog" where you are regularly updated as each new page is created and kept up-to-date on Dinosaur toys news and the happenings in "Dino-town."
2) Our Contact-osaur-Us form which you can use to send us comments and tell us what you need and want to see. After all, this site is for your information.
3) Social Networking links (way bottom) so you can share this page, and our site, with your friends. Thank you.
4) Our mighty and inimitable Search-osaurus Center. (Click link or Below.) You can use the search bars to either search the site for all things Dinosaur (toys) or search the entire web for all things anything at All-a-saurus.
Robot Dinosaurs Search-osaurus Center
You can use this site-search box to find everything you need about Dinosaur toys collecting. Can't remember everywhere we mentioned, say, Velociraptors or Diplodocuses? Just put in your search term and you'll get a listing of everyplace on our site where you can find what you are particularly interested in.
Custom Search
Please note that your search results page will have ads ABOVE and BELOW the actual search results. Those are not from the site, but should be of interest, since Google targets the ads to your particular search.
You are reading the robot Dinosaurs Blog Archive page. To return to the main Blog Archive page please click HERE, thank you.