Baby Dinosaur in Swaddling Clothes Blog Archive
- Baby Dinosaur New Years Blog Archive: Part 1-
Lead Up to the New Year: December 28, 2009
We did a lot of work on the site today although you wouldn't necessarily notice. Background stuff. Rexford wanted to show off some of what he got so here goes: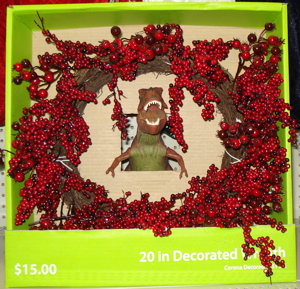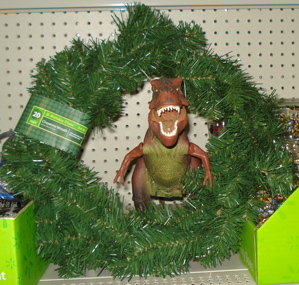 Wreathed in the Christmas Spirit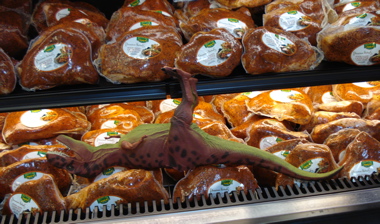 Rexford did some shopping on his own...
(Right)"This is what heaven must be like."
He then proceeded to pick out his own gifts, which required some lounging, a lot of tugging and some heavy lifting.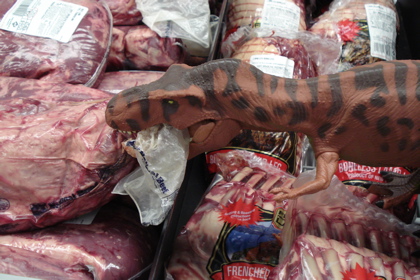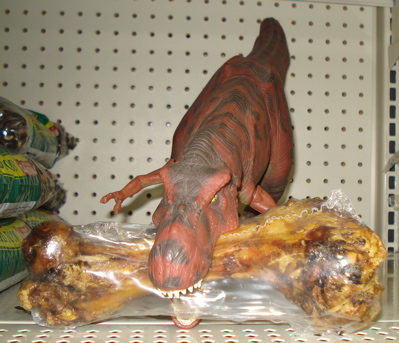 "Now these are GREAT presents!"
But, of course, not every gift is up to snuff. Such as his new sweater....!!??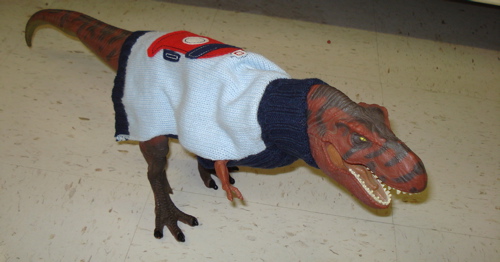 "This goes back!! And I mean NOW!!"
Our next new page will be on the very dynamic Safari, Ltd. "Tiger" Velociraptor mongoliensis from 1993. It was part of their "Dinosaurs of China" collection and is one of my all-time favorite Dinosaur toys.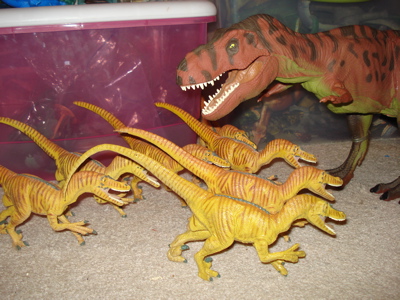 "Okay you guys, get serious. You're up tomorrow and we expect you to make it good."
"Hey. We wanna see you in your new sweater!
"Shut up! (Mangy Velociraptors.)"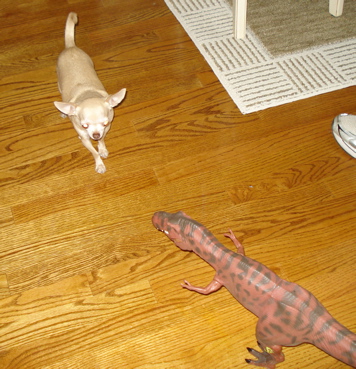 "Hey mister... can I borrow your sweater?
"Grrrrr...."
-- Baby Dinosaur New Years Blog Archive: Part 2--
Happy New Year: December 31, 2009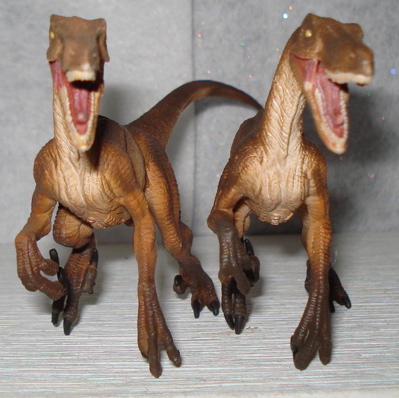 Happy New Year! everybody. Be safe out there and have a wonderful evening. We'll all be back next year with lots of Dino-fun and excitement!!
We'll be partying at home. In fact, we've only just begun....
HAPPY NEW YEAR EVERBODY!!
--- Baby Dinosaur New Years Blog Archive: Part 3---
Post Christmas New Year Blooz: January 1, 2010
Rexford is suffering from the post Christmas let down when he gets his credit card bills. He pays them but that leaves him with very little left over. Being a T-Rex he does not feel the same societal pressures to respond in a social fashion....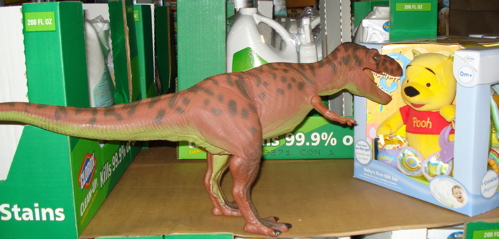 "Gimme your money, punk..."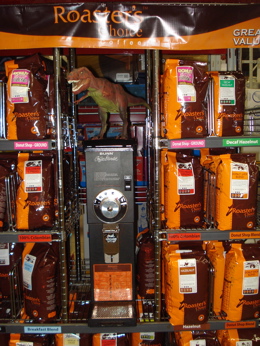 Such bad behavior can't be countenanced and Rex was ordered to get a job. So he took one as a coffee grinder. (Right)
"Grind your coffee, one dollar a pound. Or else, punk."
(Tyrannosaurs have some bad habits that can be hard to break. He'll keep working on it though.)
Our next page will be on the very cool 1998 Safari Styracosaurus, relatives of Ed's.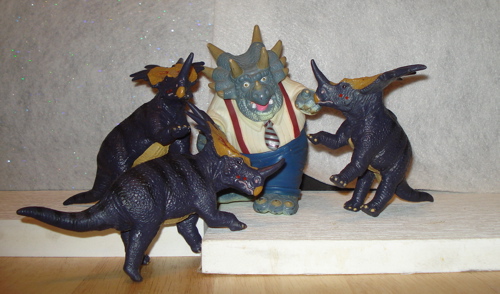 "You guys are gonna do great!!"
Happy New Year Everyone from Rexford and the Gang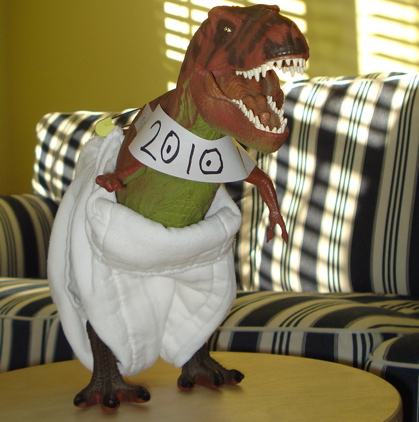 "I'll get you for this if I have to go extinct doing it!!"
We here at The Dinosaur Toys Collectors Guide have only one purpose in being here at all. Providing you, our readers, with the best, most informative and entertaining information about Dinosaur toys both past and present.
In order to best achieve that goal, in addition to providing pages on individual figures, advice and suggestions on obtaining the Dinosaur toys and pricing, availability and age and personality appropriateness information.... We have instituted our:
1) The (easily subscribed to, FREE) Daily "Dino-Blog" where you are regularly updated as each new page is created and kept up-to-date on Dinosaur toys news and the happenings in "Dino-town."
2) Our Contact-osaur-Us form which you can use to send us comments and tell us what you need and want to see. After all, this site is for your information.
3) Social Networking links (way bottom) so you can share this page, and our site, with your friends. Thank you.
4) Our mighty and inimitable Search-osaurus Center. (Click link or Below.) You can use the search bars to either search the site for all things Dinosaur (toys) or search the entire web for all things anything at All-a-saurus.
5) As you have been perusing this site you may be wondering, "Can I do that?" Well, if having your own website has been your dream you can make that dream come true, here.
Baby Dinosaur Search-O-saurus Center
You can use this site-search box to find everything you need about Dinosaur toys collecting. Can't remember everywhere we mentioned, say, Velociraptors or Baby Dinosaur toys? Just put in your search term and you'll get a listing of everyplace on our site where you can find what you are particularly interested in.
Custom Search
Please note that your search results page will have ads ABOVE and BELOW the actual search results. Those are not from the site, but should be of interest, since Google targets the ads to your particular search.
You have been reading the Baby Dinosaur blog archive. Click here to return to the main Blog Archive page. Thank you.