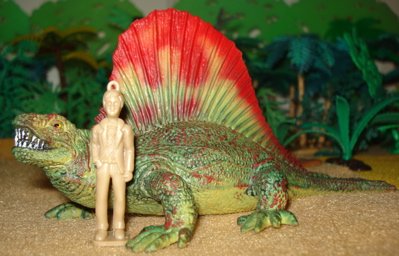 The Bullyland Dimetrodon: A Permian Period Personality
The Bullyland Dimetrodon brings to the Dinosaur toys box a brilliantly colored 1/20 scale figure of the Apex Predator of its time. Its time is now.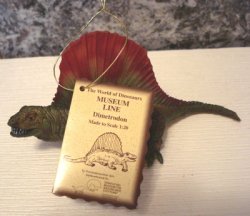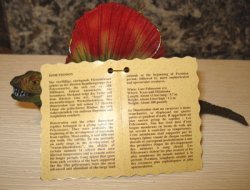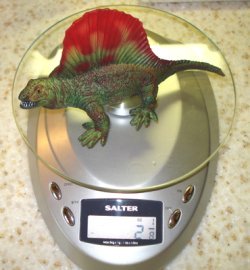 Weighing in at two and one eighth ounces (2.125 oz) and measuring six inches (6") from snout to tail tip and its sail rising 3.25" above the ground this little fella rules today's Permian period, such as it may be. He is very well detailed in a basic green paint job with red highlights and carefully painted eyes and teeth.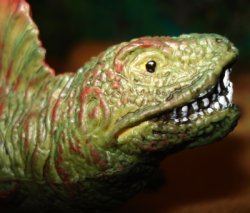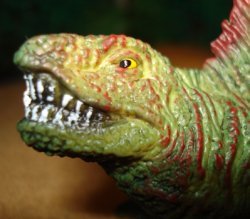 I must say that most of the pictures I have seen of the Dimetrodon have shown it laying about pools of water in large groups, like modern-day crocodiles, waiting for something on the menu to drop by.
Contemporary thinking, however, is that the Permian Period was a fairly dry, arid time, and the earth was hotter than it is today. This would imply that water, whether in streams or pools, was at a premium and needed to be jealously guarded. The Bullyland Dimetrodon follows-up on that line of thought.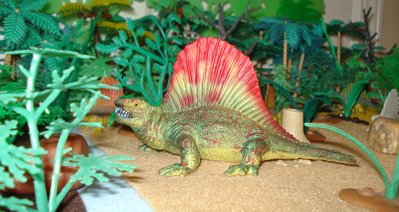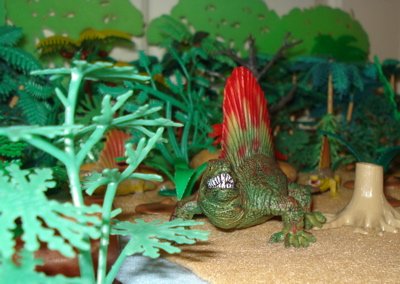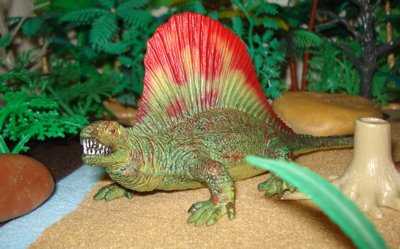 I have found these for sale, they are in current production, for anywhere from ~$6.00 to $18.99 (which is very scary). I'd go for the lower cost one myself. I have also seen photos of this in a monochrome looking tan. Ahhhh, the internet. One very interesting aspect to this particular Bullyland Dimetrodon is the size and splay of its feet.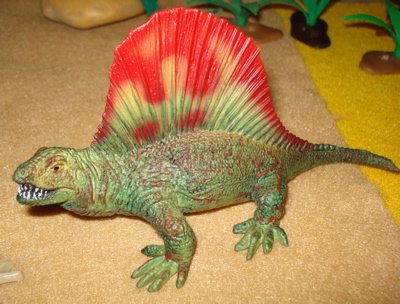 What makes this so interesting is that if, in fact, it lived in an arid, semi-desert environment, it would have required such large feet to walk, run and maneuver on the shifting sands. I don't think that anyone else has come up with this, particular feature.



Being the Apex predator of a unique water source serves the Bullyland Dimetrodon in two ways. The first, obviously, is that he can drink whenever he wants to. The second is that he doesn't have to hope someone will be dropping by with lunch....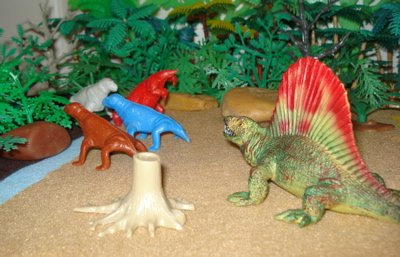 In this case a small group of Marx and MPC Moschops have come to the stream to get a drink of their own and have bellied up to the sand-bar, so to speak. Even as one bends forward to drink the Bullyland Dimetrodon charges and grabs its chosen platter...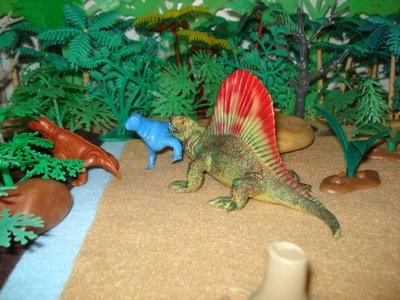 And gets to dine on his menu selection. Owning your own water source means that lunch will often be dropping by on its own.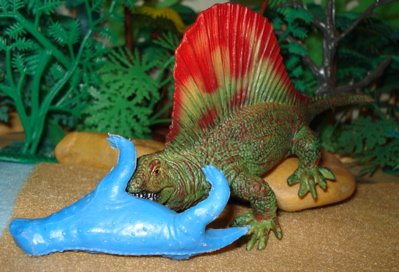 This Bullyland Dimetrodon is what I find to be a relatively unique take on a fairly popular Permian period predator. He certainly adds personalty to my Dimetrodon collection.

If you are interested in seeing what other companies have to offer in other Dinosaur toys The Dinosaur Toys Collectors Guide home page should prove helpful.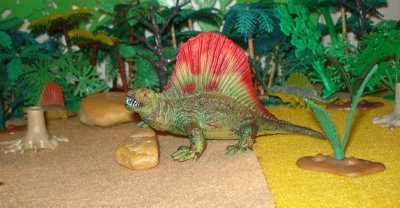 We here at The Dinosaur Toys Collectors Guide have only one purpose in being here at all. Providing you, our readers, with the best, most informative and entertaining information about Dinosaur toys both past and present.
In order to best achieve that goal, in addition to providing pages on individual figures, advice and suggestions on obtaining the Dinosaur toys and pricing, availability and age and personality appropriateness information.... We have instituted our:
1) The (easily subscribed to, FREE) Daily "Dino-Blog" where you are regularly updated as each new page is created and kept up-to-date on Dinosaur toys news and the happenings in "Dino-town."
2) Our Contact-osaur-Us form which you can use to send us comments and tell us what you need and want to see. After all, this site is for your information.
3) Social Networking links (way bottom, upper left) so you can share this page, and our site, with your friends. Thank you.
4) Our mighty and inimitable Search-osaurus Center. (Click link or Below.) You can use the search bars to either search the site for all things Dinosaur (toys) or search the entire web for all things anything at All-a-saurus.
5) As you have been perusing this site you may be wondering, "Can I do that?" Well, if having your own website has been your dream you can make that dream come true, here.
6) Our always open Donate-O-saurus Center (opens new window) where you can make a donation and keep us in business, such as it is. We thank you for anything you can give.
Search-O-Saurus Center
You can use this site-search box to find everything you need about Dinosaur toys collecting. Can't remember everywhere we mentioned, say, Velociraptors or Diplodocuses? Just put in your search term and you'll get a listing of everyplace on our site where you can find what you are particularly interested in.
Please note that your search results page will have ads ABOVE and BELOW the actual search results. Those are not from the site, but should be of interest, since Google targets the ads to your particular search.