Dinosaur Pictures Will Expand Your Visual Horizons
Dinosaur Pictures: You should be looking.
Do you want a successful website of your own? Click here to learn how to build one.
(This picture is in honor of my second grand-daughter's 8th Birthday cake.)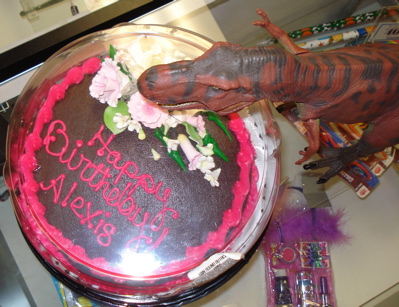 "Happy (belated) Birthday ALEXIS. We Love You!"
("I'd have preferred a meatloaf.")
(The following picture was taken during a row between fourteen-month old Dino-babe and Rexford. Rexford thought there was a wardrobe malfunction. Dino-babe reiterated that everything was functioning just fine, thank you. And keep your nose out of my business. After this Rexford is sure to do just that. They remain best friends.)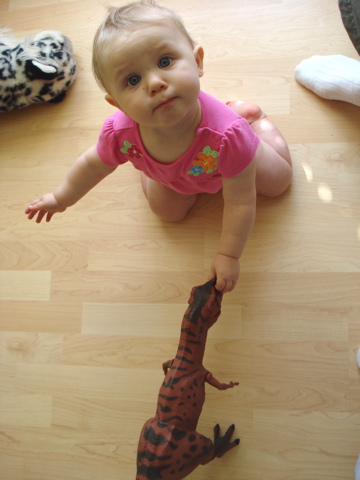 Here is a photo (Left) of Dino-babe and Rexford taken after he had "insulted" her "Baby Dignity."
"HEY... leggo my node!!"
"Do you still think that I need my diaper changed??"
(Dino-Babe doesn't take well to suggestions of imperfection. Her motto- "If you can't change it, keep your mouth shut about it.")

(The next pictures show Rexford messing with some Marx Ankylosaurus. After inviting them to go "bowling"...)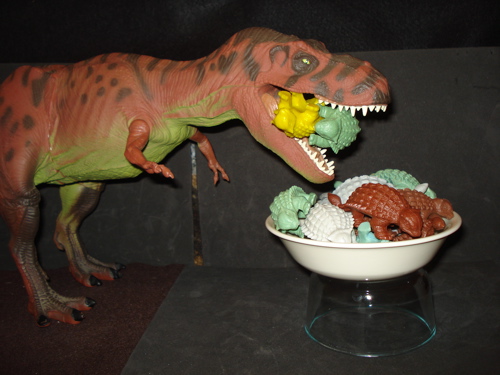 "This wasn't what we expected!"
Rexford, meanwhile, says that he tastes no difference between the Marx and MPC Ankylosaurs. That means there really is none. Very zennish.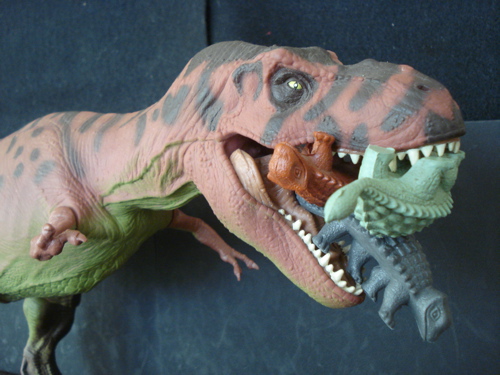 "Tastes like PVC with just a hint of pthalate...mmmmm."
(The PAPO Raptors are great Dinosaur toys and find hunting in the 21st Century to be a lot easier than it was seventy-million years ago....)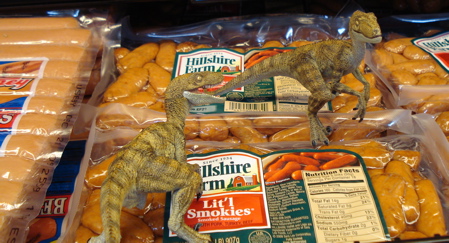 "Ya know you don't really even have to cook this stuff. Right?"
We here at The Dinosaur Toys Collectors Guide have only one purpose in being here at all. Providing you, our readers, with the best, most informative and entertaining information about Dinosaur toys both past and present.

In order to best achieve that goal. In addition to providing pages on individual figures, advice and suggestions on obtaining the Dinosaur toys and pricing, availability and age and personality appropriateness information.... We have instituted our:
1) The (easily subscribed to, FREE) Daily "Dino-Blog" where you are regularly updated as each new page is created and kept up-to-date on Dinosaur toys news and the happenings in "Dino-town."
2) Our Contact-osaur-Us form which you can use to send us comments and tell us what you need and want to see. After all, this site is for your information.
3) Social Networking links (way bottom) so you can share this page, and our site, with your friends. Thank you.
4) Our mighty and inimitable Search-osaurus Center. (Click link or Below.) You can use the search bars to either search the site for all things Dinosaur (toys) or search the entire web for all things anything at All-a-saurus.
5) As you have been perusing this site you may be wondering, "Can I do that?" Well, if having your own website has been your dream you can make that dream come true, here.
The Dinosaur Pictures Search-osaurus Center
You can use this site-search box to find everything you need about Dinosaur toys collecting. Can't remember everywhere we mentioned, say, Velociraptors or Dinosaur pictures? Just put in your search term and you'll get a listing of everyplace on our site where you can find what you are particularly interested in.
Custom Search
Please note that your search results page will have ads ABOVE and BELOW the actual search results. Those are not from the site, but should be of interest, since Google targets the ads to your particular search.
You are looking at the blog archive Dinosaur pictures page derived from the Dinosaur Toys Blog. ___________________________________________________ Dinosaur Pictures