Rexford does Wal-Mart: The Blog Archive page
Rexford Does Wal-Mart Blog Archive Part-1
Rexford Eats Wal-Mart: 2/24/2010
Today we had to make a shopping trip to our local Wal-Mart 35 miles away. This meant that we did not have time to do our Schleich T-Rex page although we did get all the pictures chosen. It will be a big picture-page as this turned out to be a very photogenic figure. Or it may be that I just got excited about it being a nice enough day to get back outside....
(below- our T-Rex pair begin with the worst pick-up line of the Cretaceous Period)

"We hear that you little guys are as tasty as you are good looking."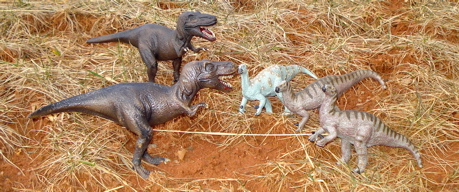 "My, what big teeth you have...."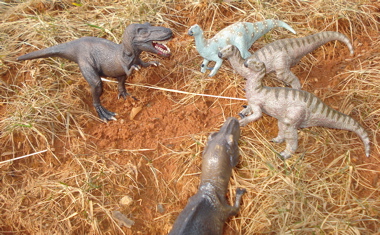 "We don't need your lunch money since you are the lunch."
We'll see a lot more of their adventures and find out their other secrets to meeting local fauna on our upcoming page....
Meanwhile our little shopping trip saw Rexford just trying to blend in....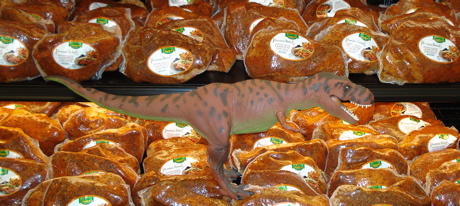 "I heard that you should look like what you want to eat."
I think that Rex's camouflage worked as he made a "kill" right away.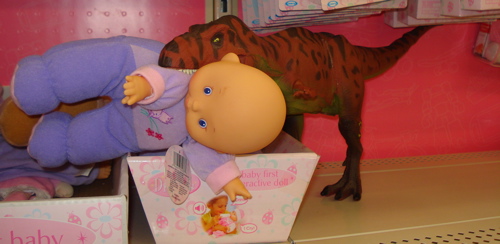 "It's mine, I caught it!!"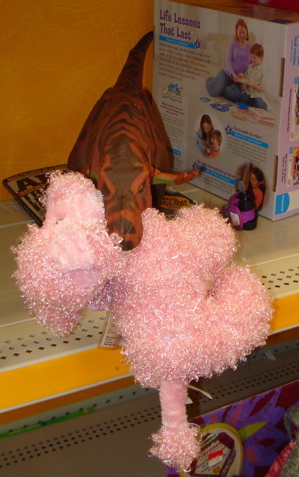 (Left)"...and your little dog, too..."
Yes, Rexford had quite a day and raised a bit of a ruckus but, as always, he got lots of smiles and a generally positive reaction from every one he met (and didn't try to eat).
Rexford Does Wal-Mart Blog Archive Part-2
Food Pix, Hot-Dog Brushes: 2/26/2010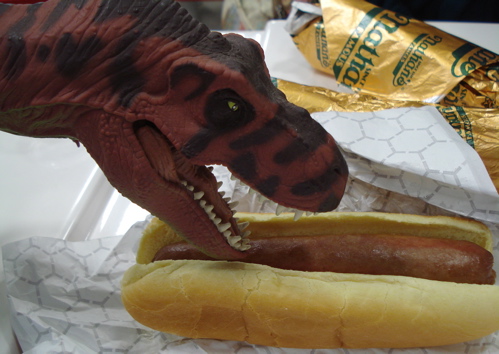 "Pink-dog yesterday, hot-dog today.
And remember kids....
Always brush after every meal!"
Rexford Does Wal-Mart Blog Archive Part-3
A Wal-Mart Saga Continues: 2/27/2010
We will be doing our next figure page on the 2004 Safari/Carnegie Collection Ankylosaurus. An archetypal armored Dinosaur that stood five and a half feet tall, was five feet wide, thirty feet long and weighed ~six tons. Its tail ended in a heavy bone club that could be swung with enough force to break the leg(s) or crush the ribs of any potential predator. A definite force to be reckoned with and nobody's Cretaceous crunchy. When left alone they were peaceful vegetarian types who liked long walks in the moonlight and a nice Merlot with their salads.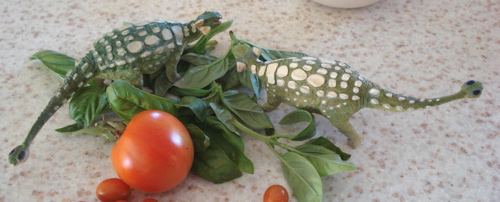 "This is a good salad. Please pass the Merlot."
On the other hand Rexford eats whoever is at hand, hates veggies and doesn't even bother to remove the cork when he chugs down his Thunderbird. To each his own....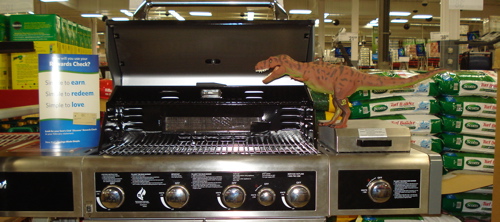 "I've always wondered why you people cook your food. But that grill would serve as a cage for my food. Wrap it up!"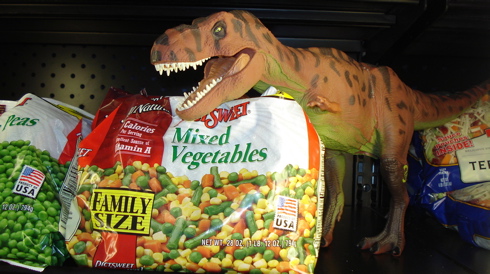 "Hey look! Frozen Lures!"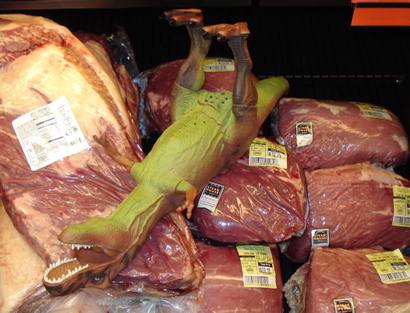 "A bedding and eating department, all in one. Heaven!"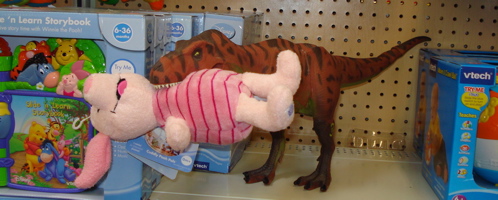 "No need to wrap it. I'll eat it here."
Rexford Does Wal-Mart Blog Archive Part-4
A Cautionary: 2/28/2010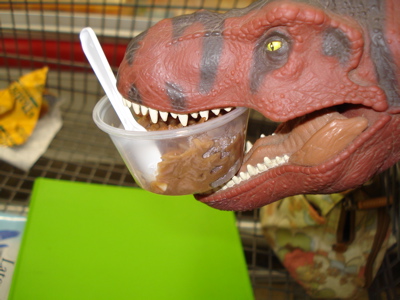 Rexford was back at Sam's, picking up a snack (Left)...
"The food's okay; but that little plastic spoon!?! Who needs it? Civilization is stupid...."
...and visiting his "couch-potato" cousin "Monty". Monty lives there and Rexford hopes to whip him into shape.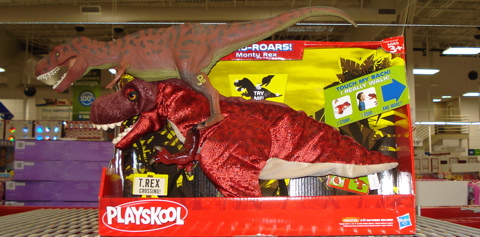 "Okay Monty. It's 'squattin' time'!! Down, up, down, up...up...up!!"
He has more relatives there too. And he's mightily concerned for their health and lifestyle. Living in a snackateria can put on the pounds....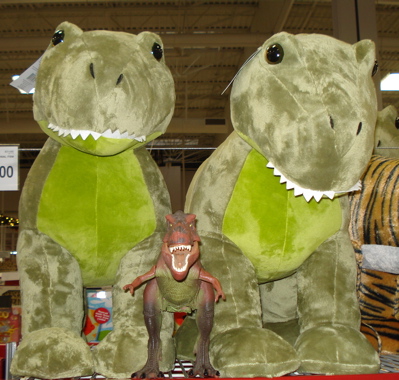 "You two need to get out and hunt more. I'll show you how."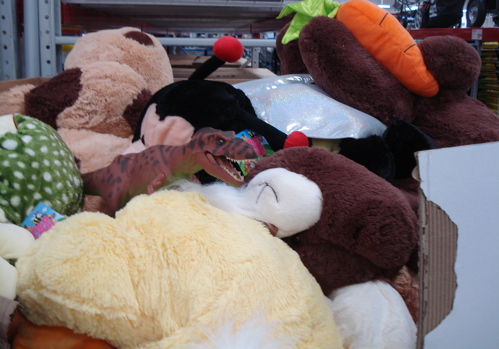 "First you need a good place to lie in ambush.... Then you pounce!"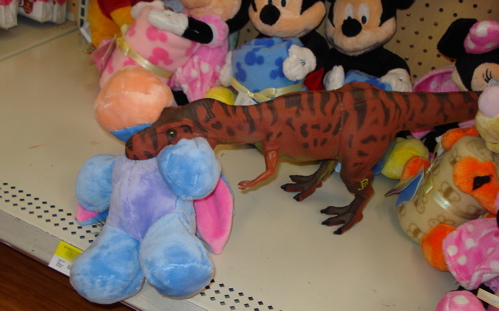 "Even Mickeys can't save you, donkey-boy!"
Blogging is great fun but can it be a business too? Check here to find out.
We here at The Dinosaur Toys Collectors Guide have only one purpose in being here at all. Providing you, our readers, with the best, most informative and entertaining information about Dinosaur toys both past and present.
In order to best achieve that goal, in addition to providing pages on individual figures, advice and suggestions on obtaining the Dinosaur toys and pricing, availability and age and personality appropriateness information.... We have instituted our:
1) The (easily subscribed to, FREE) Daily "Dino-Blog" where you are regularly updated as each new page is created and kept up-to-date on Dinosaur toys news and the happenings in "Dino-town."
2) Our Contact-osaur-Us form which you can use to send us comments and tell us what you need and want to see. After all, this site is for your information.
3) Social Networking links (way bottom) so you can share this page, and our site, with your friends. Thank you.
4) Our mighty and inimitable Search-osaurus Center. (Click link or Below.) You can use the search bars to either search the site for all things Dinosaur (toys) or search the entire web for all things anything at All-a-saurus.
5) As you have been perusing this site you may be wondering, "Can I do that?" Well, if having your own website has been your dream you can make that dream come true, here.
The Rexford does Wal-Mart Search-osaurus Center
You can use this site-search box to find everything you need about Dinosaur toys collecting. Can't remember everywhere we mentioned, say, Velociraptors or Rexford does Wal-Mart? Just put in your search term and you'll get a listing of everyplace on our site where you can find what you are particularly interested in.
Custom Search
Please note that your search results page will have ads ABOVE and BELOW the actual search results. Those are not from the site, but should be of interest, since Google targets the ads to your particular search.
You have been reading the Rexford does Wal-Mart blog archive page. Click this link to return to the main Blog Archive Page. -Or- Click here to go to the very source of it all, The Dinosaur Toys Blog!
Rexford Does Wal-Mart blog archive page draws to a hasty conclusion.
Bye Bye