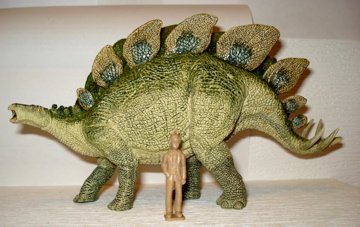 The Papo Stegosaurus Dinosaur Toy is Absolutely Beautiful
The Papo Stegosaurus Dinosaur toys came out in 2005 and set a new standard for Stegosaurs around the world.
This Papo Stegosaurus Dinosaur toys page made possible by
Hotaling Imports.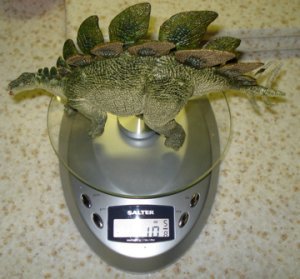 This wonderful, hefty at ten and five-eighth ounces (10&5/8 oz) and a lengthy ten inches (10"), Stegosaurus will satisfy any child or adult with its detail and realism. It is made of soft rubber (those spikes won't hurt you or your child) and sells for $11-$16.00, depending on the source. You can go to Hotaling Imports (see above link) to find a retailer near you.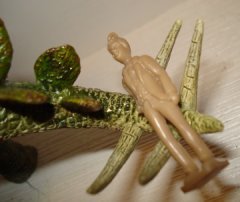 As you
can see- those nasty looking spikes are soft enough to use as a hammock..
. and the detail on the "plates" on its back is exquisite.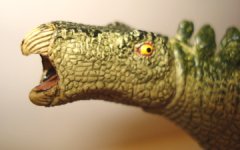 Here you can see the detail in the expressive head.>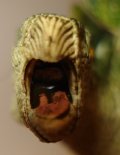 And get an excellent view of the last sight that Stego-food ever sees....< Of at least passing interest is the lack of nostrils. Good thing this is a toy, eh? Otherwise he'd be wheezing a lot.
The Papo Stegosaurus Dinosaur at Home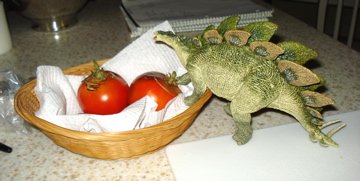 Breakfast consists of some tomato and onion,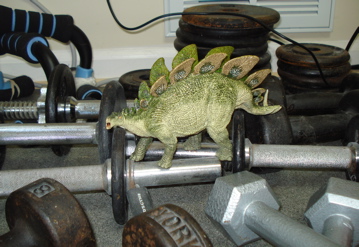 And then it's time for a work-out...
Including aerobics (with a watcher...) and a post work-out snack.
"I'm King of the Orange!!"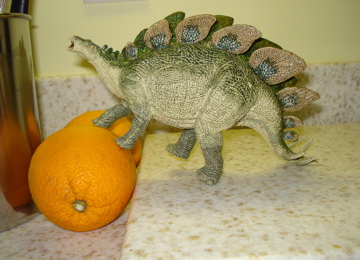 Then it's Time to go Outside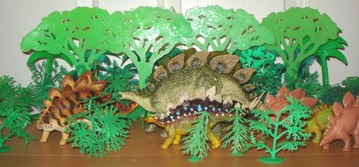 Hanging out with friends what's a Stegosaur to do?



Certainly wandering off has its own dangers







And if he finds himself in a "bad neighborhood"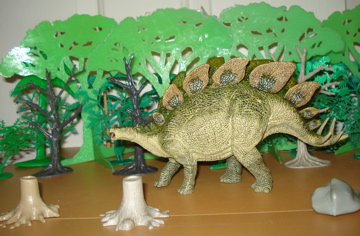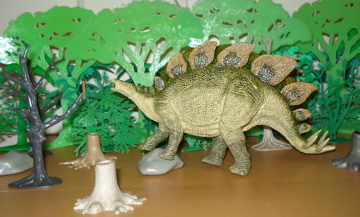 And making a call
can result in trouble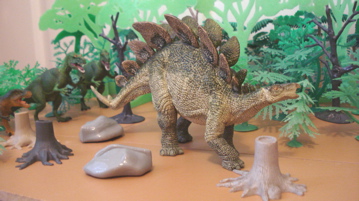 and "talk to the tail" must be taken literally...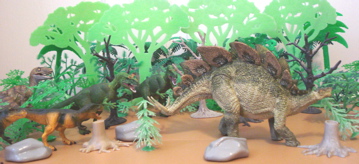 while safety becomes relative because you never know who, what or even when will pop out of the bushes...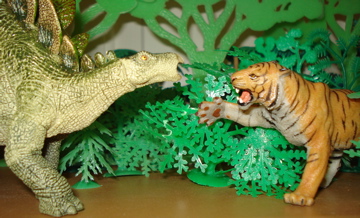 It all just makes one want to browse.
The Papo Stegosaurus Dinosaur toys are quite capable of getting into and out of all kinds of trouble. They are very well made out of a soft rubber(?) and are excellent Dinosaur toys on any level you care to consider. Being effectively non-toxic they are for all ages, although I think they really are meant for slightly older children- they can be chewed to pieces. On the other hand they are quite tough and will stand up to most any amount of hard play and predation.
If you are interested in other Stegosurus toys or want a guide to collecting Dinosaur Toys in general this is the site for you.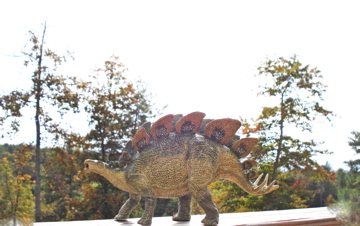 We here at The Dinosaur Toys Collectors Guide have only one purpose in being here at all. Providing you, our readers, with the best, most informative and entertaining information about Dinosaur toys both past and present.

In order to best achieve that goal. In addition to providing pages on individual figures, advice and suggestions on obtaining the Dinosaur toys and pricing, availability and age and personality appropriateness information.... We have instituted our:
1) The (easily subscribed to, FREE) Daily "Dino-Blog" where you are regularly updated as each new page is created and kept up-to-date on Dinosaur toys news and the happenings in "Dino-town."
2) Our Contact-osaur-Us form which you can use to send us comments and tell us what you need and want to see. After all, this site is for your information.
3) Social Networking links (way bottom) so you can share this page, and our site, with your friends. Thank you.
4) Our mighty and inimitable Search-osaurus Center. (Click link or Below.) You can use the search bars to either search the site for all things Dinosaur (toys) or search the entire web for all things anything at All-a-saurus.
5) As you have been perusing this site you may be wondering, "Can I do that?" Well, if having your own website has been your dream you can make that dream come true, here.
Papo Stegosaurus Dinosaur Search-osaurus Center
You can use this site-search box to find everything you need about Dinosaur toys collecting. Can't remember everywhere we mentioned, say, Velociraptors or Diplodocuses? Just put in your search term and you'll get a listing of everyplace on our site where you can find what you are particularly interested in.
Custom Search
Please note that your search results page will have ads ABOVE and BELOW the actual search results. Those are not from the site, but should be of interest, since Google targets the ads to your particular search.