Being Cartoon Dinosaur toys is Immortality of a Sort
Cartoon Dinosaur toys on the BIG Screen (to little guys)


The November 28, 2009 "Tyrannosaurus Wrecks" blog entry.

We got off to a late start and it will be a team effort but we are working on the Safari Tyrannosaurus from 1996. Here's the editorial team hard at work....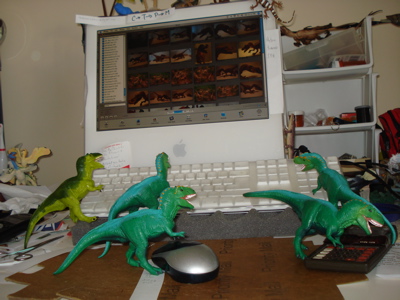 The November 29, 2009 "Tyrannosaurus Wreaks" blog entry.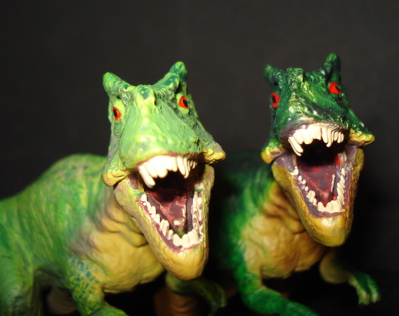 Today our star is the fated for stardom 2006- Wild Safari Tyrannosaurus Rex. Costarring is the 2005 Safari Juvenile Tyrannosaurus. As such things go an inspired if uninspiring predecessor. The 2006 T-Rex is the first in a whole new direction for what had been Safari's dedicated Dinosaur toys line with The Carnegie Collection being their "museum quality" line. With this excellent figure they have reversed the roles and have since introduced five more (to my knowledge, and that's as knowledgeable as it gets) superlative figures- an Allosaurus, a Stegosaurus, Triceratops and Velociraptor (2007) and a Dilophosaurus (2008). Each even better than the T-Rex! Yes. It is hard to believe.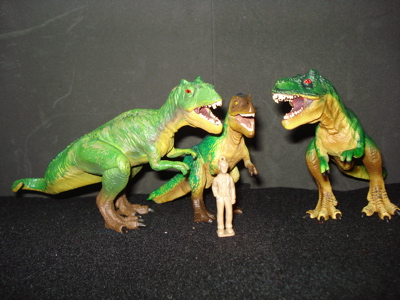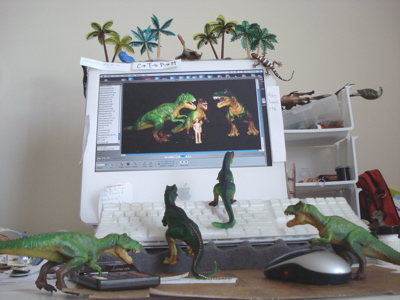 So our very contemporary Tyrannosaurs are trying to figure out how, if they can't beat 'em, they can eat 'em. (Will Dinosaur toys jealousy never end?) Tomorrow... something else.




"Wow! What a great looking app!!"
(To be Cartoon Dinosaur Toys or not to be Cartoon Dinosaur Toys, that is the question.)

We here at The Dinosaur Toys Collectors Guide have only one purpose in being here at all. Providing you, our readers, with the best, most informative and entertaining information about Dinosaur toys both past and present.
In order to best achieve that goal. In addition to providing pages on individual figures, advice and suggestions on obtaining the Dinosaur toys and pricing, availability and age and personality appropriateness information.... We have instituted our:
1) The (easily subscribed to, FREE) Daily "Dino-Blog" where you are regularly updated as each new page is created and kept up-to-date on Dinosaur toys news and the happenings in "Dino-town."
2) Our Contact-osaur-Us form which you can use to send us comments and tell us what you need and want to see. After all, this site is for your information.
3) Social Networking links (way bottom) so you can share this page, and our site, with your friends. Thank you.
This has been "The Cartoon Dinosaur Toys" blog archive page. Click on THIS link to return to the main Dino-blog Archive page