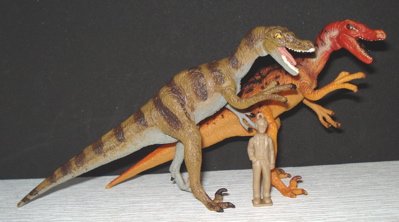 Of all the Dinosaurs-Raptors Should Never do Childcare
Dinosaur toys are like everybody else and the Carnegie Dinosaurs-Raptors need jobs. And like many of us, they also require coffee.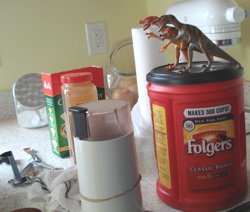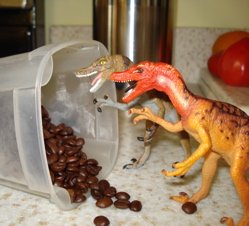 "Okay, let's get this show on the road!" (above left) "What is this stuff?" (above right)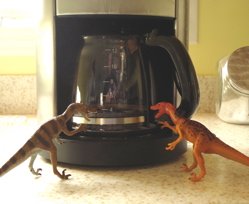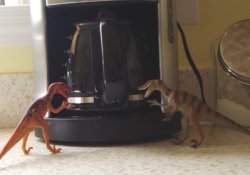 "Is it coffee yet?"(left) "How do we get at it?" (above)
Yes folks. Many of us, Dinosaurs-Raptors included, are very much the same. We don't necessarily recognize a food in its raw form and we often show little patience when waiting for service.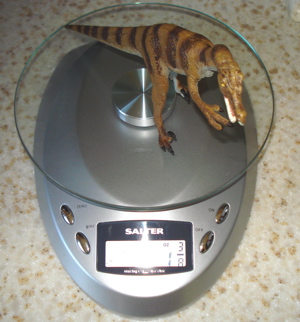 Small at one and three-eighths ounces (1.375 oz- 39 gms) and eight inches (8"- 20.25 cms) in length. It is officially (according to the maker) 1/10 scale so it is fairly out of scale (~4x larger) with most other Dinosaur toys which range from 1/30- 1/40. This means that these Dinosaurs-Raptors of great size, are more or less Utahraptors, which are the largest known members of the Velociraptor family. At one-tenth scale these Carnegie Velociraptors are about 80 inches, or six-and-a-half feet long. They are still a bit small to prey on, for instance, the Jurassic Park Triceratops.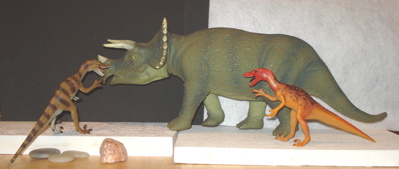 On the other hand if they can find a Bullyland Soft-Play Triceratops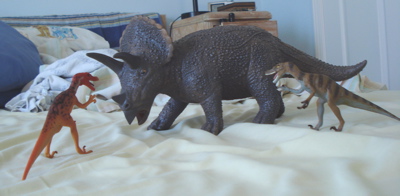 who is just waking up they will take their chances and tenaciously follow it, attacking as best they can. But with little success.

So, with breakfast heading out to get its own our hungry Dinosaurs-Raptors with the job of Dinosaur toys childcare workers go off to work.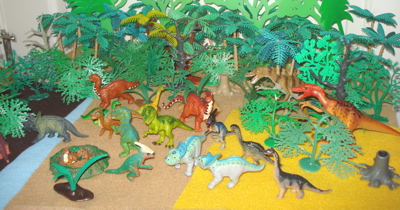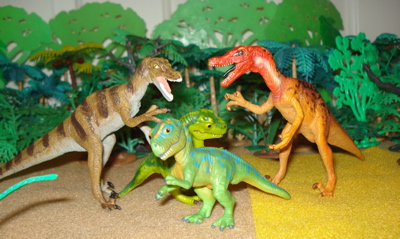 Some Dinosaur babies have a bite of their own (see left) and don't make for quick and easy snacking.

Others (below left) have particularly large and watchful parents (below)...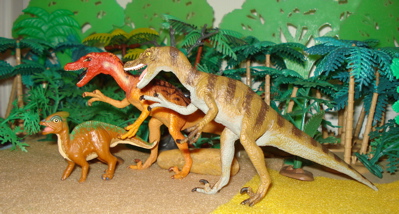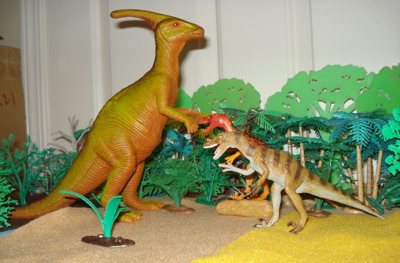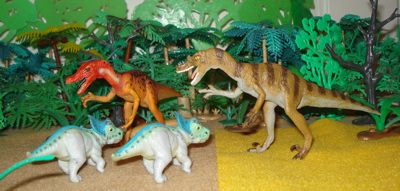 Then, of course, there are those whose parents are both watchful and well armed...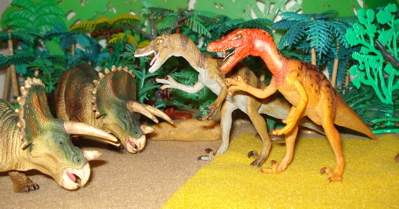 In both cases the little ones aren't the equivalent of 'pop-tarts'.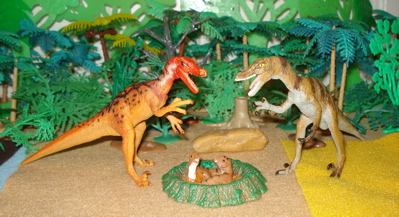 Of course there are always those whose parents aren't around, can't protect them and in whom Velociraptor nursemaids may take a "special" interest. (left)
But then there may be other potential "caretakers" (lower left) leading to a "Mexican standoff" child protective services type of situation. Let this be a lesson to us all: That Dinosaurs-Raptors should be discouraged from the nursery school profession. Always check references, and then check them again.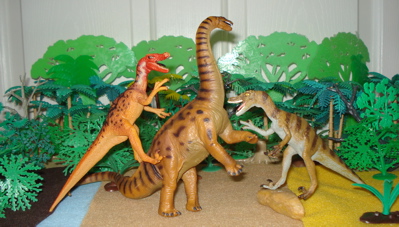 But our over-sized Velociraptors do get lucky and if breakfast was a bust then at least brunch may turn out quite well. Their combination of speed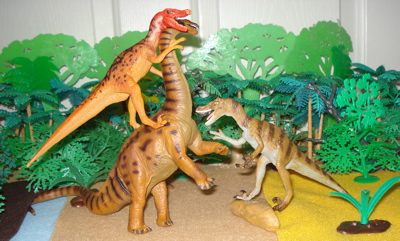 and agility serve to bring down a young Safari Apatosaurus. Who becomes not merely brunch for our duo, but a feast. Hunting is much more in line with their abilities and inclinations than are the responsibilities of a childcare center anyway.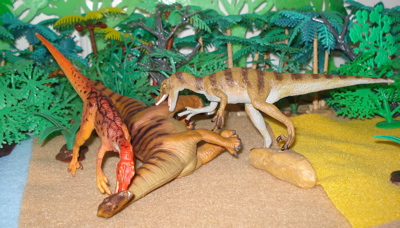 The Carnegie Velociraptor is made by Safari Ltd. (opens new window) (whom I want to thank here for their generous provision of the brown Raptor) and was introduced in 2002. The "red" Raptor is the initial incarnation and served until 2006-7 when it was more or less replaced by the brown re-paint. The brown is now in production but there are still red ones available, new. They can be found on the internet (Google "Carnegie Velociraptor") for from $4.99 to $7.99 (plus various amounts for shipping) and of course, on eBay. The red is reminiscent of Raptor Red, Robert T. Bakker's 1995 novel of the life of the Dinosaurs-Raptors. The brown actually looks a lot better to me which is indicative of how the company is constantly trying to improve their product.

On the other hand the balance on this is such that it cannot stand on its own two feet and must be stood in a three-point stance, using the tail for support. The upward curve of the snout and lower jaw are interesting takes on the taxonomy of the creature and combined with the quite narrow skull suggest that it is meant to be a Velociraptor mongoliensis. As can be seen from the photos these seem most at home climbing on Dinosaurs larger than themselves which is likely what they did in real life.
These do work and play well with others and are part of the very extensive Carnegie Collection so they need never lack for playmates and prey. Despite having seen how badly they behave you may still want one and if you are getting one (or more?) for a young child be aware that while chewing on them will not necessarily harm your child (or your self) the arms and legs are comparatively thin and severe damage to the Dinosaurs-Raptors may result. Let them do the biting!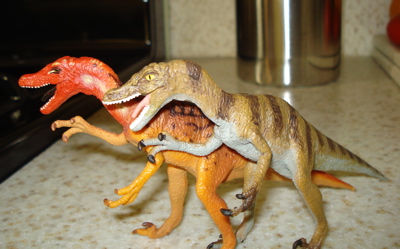 We here at The Dinosaur Toys Collectors Guide have only one purpose in being here at all. Providing you, our readers, with the best, most informative and entertaining information about Dinosaur toys both past and present.
In order to best achieve that goal, in addition to providing pages on individual figures, advice and suggestions on obtaining the Dinosaur toys and pricing, availability and age and personality appropriateness information.... We have instituted our:
1) The (easily subscribed to, FREE) Daily "Dino-Blog" where you are regularly updated as each new page is created and kept up-to-date on Dinosaur toys news and the happenings in "Dino-town."
2) Our Contact-osaur-Us form which you can use to send us comments and tell us what you need and want to see. After all, this site is for your information.
3) For all you social-butterflies we have added a set of Social Networking links (way bottom, upper left) so you can share this page, and our site, with your all of your friends. (Aren't we nice?) Thank you.
4) Our mighty and inimitable Dinosaurs-RaptorsSearch-osaurus Center. (Click link or Below.) You can use the search bars to either search the site for all things Dinosaur (toys) or search the entire web for all things anything at All-a-saurus.
5) As you have been perusing this site you may be wondering, "Can I do that?" Well, if having your own website has been your dream you can make that dream come true, here.
6) Our always open Donate-O-saurus Center (opens new window) where you can make a donation and keep us in business, such as it is. We thank you for anything you can give.
Search-O-Saurus Center
You can use this site-search box to find everything you need about Dinosaur toys collecting. Can't remember everywhere we mentioned, say, Velociraptors or Diplodocuses? Just put in your search term and you'll get a listing of everyplace on our site where you can find what you are particularly interested in.
Please note that your search results page will have ads ABOVE and BELOW the actual search results. Those are not from the site, but should be of interest, since Google targets the ads to your particular search.
The Dinosaurs-Raptors were nasty little gangster-Dinosaurs that traveled in packs and bullied whomever they could.