Dinosaurs Extinction Avoidance Blog Archive
The Dinosaurs Extinction Avoidance Blog

"Ouch"
December 8, 2009


Tomorrow you will all get to see, as the result of an ugly confrontation (above) a terrible injury resulted (below, left) and how our crack medical team (below, right) responded.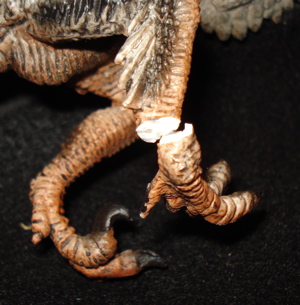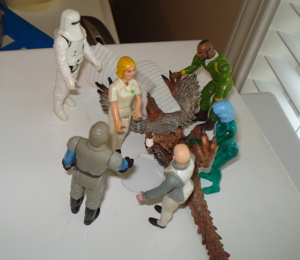 (Above-Left) "Owwww!" (Right) "We've got it all under control."

Meanwhile it all proved too much for Rexford who rushed down to his local big-box Pharmacy to have his own blood pressure checked....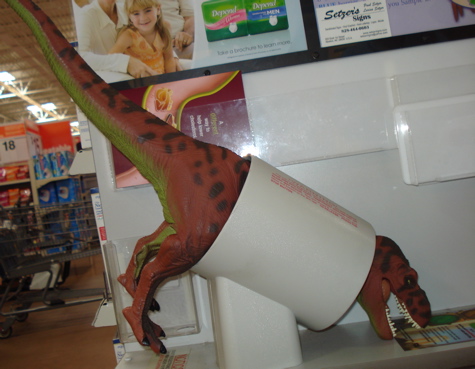 "Check it?? This'll raise it!! Help!"


The Dinosaurs Extinction Avoidance Blog- Part 2

"Feathers Tickled My Fancy"
December 10, 2009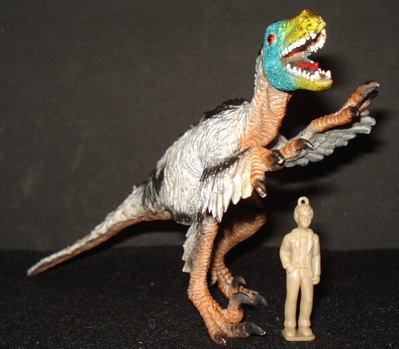 Feathered Dinosaur toys are relatively new members to the toy family. Recent theories based on fossilized impressions of feather-like coverings have led to several Dinosaur toys so dressed. The Bullyland Velociraptor is one of those feathered-Dinosaur toys and has garnered quite a controversy about itself. Collectors argue and seem to either love it or hate it, most coming down in the latter camp. It comes in 1/20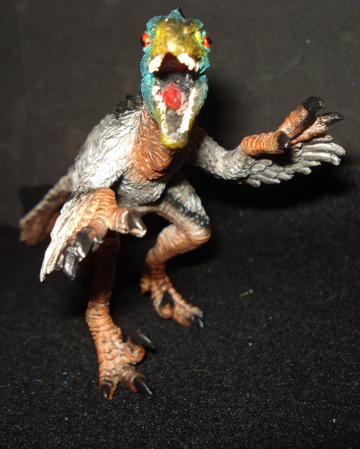 scale and a proprietary comparatively softer rubber than most other lines of Dinosaur toys (Safari, The Carnegie Collection, PAPO, et al) which has its own benefits. Much of the detail we have come to expect from contemporary, high-quality Dinosaur toys is covered with feathers (highly, well detailed feathers) in this figure and its pose is pretty melodramatic which, I think, has tended to put some people off. And of course there are those who just can't get behind the idea that Dinosaurs, any Dinosaurs, might have been covered in feathers as this guy is.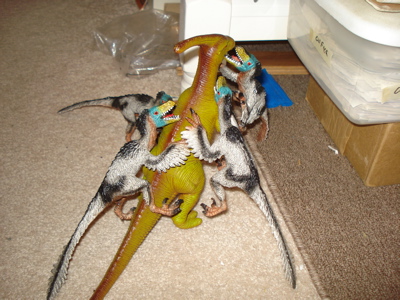 In today's adventure a potentially tasty hunt (left) got cut short by a near catastrophic injury (below) to one of the hunters.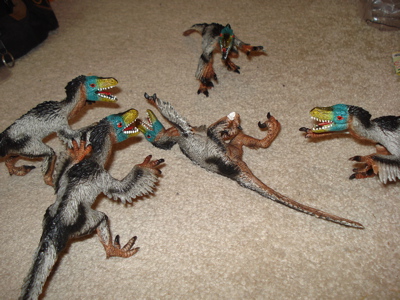 ("Can we eat him instead?")>>

But quick work by our crack medical staff got our injured actor healed in a hurry. (below and left)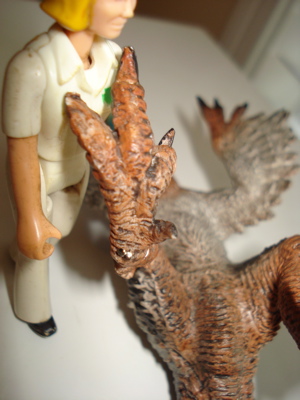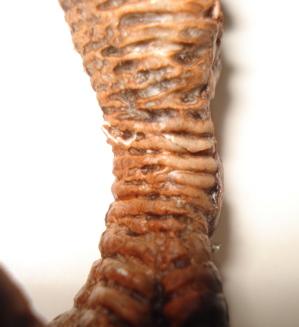 You can read all about it on today's Bullyland Velociraptor page and see the gastronomic tragedy that was averted.

Tomorrow will be another day here in Dino-town, hope you'll join us again to find out what's happening.
Good Night.

So you can readily see from the foregoing; had real Dinosaurs the medical care available to Dinosaur toys the entire Dinosaurs extinction could have been avoided.


We here at The Dinosaur Toys Collectors Guide have only one purpose in being here at all. Providing you, our readers, with the best, most informative and entertaining information about Dinosaur toys both past and present.
In order to best achieve that goal, in addition to providing pages on individual figures, advice and suggestions on obtaining the Dinosaur toys and pricing, availability and age and personality appropriateness information.... We have instituted our:
1) The (easily subscribed to, FREE) Daily "Dino-Blog" where you are regularly updated as each new page is created and kept up-to-date on Dinosaur toys news and the happenings in "Dino-town."
2) Our Contact-osaur-Us form which you can use to send us comments and tell us what you need and want to see. After all, this site is for your information.
3) Social Networking links (way bottom) so you can share this page, and our site, with your friends. Thank you.
4) Our mighty and inimitable Search-osaurus Center. (Click link or Below.) You can use the search bars to either search the site for all things Dinosaur (toys) or search the entire web for all things anything at All-a-saurus.
5) As you have been perusing this site you may be wondering, "Can I do that?" Well, if having your own website has been your dream you can make that dream come true, here.
The Dinosaurs Extinction Search-O-saurus Center
You can use this site-search box to find everything you need about Dinosaur toys collecting. Can't remember everywhere we mentioned, say, Velociraptors or Diplodocuses? Just put in your search term and you'll get a listing of everyplace on our site where you can find what you are particularly interested in.
Custom Search
Please note that your search results page will have ads ABOVE and BELOW the actual search results. Those are not from the site, but should be of interest, since Google targets the ads to your particular search.
The Dinosaurs Extinction Avoidance blogs are part of our Dino-blog that you can access vis THIS link or you can return to the Blog Archive by clicking HERE.
Yes! The Dinosaurs Extinction Could Have Been Avoided. Now you know the rest of the story....