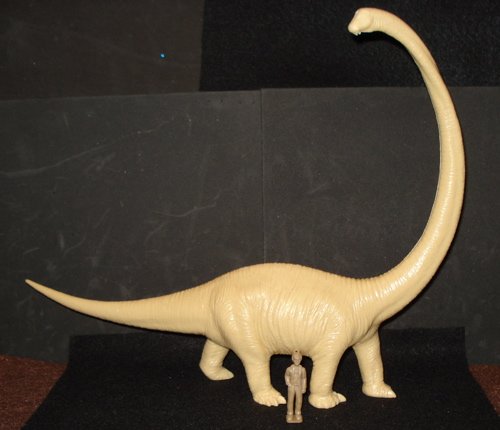 The Invicta Mamenchisaurus: A Very Long Neck Dinosaur Toy
The Invicta Mamenchisaurus: A (very) Long Neck Dinosaur Toy.
The Invicta Mamenchisaurus: A Long Neck Dinosaur Toy.
WITH SPECIAL THANKS TO MIKE OF FORT WAYNE, INDIANA FOR HIS GENEROUS LONG-DISTANCE LOAN OF THE INVICTA MAMENCHISAURUS USED FOR THIS PAGE. (No Mamenchisaurus was injured in the creation of this page.)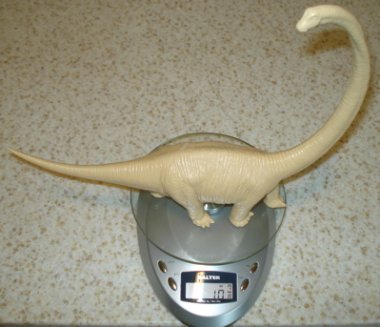 With the great success of their 1974 British Natural History Museum Dinosaur toys series INVICTA came out in 1980 with their very unique Mamenchisaurus. A Chinese Sauropod discovered in 1954. This very long neck Dinosaur Sauropod is typical of the genus with the long neck and tail. But in this case the neck is extremely long. In fact the longest known of any Dinosaur. Invicta's offering weighs ten and seven-eighths ounces (10.875 oz, 310 gms) and measures nineteen and a quarters inches (19.25", 48 cms) in length. It is officially 1/45 scale and I agree with that assessment wholeheartedly.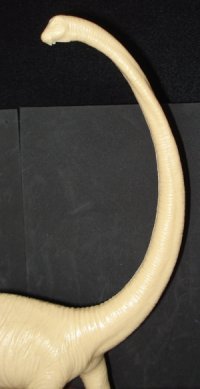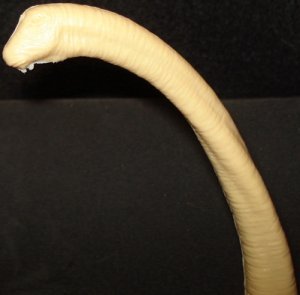 This long neck Dinosaur is posed with its head raised up and looking backwards at ~170º. It is, on the one hand, beautifully done. On the other hand this is, to me, an utterly useless pose for a toy. At best it limits the imagination to one of concern as to what is happening behind, in effect "who is coming coming to eat me?" The other Invicta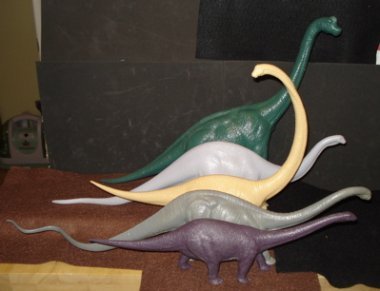 long neck Dinosaur Sauropods (Right, front to rear, Cetiosaurus (1985), Diplodocus (1974), Mamenchisaurus (1980), Apatosaurus (1987) and Brachiosaurus (1984)) each carry their heads in a more reasonable forward-looking posture and not quite so melodramatically and worriedly posed. While an extremely well done long neck Dinosaur figure (as we shall see) it comes up a bit short in the playful Dinosaur toys category.
"Are you following me??" (Above)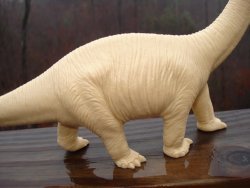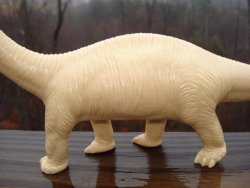 The excellent detail can be seen (Above) in the torso of the Invicta Mamenchisaurus, from the highly detailed feet (Below. left & right).


That rear left foot is seen coming up for a step (Above/Below).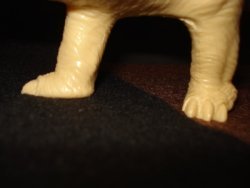 The front feet (Above left) and the rear (Above right) are extremely well detailed and fairly typical of the Invicta Dinosaur toys series.
A long neck Dinosaur sticks its neck out.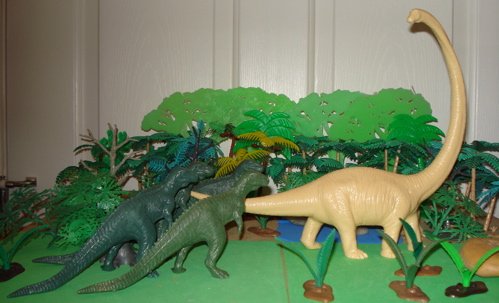 "We just want to have you for lunch...uh... have lunch with you, that is."
These are very, very good-looking models...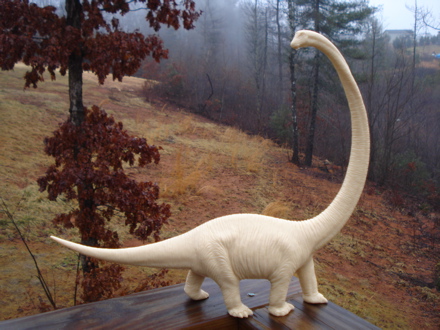 The head is also quite well done (Below).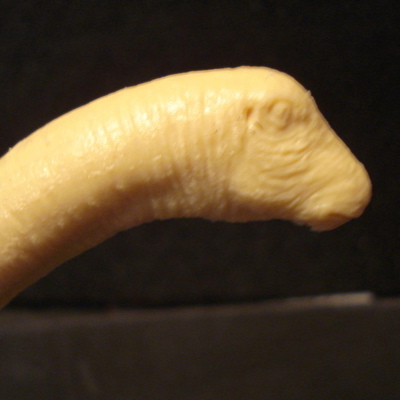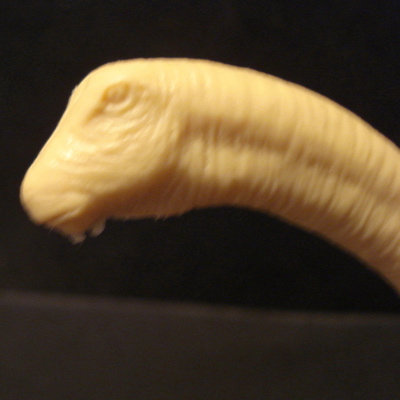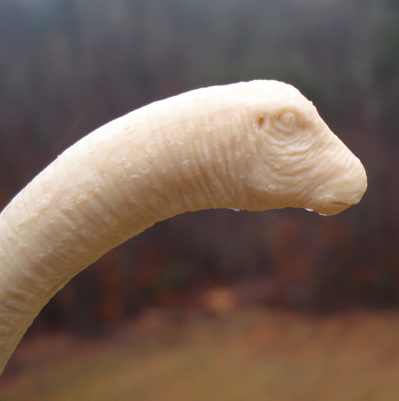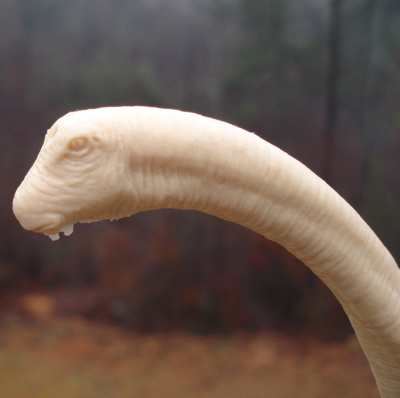 Looking down (look down) at this long neck Dinosaur figure we clearly see
the angle at which the Invicta Mamenchisaurus is looking back, over its shoulder.
The belly of the Invicta Mamenchisaurus has what appears to be a rectangular plaque that contains the manufacturers information about the figure (Below). This is different from the imprint on the other Invicta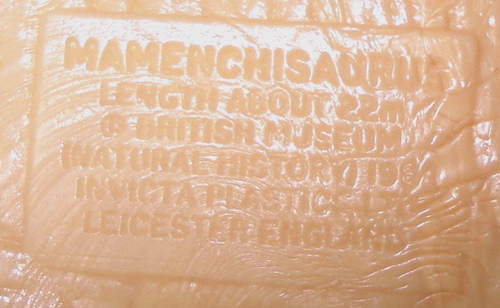 Dinosaur figures such as the Stegosaurus, the Cetiosaurus, and Diplodocus, for example. This is not particularly well melded in to the body of the figure being slightly (and visibly) raised a few millimeters.
Apart from the curve of the neck there is one other potential problem with this figure. The plastic that was used in its manufacture has a tendency to crack as can be seen below in the proto-cracks seen (Below) criss-crossing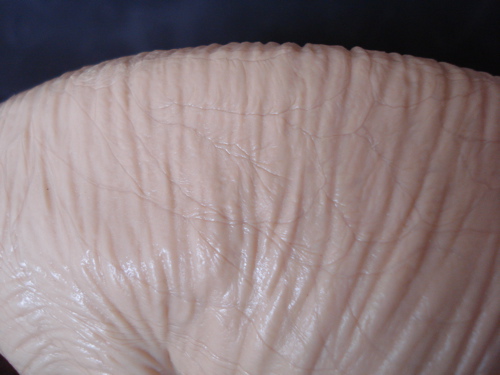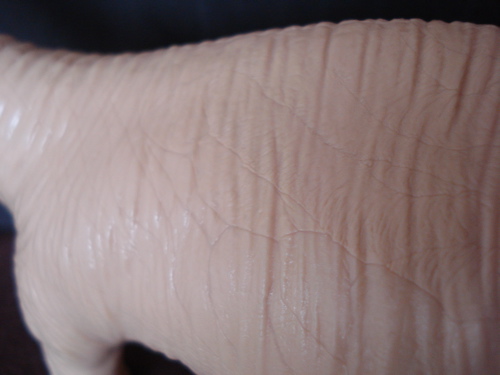 the torso. This really appears to me to be a material flaw or defect as opposed to it being some sort of extreme detail. I have an Invicta Brachiosaurus with major cracks/crevasses in the figure.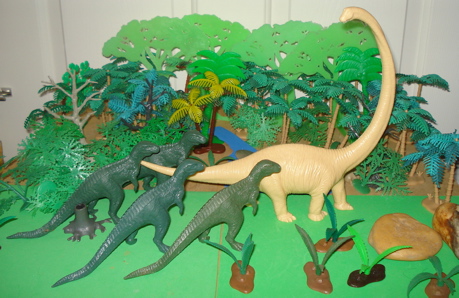 "For the last time, I don't want to eat with (or be eaten by) you guys...."
Whether or not you care for the curved, over the shoulder backward looking pose, the figure itself is very nicely done and most assuredly qualifies as a collectible. This entire series was discontinued in the late 90s or early 2000s and while all its members can be considered as collectibles these, in particular, appear to be among the rarer of the long neck Dinosaur figures, particularly in the United States. (See January 7, 2010 blog entry-
Joe says:"The Invicta line was a pleasant surprise when they came out, especially those figures we had never seen, and since most dinos produced at the time looked like rejects from a Godzilla movie. Two years ago my wife and I were in Europe, and when in London I had to make a trip to the British Museum of Natural History. In the far back of the museum store there was a section that had the Invicta prehistoric animals. Not all of them of course, but I picked up some I had trouble acquiring: an Apotosaaurus/Brontosaurus, Lambeosaurus, Muttaburrasaurus and Dimetrodon (I guess when collecting you're cursed with being a completist). I guess they will sell them until they run out. Nice job with the Diplodocus section, it's good to see that you are feeding them well. Have fun."
Mike (THE Mike) recalls: "I just found your site and think it is terrific. I wanted to pass on that I visited the British Museum in the spring of 2007 and at that time Invicta dinosaurs were still available in quantity at the gift shop. The selection is limited, however, and they are were all sold in plain "bins" set on the floor. There were no boxed sets for sale and none of them were painted (which is fine by me -- I prefer the unpainted ones). I bought as many as I could load into my luggage. Here is what they had: Megalosaurus, Dimetrodon, Mamenchisaurus, Scelidosaurus, and Stegosaurus. Those big Mamenchiasauruses took up a lot of luggage space! I noticed a lot of kids were buying them -- and at one point when the bin full of Mamenchisaurus ran out, a gift shop employee dumped in a bunch more. The prices were pretty cheap -- I think the little Dimetrodon and Scelidosaurus were 20p or so (about 40 cents). The big Mamenchisaurus was about 2 bucks or so.")
Invicta was the first to present "museum quality" (British Museum of Natural History, quality) Dinosaur toys beginning in 1974. This series of 23 figures ran for nineteen years, through 1993 and their wonderful little Dimetrodon (we will have its page soon) was the last released. In 1988 Safari Ltd. came out with their very colorful, prepainted Carnegie (Museum quality) Collection which began to take the Dinosaur toys world by storm. Despite being less accurate and detailed (at the time) their bright colors and mass production were hits with the consumer and Invicta found the competition to be very hard and ultimately fatal.
Invicta initially responded by painting their own figures even as Safari quickly expanded their own line. This was a truly primordial battle between two titans of the Dinosaur toys world for the hearts and minds of the buying public. (Left- the painted Invicta Mamenchisaurus, courtesy of The Dinosaur Collector (opens new window).)
These painted figures tend to be rarer and even more collectible than you "run of the mill" monochrome figures. They were produced in smaller numbers, and as they failed to light the consumer's fires, production soon ceased and reverted to the monochrome. As noted earlier if you are hoping to get one of these Invicta Mamenchisaurus new your only hope was to have been at the British Museum as recently as 2007. I have no idea what you will find if you go there today. Otherwise these are long neck Dinosaur out of production and available only in the secondary (read "used") market.
The last two figures in the series (the Dimetrodon and Lambeosaurus- which I also have none of, hint hint) weren't even released in (exported to) the United States market. The Invicta Dinosaurs lost their competition and went extinct.
I got two of these long neck Dinosaur toys on eBay several years ago and sold them shortly thereafter. I had really wanted the figure, but once having it in my hands was just too put-off by the turn of neck. This was well before I had the concept for this website. Ouch. Mike's Contact-o-saurus in early January led to a correspondence (I personally answer every contact) and the subsequent loan of the beleaguered Mamenchisaurus used in this page- thanks again Mike. In any event I sold them for over forty dollars each, monochromes, which wasn't bad.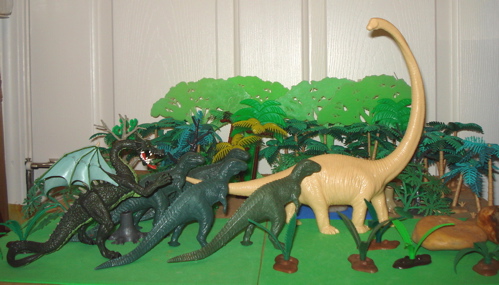 "I WANNA GO HOME!!"
(You will be, real soon.)
They continue to be found on venues such as eBay and sell for whatever can be gotten for them. Its value depends on how much you want it. It is indispensable for a complete Invicta collection. On the other hand, if what you want is a Mamenchisaurus Safari made one in the early 1990s as a member of their Dinosaurs of China mini-series. Though also out of production I have found them still available, retail (if expensive, ~$25.00 with shipping) online. Just google Mamenchisaurus toy. Good luck.
The edibility side of these is rather dank. Yes, I said dank, not dark. Being produced before the onset of the great fear-of-toys (although after the lead-in-plastic crisis) that we are currently gripped in these have no reassuring symbols or indications that they are free of toxins. While I doubt anyone has been poisoned chewing on one they have become too valuable/rare to just take a chomp out of. Even those Invicta Megalosaurs that harassed our guest long neck Dinosaur never even nipped it.
We here at The Dinosaur Toys Collectors Guide have only one purpose in being here at all. Providing you, our readers, with the best, most informative and entertaining information about Dinosaur toys both past and present.

In order to best achieve that goal. In addition to providing pages on individual figures, advice and suggestions on obtaining the Dinosaur toys and pricing, availability and age and personality appropriateness information.... We have instituted our:
1) The (easily subscribed to, FREE) Daily "Dino-Blog" where you are regularly updated as each new page is created and kept up-to-date on Dinosaur toys news and the happenings in "Dino-town."
2) Our Contact-osaur-Us form which you can use to send us comments and tell us what you need and want to see. After all, this site is for your information.
3) Social Networking links (way bottom) so you can share this page, and our site, with your friends. Thank you.
4) Our mighty and inimitable Search-osaurus Center. (Click link or Below.) You can use the search bars to either search the site for all things Dinosaur (toys) or search the entire web for all things anything at All-a-saurus.
5) As you have been perusing this site you may be wondering, "Can I do that?" Well, if having your own website has been your dream you can make that dream come true, here.
6) Our always open Donate-O-saurus Center (opens new window) where you can make a donation and keep us in business, such as it is. We thank you for anything you can give.
The Long Neck Dinosaur Search-osaurus Center
You can use this site-search box to find everything you need about Dinosaur toys collecting. Can't remember everywhere we mentioned, say, Velociraptor or long neck Dinosaur? Just put in your search term and you'll get a listing of everyplace on our site where you can find what you are particularly interested in.
Custom Search
Please note that your search results page will have ads ABOVE and BELOW the actual search results. Those are not from the site, but should be of interest, since Google targets the ads to your particular search.
You have been reading our page on the Invicta long neck Dinosaur Mamenchisaurus. Click HERE to return to our main Sauropod page.