The Marx Struthiomimus: A Miniature Marvel
The Marx Struthiomimus: a Short History with Pictures
With the incredible success of the Marx Dinosaur line that began in 1955 Marx determined, in 1960, to come out with eight (8) all-new figures in 1961. The Marx Struthiomimus is a member of this Second-Series-Mold-Group. (Below)
This mold group contained the only prehistoric mammals (Mammoth, Megatherium and Smilodon) as well the Permian Moschops, thereby offering up the greatest time range of any of their mold groups.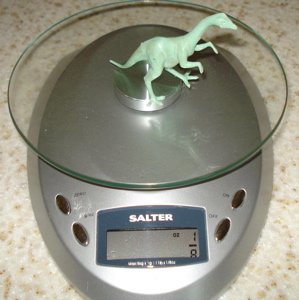 Our current star, the Marx Struthiomimus, was a ten to fourteen foot long (and 150 kg, 330 lbs) omnivore (ate any- and everything, just like us) from the very late Cretaceous Period, living from 75-65/MYA. This was quite a successful little (in context) Theropod. Our lithe Marx replica weighs in at one-eighth ounce (.125 oz, 4 gms) and is four inches (4", >10cms) in length. This would make this figure ~1/35 scale (1/30-40).
An interesting aspect of this small Theropod is that it was toothless, having a beak, rather than the teeth other Theropods sported. Of course teeth aren't necessary to make a successful predator. Just ask Eagles and Hawks. The Struthiomimus was an omnivore, eating bugs, berries, smaller creatures and very possibly carrion as well. They lived in groups, herds, packs or flocks- your choice of terminology.
Below, we see the approximate size of these compared to a Tyrannosaurus Rex. Played for size-comparison purpose by a JP06 Jurassic Park T-Rex Junior.
The detail of the head of this figure, while not perhaps up to today's standards (many of today's figures aren't up to today's standards) is exceptional. This detail is a hallmark of Marx's Second Series.
Close-ups below, show the incredible amount of detail packed into the less than 1/2 inch head...
...noting the shape of the eyes, the mouth and the nostrils midway up the beak. Below, we see the paws, or forelegs and the feet. The rippling of the skin in the shoulders can be seen, as can the pectorals of the chest. The detail down to the claws protruding at the ends of the toes on the long, thin legs is another great addition.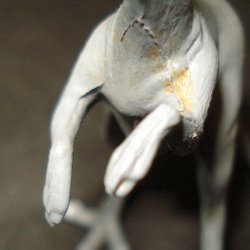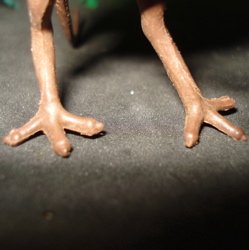 One thing about these Struthiomimus figures is that their forearms, legs, neck and tail are among the thinnest of the Marx Dinosaur castings. This resulted in the Struthiomimus, more perhaps than other figures, finding itself mis-cast and in a new home; not in a tots toy-box but in the infamous Marx Dump.
I have used a Dump figure in many of my pictures, showing the other reason figures ended up there. In this case odd spotting due to improper mixing of colored plastics. Here a tan plastic mixed with the gray.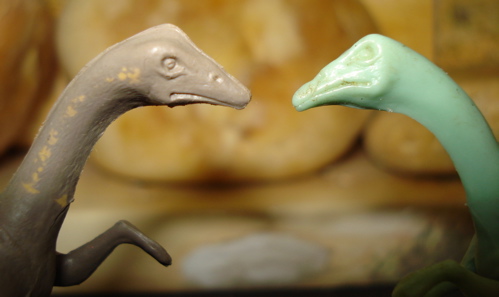 The Marx Struthiomimus works and plays, as well as hunts, other Second series figures. The Marx Iguanodon below...
...the Parasaurolophus (both 2d Series Dinosaur toys)...
...and an unhappy encounter with several Marx Revised Mold Group Tyrannosaurs.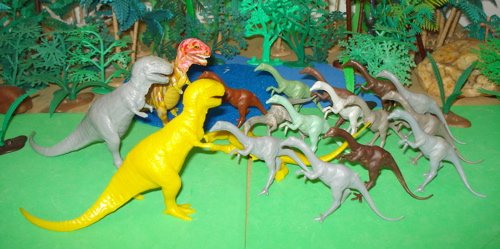 Here (below) we see, in this case a "pack" of, Marx Struthiomimus studiously pecking away at a Marx Brontosaurus in the hopes of bringing it down...
"Just keep pecking!!"
...and after doing so successfully defend their 'kill' from a Marx Allosaurus and her off-brand children.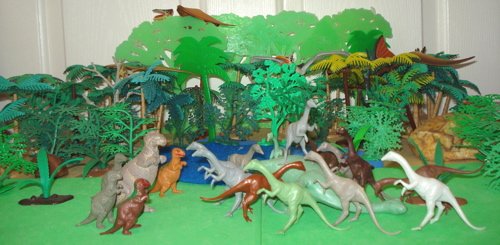 The Marx Struthiomimus came in all the colors and plastics that Marx made. Brown:
(Heritage Plastic [post 1963] on left and Flat Brown)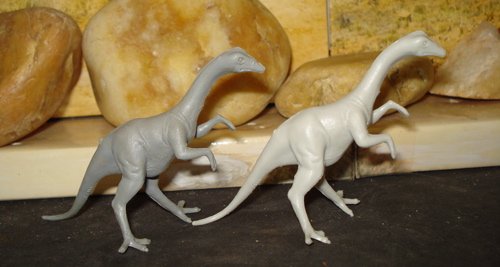 (Flat on left, Heritage on right)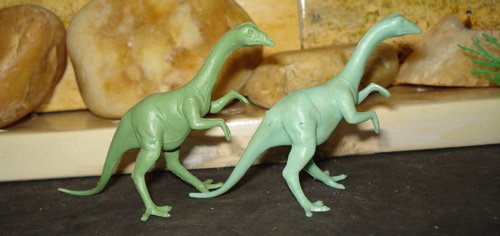 (Flat on left, Heritage on right)
(Burgundy and Butterscotch from Whitehall- 1988)
And two color swirled from Superior (1986-87)- Gray and Green.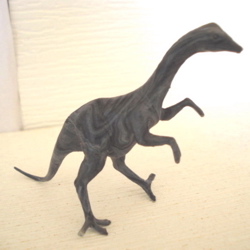 Superior produced Marx figures in 1986-88. They specialized in bright, pastel greens, grays and browns, swirled randomly throughout the figures. They had the Large, Medium and Second Series molds and used a slightly more brittle plastic than had the original Marx company. Their figures are bright, beautiful and somewhat more breakable.
The Marx Struthiomimus is an extraordinary figure. It is very lithe and lively looking, posed in a dynamic pose. Not quite the smallest Marx figure (the Cynognathus is smaller) it does have the thinnest legs, tail and neck. It's motto should be: "You can't be too thin." I simply find this to be a very artistic rendition and it stands up even today as an exceptional casting.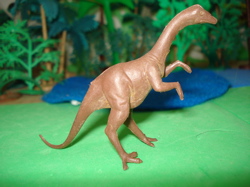 A closer view of the torso shows the superb detail. This was exceptional in the Second Series figures and is evidence that Marx was continually evolving their sculpting and casting techniques.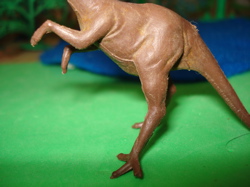 Right down to the graceful Struthiomimus tail with its gentle curves.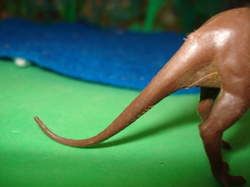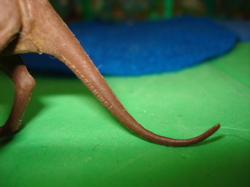 Which are complemented on the other end, in the Struthiomimus' neck.
All these beautifully curvaceous castings were subject to distortion in the cooling process and any unwanted curves and miscasts spelled d-u-m-p for the unlucky figure.
The Struthiomimus, being one of the last of the Dinosaurs, and leading the dangerous lifestyle of both predator and prey, had a relatively (for a Dinosaur) large brain for its body size. If they had survived until today they would probably be into farming and animal husbandry.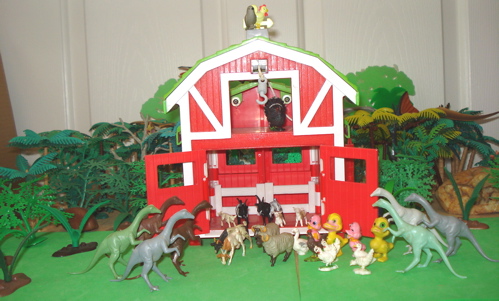 "Here on the farm we grow small, edible animals."
"And Tomatoes, that we like to..."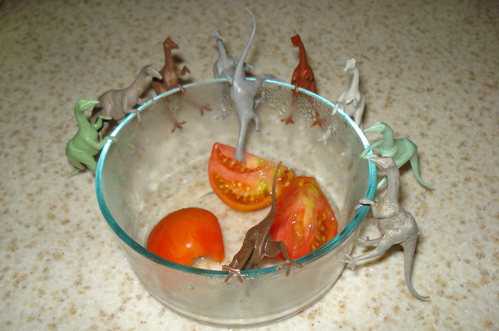 ...eat and..."
"...can for the Winter."
But even the 21st Century is full of dangers that can turn the 'pack' into a 'flock', running for its collective life.

(Safari Ltd (opens new window) 2007 Allosaurus gives chase.)
I think that this figure is beautiful enough to be in the movies....
Jurassic Park a la Marx: A Remake
'A peaceful herd of Struthiomimus graze in a field, searching for bugs and grain.
When suddenly emerges from ambush a (Papo) Tyrannosaurus Rex.
Frightening the 'peaceful' herd and spreading fear and the desire to run, fast, away...
But one unlucky member of the collective is caught...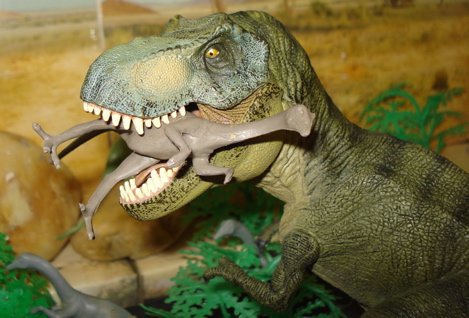 And crushed in the merciless and unforgiving jaws of the mighty T-Rex.
"Okay. That's it! Cut. Cut. Stunt Double!! I'm through with acting. Put me down. Hey, hey, we're just acting here!!"
The view from above shows the graceful lines of this sculpture

as does the worms eye view.
THE right side of the tail has imprinted a statistic, "8' TALL"

while on the left side is the name "Struthiomimus."
All-in-all this is a really beautiful figure (I'm saying that a lot) that has managed to garner a number of fans, judging from my own sales on eBay and website reader responses. It was really ahead of its time in the artistic grace of the sculpture. Not showing any of the awkward and somewhat clutzy appearance of other Dinosaurs of its time (1961), including many of the Marx figures themselves. Only the revised T-Rex is really comparable to this in the Marx line.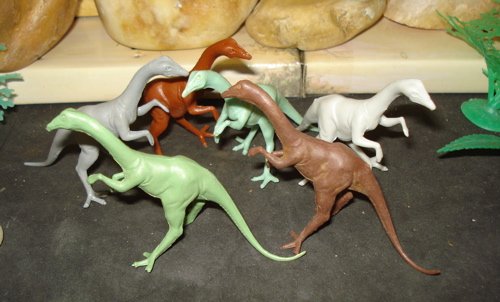 This is not one of the rarer figures (like the Pteranodon, Hadrosaurus, Megatherium and entire Large Mold Group) so it does not really command a premium except, perhaps, in its incarnation as a dump-Dino or in one of the rarer colors. It does have its own fans, though. In terms of numbers made all the Second Series figures, despite being manufactured throughout the height of Marx's popularity in the 1960s through to the 1980s have to play catch-up since most everybody else had a six-year head start.
These can generally be found on eBay although a recent search has shown up only two going for ridiculously high prices. They can generally be found in sets, lots and groups of Dinosaur toys and be gotten much more cheaply. $5.00 is about what these are really worth on the open market. You may also find them at estate & garage sales or elsewhere online. Good luck. But Superior (with their swirly colors), Whitehall (the very very well cast Burgundy, Butterscotch and Tan) and Dump figures may rightfully command more.
(Two Whitehall Burgundy, one Butterscotch and a very dark Brown Dump-Dino)
DO be wary though, of the MPC Struthio which, while one of the best MPCs is really not comparable to nor worth as much as the Marx figure. It is slightly smaller, has a more forward thrust to its neck, a slightly more horizontal pose to its back and smaller, thinner feet. It will also be found in bright reds, greens and non-Marx greens, blues and yellows.
You can also tell the MPC by that mold circle on the right side of its neck and another inside the left thigh. If you have a Marx figure handy the comparison is painfully obvious.
For mothers of young children- Don't let your child eat these. They were all made before these things were even considered for toxicity testing. In fact, they were presumed to be toxic if eaten in large amounts or smoked. You will find many Marx figures today that have been chewed on (occasionally extensively) but their lack of flavor has long been their best defense. On the other hand they've never killed anybody (to my knowledge) either.
They're simply great toys. You can read all about all of them here, and here for the later manufacturers.
We here at The Dinosaur Toys Collectors Guide have only one purpose in being here at all. Providing you, our readers, with the best, most informative and entertaining information about Dinosaur toys both past and present.
In order to best achieve that goal, in addition to providing pages on individual figures, advice and suggestions on obtaining the Dinosaur toys and pricing, availability and age and personality appropriateness information.... We have instituted our:
1) The (easily subscribed to, FREE) Daily "Dino-Blog" where you are regularly updated as each new page is created and kept up-to-date on Dinosaur toys news and the happenings in "Dino-town."
2) Our Contact-osaur-Us form which you can use to send us comments and tell us what you need and want to see. After all, this site is for your information.
3) Social Networking links (way bottom, upper left) so you can share this page, and our site, with your friends. Thank you.
4) Our mighty and inimitable Search-osaurus Center. (Click link or Below.) You can use the search bars to either search the site for all things Dinosaur (toys) or search the entire web for all things anything at All-a-saurus.
5) As you have been perusing this site you may be wondering, "Can I do that?" Well, if having your own website has been your dream you can make that dream come true, here.
Search-O-Saurus Center
You can use this site-search box to find everything you need about Dinosaur toys collecting. Can't remember everywhere we mentioned, say, Velociraptors or Diplodocuses? Just put in your search term and you'll get a listing of everyplace on our site where you can find what you are particularly interested in.
Custom Search
Please note that your search results page will have ads ABOVE and BELOW the actual search results. Those are not from the site, but should be of interest, since Google targets the ads to your particular search.
The Struthiomimus was one of the smallest and last of the Theropods. Click here to read about more Theropod Dinosaur toys.
Whether coming...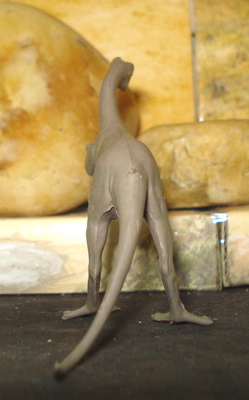 ... or going. A great Dinosaur toy.